Vontaze Burfict gets big endorsements from Mike Brown and Marvin Lewis.
Bengals president Mike Brown meets the media twice a year and Tuesday was one of those days when he hosted the annual training camp media luncheon in a Paul Brown Stadium club lounge.
Camp opens Friday at 3 p.m. on the fields adjacent to PBS with the pre-season opener set 15 days later at PBS in a 7:30 p.m. game on Aug. 12 against Mike Zimmer's Vikings.
As usual Brown opined on many subjects, ranging from his trust in head coach Marvin Lewis, his appreciation of the fans for sticking with them and upping ticket sales during the offseason, and his desire to hold the Lombardi Trophy while keeping his championship remarks brief.
Brown also made it pretty clear he's not happy with the suspension of linebacker Vontaze Burfict for the first three games of the season. Asked if he thought Burfict deserved the punishment for repeated safety violations, Brown offered, "I own the Cincinnati Bengals, not the Pittsburgh Steelers, so you can probably guess where I come out on that. But I'm not allowed to get into that. I'd be foolish to get into that kind of discussion publicly."
But Brown staunchly defended Burfict, a fifth-year player who has been criticized for at times for undisciplined play and is also considered one of the top backers in the game. 
"Burfict is one hell of a football player. He makes a difference for our team," Brown said. "We want him on the field. I regret for three games this year we won't have him, but he'll be back then. We expect outstanding play from him. He's a difference-maker. We're lucky to have him."
Brown also indicated that there has been an increase in ticket sales after last year's 12-4 record, a franchise best the 2015 teams shares with the 1988 edition. Both he and Lewis went to great lengths Tuesday to bury the memory of the last game, a stunning 18-16 loss to the Steelers in the Wild Card Game even though they had the ball and a 16-15 lead with 1:23 left.
"They stayed with us. We'll have a little better attendance this year than last year, I'm appreciative of that," Brown said of the fans. "They buy tickets... I think some of them wanted to slap us on the side of the head. I don't doubt that they were upset, and so were we. I guess there would have been a circle slapping one head and you go right around. But that's over with. We congratulate the Steelers, they pulled it off and we didn't, and we'll see them again this year."
Brown also turned the tables on questions about keeping Lewis after his post-season record dropped to 0-7.
"I think he's a good coach. We work well together. We've had our form of success," Brown said. "The team's in a good position. And I would reverse the question: Why would you want to fire Marvin Lewis after all he's done? I think he's earned his spot."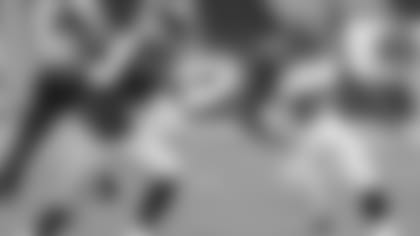 Mario Alford (15) needs to pop a few punt returns in the preseason.
QUESTIONS, QUESTIONS: The biggest question heading into camp is at wide receiver, where there is a raft of unknowns after starters A.J. Green and Brandon LaFell. But sophomore Mario Alford's fate may very well be tied to how he returns punts and not how the West Virginia speedster plays in the slot. The 5-9, 180-pound Alford, a seventh-round draft pick in 2015, played in one game as a rookie with one catch and he figures to be in competition with Brandon Tate, the club's all-time punt return leader.
Special teams coordinator Darrin Simmons already has a Pro Bowl-type returner in Adam Jones, with the only problem that Jones is also one of the top cornerbacks in the NFL and last year played nearly all the snaps. So he needs someone to split it with him.
Tate has been solid but unspectacular. Even though Alford didn't return punts in Morgantown, Simmons plans to put him in with the top group fairly quickly to see what he can do. And you best believe if Tate shows more reliability, he'll be back.
"We have to get (Alford) up to the forefront. We did that with Dane Sanzenbacher and guys like that. We had to find out if he could be an option so you push him up with the first group some," Simmons said. "I know what those other guys can do. I don't need to see Adam Jones returning punts and kickoffs in the preseason. He's proven he can do it. It's the same really with Brandon Tate. I know what Brandon Tate does. Now, they all have to develop timing, but I want to see what Mario can do when the lights are on, when there's a crowd around and there's the pressure of the moment.
 "I've got to envision in the back of my mind can he be the guy to line up against the Jets (in the regular-season opener)? Can he handle it all or will it be too much?" Simmons asked. "If it's too much then I have my answer, but if he can show he can play then he becomes an option. There's a lot more things we have to weigh out after, like where does he fit on the team. It's a little different for me, too, because it's not the 53-man roster I'm worried about it's the (46-man) roster a. Can this guy be one of the top 45 players or I guess it's 46 that's going to be out there on Sunday."
But it sounds like Alford and Tare are going to have plenty of company with two rookie wide receivers, second-round pick Tyler Boyd and Wisconsin free agent Alex Erickson.
"We'll see if Tyler Boyd can be an option for us. He did it some in college, too. Alex Erickson is another guy.  He did some up at Wisconsin. He's a smart guy and manages the plays," Simmons said. "I know what I've got in Adam Jones. I know what I've got in Brandon Tate. I've been saying that for years.
The problem for Alford is that he didn't return punts in college and all they have to go on is last year's pre-season work of five returns for 59 yards.
"It's kind of two-fold. One, can he handle it cleanly enough? Two, do I trust him to make the correct decisions?" Simmons said. "It was a mixed bag in the preseason honestly a year ago. He made one play against Tampa on a punt return play. There were other plays I wish he would have done things better. He's got to show he can handle those things. When he gets an opportunity to make plays he has to make a play."
SLANTS AND SCREENS: Lewis also came out Tuesday enthusiastically endorsing Burfict and after two seasons of watching his defensive playmaker cope with injuries he made it clear you won't see much of Burfict this preseason.
"There's just no reason for us to expose him to injury because he's too valuable," Lewis said. "The success in everything we do from him and Maualuga from Paul (Guenther) to on that field in that huddle on Sunday is key to us. We will continue to protect him as much as we can. 
"I think Vontaze will be a very good football player once he gets back out there playing football games. He continues to be a great mentor for the defensive players, for the young players. He's such an extension of the coaching staff as far as the scheme and everything that way. I kept him on the sideline as often as I could during this offseason. I did every day I could during this offseason and I'm going to do the same thing this training camp. There's no reason for us to risk him getting hurt. It's hard because he's so competitive we have to continue to hold him back. One day he gets it the next day he wants to fight me on it."
As for getting Burfict to reign in his emotions, Lewis snapped off a one-liner.
"There's things that have been brought to his attention. Now he understands." . . .
Defensive coordinator Paul Guenther says he expects cornerback Darqueze Dennard to practice Friday, his first action since suffering a season-ending shoulder injury in Arizona Nov. 22. . . .
Lewis raved about new right tackle Cedric Ogbuehi replacing seven-year starter Andre Smith, now in Minnesota. Ogbuehi didn't work much in the spring as he recovered from a sports hernia, but he's expected to make his starting debut Friday after playing primarily as a third tackle in heavy formations as a rookie. Lewis is also bullish on sophomore back-up tackle Jake Fisher.
"We love what we saw from Ced last year, obviously," Lewis said.  "We allowed a guy who had been a very good player for us in Andre to move on and which is a hard thing because we kind of raised Andre from the ground up but we did it because we felt good about the young guys we have and not to downplay Eric Winston and others. We are in a good situation. We feel good about it, we have to keep them all up and running and healthy to move forward. Jake really showed us he can go out and play productive NFL football for us. 
"(Ogbuehi) hasn't taken a lot of those snaps on Sundays, what 120 plays or whatever he played. That's the thing, but we loved everything we saw from Ced. And loved everything we saw from Jake Fisher." . . .