Rookie wide receiver Tyler Boyd had 89 yards from scrimmage Sunday.
CLEVELAND - Something happened in that below .500 December of 2008 and Bengals Pro Bowl left tackle Andrew Whitworth senses something might be brewing again after Sunday's 23-10 victory over the winless Browns.
Not that it was a dominant victory. The 5-7-1 Bengals gave up more than 150 yards rushing for the fifth time this season. The Browns gave up their fewest points of the year. The Bengals special teams left four points on the field.
And yet they did all the things they had to do. As head coach Marvin Lewis said, "We came in here with an attitude and a job to do, and I thought we did a good job of staying on course and getting that done."
Maybe that's what reminded Whitworth about 2008 and that 3-1 December at the end of a 4-11-1 season that ignited the 2009 AFC North sweep.
Running back Jeremy Hill, like Cedric Benson eight years ago, ran physically and well with 111 yards. The defense's stars answered at just the right time. In '08 it might have been cornerbacks Leon Hall and Johnathan Joseph, but on Sunday it was Pro Bowl defensive tackle Geno Atkins with back-to-back sacks, the last with 5:50 left. They didn't have a return game in '08, but they do now with AFC kick return leader rookie Alex Erickson changing hats and ripping off 15.7 yards per his three punt returns.
As Bengals radio analyst Dave Lapham calls it, "complementary football."
"Anybody can see it's been different the last two weeks," Whitworth said. "The momentum, the attitude, the defense, the special teams. The direction we're all pulling in. Guys are stepping up in spots that are tough and playing well."
It will be recalled the Bengals played 12 of their 16 games without quarterback Carson Palmer in '08. The '16 Bengals have also lost their franchise player and while there is some optimism wide receiver A.J. Green might be back for next Sunday's game against the Steelers, they've missed him for four key games.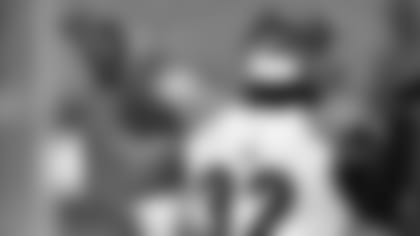 Running back Jeremy Hill had a TD to go with 111 yards.
"It's much like when we had Ryan Fitzpatrick playing for Carson," Whitworth said.  "And A.J. going out, I think the whole team realizes we're going to have to fight tooth and nail and scratch and claw our way to wins. Guys are going to have to step up. Guys like Tyler Boyd has shown big. Brandon LaFell has showing big. These guys are making plays. We're making plays on special teams. The defense is making plays.  You can just see a team pulling in the same direction. It's good."
Boyd, the rookie wide receiver, has turned into a third-down machine with Green out of there. He had three more third-down catches Sunday to give him 21, best among rookie receivers, one each on the first two drives of the game that turned out to be the biggest of the game because the Bengals jumped up 13-0.
"He's stepped up. He's been awesome for us," Whitworth said. "It's good for him to be in this environment. When the No. 1 guy goes down, you have to bear a role and that's going to develop him for his career moving forward."
Exhibit A:   third and nine at the Browns 30 on the second series of the game and the Bengals already up, 7-0. Boyd saw defensive end Emmanuel Ogbah dropping into coverage as he began his route out of the slot.
"I got vertical. His drop was too shallow and he couldn't carry me," Boyd said after he led the Bengals with six catches for 49 yards.
And it doesn't bother him his longest catch was 11 yards.
"Those are real huge," Boyd said. "Regardless if I didn't have any huge, big pass plays, as long as I'm keeping the drive alive for the team. Giving us more opportunities to get in the end zone. So I'm pretty satisfied with my game. I get real eager and get pumped up because I know there's a high chance I'll get the ball in the slot as a guy they rely on."
Quarterback Andy Dalton threw three of his five third completions to the rookie.
"He's got a great feel," Dalton said. "We're asking a lot of   him to make some of these plays and he's been making them. I just think he's getting real comfortable with what we're doing and his production shows."
This was a Boyd game all the way for the Pittsburgh native who stayed home to play his college ball at Pitt.
"Rainy. Snowy. Cold. The weather wasn't bad," Boyd said of the 27-degree day. "As long as the wind isn't bad, I can bear anything."
 And not just because of the weather. While becoming one of the most decorated players in Pennsylvania high school history and then starring up at the hill at Pitt, Boyd was as well known for running the ball as he was catching it. On Sunday, his biggest play of the day might have been a run, the 39-yard reverse to right off Hill's toss on the fourth snap of the game.
Tight end Tyler Eifert hads two TDs Sunday.
Boyd followed right tackle Eric Winston to the perimeter and put on the jets for their longest run since Hill went for a 74-yard touchdown against these Browns on Oct. 23. So Hill knew what the reverse meant.
"Anytime you get a big play like that, it definitely makes their linebackers a little more honest and they don't get to attack as much as they want to because they have to respect plays like that. It was definitely a big play for us."
The Bengals had to run the ball Sunday because the conditions said you couldn't jack it around the yard and while Hill has struggled this season he led the charge to 213 yards rushing. On this day he was patient, content with the five and six-yard runs. His longest run was 11 yards.
"When Jeremy's head is down and eyes forward and running through holes physically, we can win a lot of ballgames," Whitworth said. "That's the guy we need."
Whitworth loves Hill's physicality when he's rolling. It can be contagious. And not just against the Browns, the team that has allowed his only two 100-yard games this season. He's averaging 8.2 yards per carry against the Browns, 3.2 per against everyone else.
"We came out locked in and ready to go," Hill said of both matchups against the Browns. "I think both times we came out on the first drive and ran the ball well. That's the thing we have to continue to do. We just have to do it against teams other than the Browns."
Cincinnati Bengals travel to take on the Cleveland Browns in week 14 of the regular season 12/11/2016