!
Chris Henry heads upfield after hauling in the ill-fated 66-yard reception from Carson Palmer. (Bengals photo)
In conjunction with our current home page fan poll, over the next several days we will be taking a look back at the most memorable games of the Marvin Lewis era. Next up: After 15 years of waiting the Bengals qualify for the playoffs and face the rival Steelers in the Wild Card round. The game takes an ugly turn early as quarterback Carson Palmer suffers a devastating knee injury and the Bengals can't recover in falling 31-17. Here is a reprint of the game summary as written by bengals.com's Geoff Hobson.
[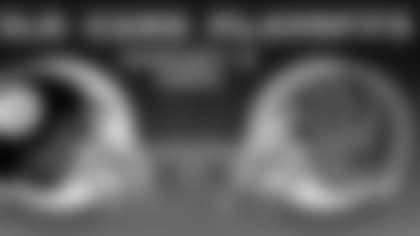 ](http://www.cincinnatibell.com/)
In a stunning opening and close to the Bengals postseason, quarterback Carson Palmer was lost on the second play of the game with a season-ending knee injury on a questionable hit and the playoff savvy Steelers regrouped in the second half on the way to rolling up 24 unanswered points in ending the Bengals season three hours later, 31-17.
"The season went down the drain in 30 minutes," said running back Rudi Johnson after the Steelers punched their ticket to Indianapolis to next week's AFC Divisional game.
Defensive tackle John Thornton, who saw his defense allow several long back-breaking passes from Steelers quarterback Ben Roethlisberger, could only shake his head after the 11-6 Bengals lost their third straight game to end their breakthrough season in their first playoff game in 15 seasons.
"We've got to play as a team," Thornton said. "We still have to learn that. We're not a complete team. ... We imploded."
But the black cloud unbelievably hovered again. On his second snap and first pass of the game, Cincinnati's Pro Bowl quarterback, the franchise guy, the guy who led his team back from the desert, somehow, some way, got blown up, and is looking at reconstructive surgery that may or may not get him back to training camp by the time it starts.
The Bengals would confirm only an anterior cruciate ligament tear, but CBS reported he also tore the medial collateral ligament.
Pro Bowl right tackle Willie Anderson, who had waited 10 seasons and 158 regular-season games for this playoff game, saw his quarterback go down in the first 4:21.
"I don't believe in luck," Anderson said. "But how many teams does that happen to?"
After unleashing a 66-yard bomb to wide receiver Chris Henry from his own 12 to the Steelers 22, Steelers defensive end Kimo von Oelhoffen (how could it not be a former Bengal?), crashed into Palmer's left knee after he threw the ball to Henry running past cornerback Deshea Townsend. With Bengals head coach Marvin Lewis calling for a penalty, Palmer's left knee was elevated on the cart. It's the same knee in which he sprained his medial collateral ligament last season and missed the final three games.
Left guard Eric Steinbach said von Oelhoffen, the right end, pinched inside, and that the Bengals were in a slide protection.
Long road ahead
Palmer left PBS before the game on crutches and wearing a knee brace with a date for surgery yet to be determined. Players with ACL surgery typically don't reach their top form for another year, but that could be speeded up for a quarterback. A rehab usually takes six to eight months, which takes him out of all of the spring camps and puts arrival at training camp in question.
"I knew right away it was bad," Palmer said in a statement through the Bengals public relations department. "I felt my whole knee pop. I didn't feel a lot of pain. It wasn't really painful. It was just a sickening feeling because I knew what it was and my season was over.
"I've never had an injury this serious in my career. I know it's going to be a long road back, but it's a long way until the next training camp. I'm going to work my butt off and come back better than ever. It's over, but I'm looking forward to next season. I believe we have a great team, and we had a season that's something to build on. I feel bad right now for what happened, for our team and for our fans, but at the same time I'm excited thinking about next year."
Von Oelhoffen, a 1994 Bengals sixth-round draft pick who went to Pittsburgh as a free agent after the 1999 season, apologized. "To him and to his family and the Bengals," he said. "I wish it didn't happen to him, but that's the wish we all take when we play this game.
"I was playing football and he was playing football. No more, no less. That's all it is. They can say what they want. They had every right to be upset. They lost their best player, but I hope he gets better. He's a hell of a football player. There are going to be some wars the next few years against this team."
Most Bengals approached after the game said they like von Oelhoffen, as does center Rich Braham, who played with him here. So did Willie Anderson, who said it wasn't cheap. But wide receiver T.J. Houshmandzadeh disagreed.
"I think the play was a cheap shot, but I don't think he's the kind of guy to do that. I think it was a dirty play, but it wasn't purposeful," Houshmandzadeh said. Lewis would only say he wanted a penalty flag for roughing the quarterback. But he was clearly upset because he brought up Roethlisberger's "cheap shot" comment last month on Bengals middle linebacker Odell Thurman after he hit him in the knees. Thurman was called for roughing the quarterback, but Lewis said he was tripped into Roethlisberger, and the NFL didn't fine him. Von Oelhoffen could still face a fine.
"Gee whiz, the guy got hurt. You can't get it back," Lewis said. "To sit there and baby and cry like their quarterback, it's ridiculous."
Thornton said players admire von Oelhoffen because he plays hard, but he felt the hit could have been avoided because "he had a few seconds not to go that low."
"It's unfortunate," Thornton said. "I don't think the game would have turned out that way."
Palmer didn't leave PBS until some of his teammates came into the training room to check on him at halftime, and they were amazed to find him acting no differently.
"I couldn't tell if he got hurt or if he got thrown out of the game," said backup quarterback Jon Kitna, who brought a 17-14 lead into the locker room. "He told me to just keep doing it."
Then, a few plays later, Henry collapsed away from the play, and had to be helped off the field with a right knee injury and was also ruled out of the game.
Bengals lead goes away
In front of the first Paul Brown Stadium crowd ever to see a playoff game, the 20th straight sellout of 65,870 erupted in a din screaming with joy and rage as the Bengals broke to a 17-7 lead behind Kitna's swashbuckling relief performance.
But it began to fall apart early in the second half when the Bengals muffed a field-goal snap, and Roethlisberger burned the Bengals defense on a 40-yard pass interference call to set up one touchdown and then threw a 43-yard pass for another one to wide open Cedrick Wilson off a flea flicker from wide receiver Antwaan Randle El that suddenly put the Bengals down, 28-17, just seven minutes after the blown field goal.
When Kitna gave up the first turnover of the game early in the fourth quarter as linebacker James Farrior stepped in front of a crossing route to Houshmandzadeh, the Steelers converted for Jeff Reed's 21-yard field goal with 10:29 left in the game.
Even as the Bengals played well early and the crowd delivered a memorable performance that drew the Steelers into three early false starts, they just couldn't fight off the bad karma of losing Palmer. On that first drive of the second half, Kitna had Houshmandzadeh beating cornerback Deshea Townsend in the end zone, but Townsend was able to knock it away at the last instant as it hung slightly, although Houshmandzadeh thought Townsend pushed him and interfered.
Roethlisberger was his typical economical self. He hit 14 of 19 passes for 208 yards and didn't make any mistakes. He continually challenged the middle of the Bengals secondary. Down 17-14, he got Randle El behind free safety Kevin Kaesviharn, who was called for a 40-yard penalty. One play later, strong safety Ifeanyi Ohalete missed running back Jerome Bettis on a five-yard touchdown run that made it 21-17 with 5:12 left in the third quarter.
The Bengals just couldn't get in sync on offense. On the next series, Kitna got sacked on a four-man rush, and then while Kitna rolled way from a two-man run rush, he fumbled the ball on a pump fake and had to fall on it to force a punt.
The Steelers wasted no time. On the third play after that punt, they went with the flea flicker and it was open and uncovered.
Kitna was as game and as prepared as anyone the Bengals could turn to in those circumstances, and he responded with a Bengals postseason high 40 attempts, but could only get 24 completions for 197 yards.
Missed opportunity
The Bengals had a chance to take a 20-14 lead on Shayne Graham's 33-yard field goal. Long snapper Brad St. Louis was a little high and holder Kyle Larson's hands were a little late, and Graham had to fall on the muff at the Steelers 34 with that 17-14 halftime lead.
"It's the first time in six years you've had to ask about one of his snaps and it will be another six years before you ask about another one," Graham said of the impeccable St. Louis.
Kitna hit 12 of his first 16 passes for 98 yards, including a third-down seven-yard touchdown pass to Houshmandzadeh with 6:13 left in the first half that gave the Bengals a 17-7 lead
The first NFL playoff game ever at PBS bounced and wheezed and rocked through the theater of the macabre and the theater of the absurd and just plain great theater in this Wild Card game that marked the first playoff game between these two old AFC North rivals.
Kitna, who last appeared in the playoffs in 1999 for Seattle, hit one of his many big third-down plays early when he drilled a 24-yard pass to wide receiver Chad Johnson working one-on-one on cornerback Ike Taylor on third and three that made it all possible in a wild 14-play, 57-yard touchdown drive that gave the Bengals the 17-7 lead.
First, running back Chris Perry got a first down at the Steelers 5 on a third-down run, but it was negated on a holding call on right guard Bobbie Williams. But the Bengals got another life when strong safety Troy Polamalu was called for unsportsmanlike conduct when he shoved the ball in Braham's face. Then, they got backed up again when Williams was called for a false start. But Walter, playing for Henry, drew another first down on an illegal contact to set the stage for Houshmandzadeh.
But that turned out to be the bottom of the magic hat. With the Bengals daring Roethlisberger to beat them, he took them up on it in the very next 2:25 when the run-happy Steelers went up top. On the next snap after the touchdown, Roethlisberger hit Wilson behind Kaesviharn for a 54-yarder. Then he hit Randle El for 15 yards more in front of cornerback Tory James before easing back in the shotgun at the Steelers 5 and drilling a touchdown pass to wide receiver Hines Ward crossing free in the end zone. That made it 17-14 with 3:48 left in the half.
Kitna put the Bengals up, 10-0, in a drive that included a brave scramble up the middle in which he ran over Steelers linebacker Larry Foote for a 12-yard gain as Foote had to leave the field.
Kitna then hooked up on a 15-yard pass to Walter in the middle of the zone. The Bengals scored when running back Rudi Johnson broke to his left edge and shook a tackle from free safety Chris Hope and then beat Polamalu to the flag for a 20-yard run that made it 10-0 with 1:09 left in the quarter.
But Taylor's 36-yard kick return, a 15-yard late hit call on James out of bounds, and a blown blitz quickly made it 10-7 in a drive of 2:58. With linebacker Brian Simmons blitzing, no one came over to fill his spot and Roethlisberger flipped a screen pass to the uncovered Parker in the Bengals' right flat and he rolled in for a 19-yard touchdown.
Parker didn't hurt them in the first half as the Bengals answered the concerns of the run defense, holding him to 22 yards on eight carries. But Roethlisberger doesn't have the league's best yards per pass attempt in the NFL for nothing. When he throws, he makes them count, and finished the half 9-of-13 for 134 yards.
Kitna looked much crisper than he did last week in Kansas City, hitting 14 of 20 passes for 109 yards in the first half before the Steelers were content to rush just three or four in the second half and blanket the receivers from a quarterback who didn't have a season's worth of timing with them.
Except for the touchdown, Rudi Johnson found it tough going with nine carries for 30 yards in the half, and he only got it four times in the second half and finished with just 56 yards. Chad Johnson finished with four catches for 59 yards and had the longest Bengals play of the second half, which was just 21 yards. Houshmandzadeh didn't catch a ball in the second half and finished with four for 25.
PREGAME NOTES: The Bengals are so geared up to stop the Steelers running game that they had to sit down one of their most experienced postseason players to make room for defensive tackle Bryan Robinson in Sunday's Wild Card playoff game.
Lewis opted to dress Robinson (foot) for the first time since Nov. 20, but he had to sit down end Duane Clemons to do it. Clemons, one of 13 players on the Bengals roster with postseason experience, also didn't play back on Dec. 4 when the Bengals held Pittsburgh to 95 yards rushing in a 38-31 victory.
Shaun Smith, who started in Robinson's place for the last six games, had five tackles against Pittsburgh and is going to start this one. Rookie end Jonathan Fanene, who had a big game in his NFL debut against the Steelers last month, is also down to make room for Robinson.
Before the first playoff game ever at Paul Brown Stadium, the Bengals were able to judge that cornerback Deltha O'Neal (knee) and wide receiver Chris Henry (back) are healthy to play. O'Neal didn't practice until Friday and Henry (one catch in his last three games) has been hampered by a sore back and illness. O'Neal didn't practice until Friday and Henry (one catch in his last three games) has been hampered by a sore back and illness.
That means wide receiver Kelley Washington is inactive, as is middle linebacker Nate Webster, cornerback Greg Brooks, fullback Nick Luchey, and defensive tackle Matthias Askew.
The Steelers didn't line up much differently than they did in Pittsburgh. Rookie left tackle Trai Essex, who started that game, is inactive because Marvel Smith is back. In the last two games since Smith has been back, the Steelers have rushed for 408 yards, their highest two-game total of the season.
Also inactive is running back Duce Staley, the club's third-down back last month.
The Bengals took the field in all black uniforms as the offense was introduced as a unit and was saluted by fireworks and the 20th straight PBS sellout.
No surprises on Lewis's game captains. Right tackle Willie Anderson, center Rich Braham, and linebacker Brian Simmons, the deans of the offense and defense respectively. Also, defensive tackle John Thornton and safety Anthony Mitchell, playoff veterans who played for and against Lewis in past postseasons. QBS AND PLAYOFFS:
It's always about the quarterbacks in the playoffs, isn't it?
No one knows that better than a Bengals franchise that can't get all-time leading passer Ken Anderson into the Hall of Fane even though he won four NFL passing titles. At last year's Hall of Fame announcement, new inductee Steve Young admitted his career had been validated by others only when he led the 49ers to a Super Bowl title.
In the first round of the 2005 playoffs, 32 years after Anderson's first postseason start, it's still about quarterbacks this Wild Card Weekend. Each of the four games featured a veteran playoff quarterback against a kid making his first playoff appearance. On Saturday, the vets prevailed with Washington's Mark Brunell fending off Tampa Bay's Chris Simms, and New England's Tom Brady remaining unbeaten in the postseason against Jacksonville's Byron Leftwich.
Before Bengals quarterback Carson Palmer made his postseason debut Sunday in the weekend's last game against Pittsburgh's Ben Roethlisberger, Eli Manning, Palmer's successor as the NFL's No. 1 draft pick, went down against the Panthers' Super Bowl vet Jake Delhomme in a flaming shutout. Palmer was the last hope for the kids.
Never did Palmer show his brains and maturity more when he was asked at his weekly news conference setting up this game about how quarterbacks are defined.
"All you hear is, 'Tom Brady is 9-0 as a postseason quarterback.' And you hear about (Dan) Marino, and that Peyton (Manning) hasn't gotten to the big one," Palmer said. "That's part of your legacy. When people talk about quarterbacks of the past, they talk about what happened in the playoffs. Did they get to the Super Bowl? Did they win the Super Bowl? What was their record in the playoffs? That's part of your legacy, and my legacy starts this weekend. I understand and realize how big of a game this is for this city and this organization, and I am as fired up and excited as anyone is."
Palmer already knows what Anderson has learned. Anderson holds the NFL's career postseason record for completion percentage, completing 66.3 of his passes in six games. But his record is 2-4 and, thus, no Canton. Indeed, former Bengals wide receiver Cris Collinsworth wondered at the last Super Bowl if their loss to the 49ers in Super Bowl XVI cost not only Anderson the Hall, but also guys like wide receiver Isaac Curtis and cornerback Ken Riley.
Palmer's opposite number knows it, too, even though Roethlisberger came into the year a league later than he did. After winning all of his regular-season starts last year, Roethlisberger got chewed up by Brady in last year's AFC championship game and now his playoff line reads a 1-1 record with three touchdowns and five interceptions.
"It defines the season of a quarterback a lot because no matter how good of a season you've had, you get into the playoffs, it's a totally different season," Roethlisberger told the Cincinnati media last week. "You have to go out there and play your best football in the postseason. It gets a lot tougher, it's a lot faster. Mistakes are magnified. You can't do certain things. It's a lot tougher in the postseason."
You can be sure that Palmer is going to throw for more yards combined than Anderson and Boomer Esiason did in their first playoff games. And he'll probably do what they didn't do in their debuts and throw a touchdown pass. In the 1973 AFC Divisional loss in Miami, Anderson passed for 113 yards on 14-of-27 and threw an interception. When the Bengals beat Seattle21-13, at Riverfront in the 1988 AFC Divisional, Esiason had 108 yards (seven-of-19) and avoided a pick.
Those styles are the extreme compared to the Bengals offense under Palmer, and it highlights the differing styles of Sunday's quarterbacks. In the three losses Roethlisberger has quarterbacked this season (New England, Indy, Bengals), he's thrown at least 26 passes. In the four games the Steelers have won since losing to the Bengals, he hasn't thrown more than 20.
Yet it's a matchup of the league's No. 2 passer (Palmer at 101.1) and No. 3 passer (Roethlisberger at 98.6).
"I think we're completely different quarterbacks; he's in a completely different system," Palmer said last week. "He's in a run-heavy system. I'm in a pass-heavy system. We do a lot of things differently. The way he moves and breaks tackles, and he's got a great pocket presence — that's something I definitely don't have as well as he does. We throw the ball more, and they run the ball more. Two completely different styles and mindsets going into games. Defensively, we've got our hands full with him. The way he avoids tackles, the way he avoids blitzes, the quickness he has in getting rid of the ball, and the great job he does in the play-action passes is tremendous."
By the way, Esiason was 3-2 in the playoffs. The other quarterback to start a Bengals playoff game, Virgil Carter in the AFC Divisional in Baltimore, got beat by a Hall of Famer. Johnny Unitas completed just six of 17 passes, but they went for 145 yards and two touchdowns. Carter could manage just seven of 20.
COACH OF THE YEAR: The age-old adage for Coach of the Year voting held up again. If the experts think you're supposed to win, you don't get it. Which is why Bengals head coach Marvin Lewis got just one of the Associated Press's 50 votes for the honor from the nationwide panel or writers and broadcasters. After Lewis led the Bengals to a pair of 8-8 seasons, many pundits anointed them their new, hot team before the season.
It's also why the Colts' Tony Dungy (20.5 votes) lost to the Bears' Lovie Smith (24.5). Dungy was supposed to lead the Colts to the Super Bowl, so the 14-2 season that featured a 13-0 start did nothing for voters. To Smith's credit, he did the most with the least, but it's just as hard to coach a good team with great expectations.
Bill Belichick of the Patriots got two votes, and Lewis tied with Seattle's Mike Holmgren and the Giants' Tom Coughlin with one vote each. RUDI, RUDI REDUX:
Remember, it was after the loss to Pittsburgh back in October that running back Rudi Johnson fumed about getting just 12 carries for 65 yards. That was after getting 46 yards on nine carries in the first half.
Let's face it. As much as Palmer is such a great weapon, this team, this series and this opponent is defined by the running game.
The Bengals are 11-2 when Johnson rushes for 100 yards, 4-0 this season. They are 11-0 when he runs at least 25 times and 17-5 when it's 22 carries or more. Under Bill Cowher, the Steelers are 16-3 when a running back rushes for at least 100 yards against the Bengals. And this season the Steelers are 0-5 when they don't rush for 100, 11-0 when they do.
The Bengals? They are 4-2 when they don't, 7-3 when they do.
In the Dec. 4 win over the Steelers, Johnson had his 100 until he lost it late and finished with 98. But he still didn't hit any of the magic numbers, finishing with 21 carries.