Christian Westerman in his Arizona State days.
If the Bengals hadn't bench-pressed Baylor behemoth Andrew Billings out of the fourth round, we'd have spent the last week talking about how they dead-lifted Arizona State guard Christian Westerman from the fifth.
Billings was talked about in the second, but Westerman quietly got buzz in the third. But both are now snuggly fit here at this weekend's Bengals rookie minicamp anchoring each side of the line.
"I had my eye on it," Westerman said Saturday of the NFL scouting combine record of 49 reps of 225 pounds.
 "My best is 45. With a little more energy at that event I thought I'd have a shot for four more, but . . ."
At 25, Westerman got a cramp in his hamstring and had to stop at 34. Billings once squatted 805 pounds and Westerman thinks he could have neared 700 if the Arizona State coaches let them go past 600. His boxing exploits are well known, so it's no surprise that offensive line coach Paul Alexander said after Saturday's practice that Westerman has "an inner toughness." Duke Tobin, the club's director of player personnel, simply calls him "one tough dude."
That's been tested this weekend when Alexander did what he always does and flips the rookie guards a ball and tells them they have to play center. Whether they have or not and it's usually not.
But this is par for the course. The Bengals current backup for all three spots is T.J. Johnson. It's a fact of NFL life. Backups have to play all three spots. That's the reason they can keep nine offensive linemen instead of ten.
But it always makes for an interesting rookie camp, yet this one may be more intriguing than most. Alexander figures between the two walk-throughs and two scrimmages, he's had six centers and most have never done it.
That's OK. Bowling Green quarterback Matt Johnson hardly ever took a snap under center during his college career in a spread offense. On Saturday morning he had black tape wrapped around one of his fingers after it got jammed in one of the many experiments.
 "It's been interesting," Johnson said to give you an idea what Friday was like.
Saturday was a little more normal on the line with everyone going back to pretty much their college spots.
But Westerman, the one draft pick on the line, has never snapped in a game and he took some quarterback exchanges on the side both days. Free agent rookie guard Alex Redmond of UCLA snapped for only a half in an emergency this season against UNLV, but he got the bulk of the center work Friday with the first team. Free agent Alex Cooper started at three different spots for Houston and not one of them was center, but he also took a few snaps from scrimmage on Friday.
When Alexander called Cooper last month and told him he liked what he saw on tape and, oh, by the way, you're going to play some center if you end up here, Cooper started snapping to anyone he could find. His girlfriend, Taylor Odum, even took some once. Not an athlete but she passed the gamer test.
"I told her this is something we've got to do. Team effort," Cooper said. "I had heard from other coaches that I'd have to play guard and center if you're going to play at the next level. That sent shivers down my spine because I like to be out in space as a tackle. (The quarterback exchanges) weren't as bad as you think for two guys who had never done it."
It helped that Cooper made the calls this season no matter where he was on Houston's young line, but he said the biggest problem he had was picking up the different blitzes while learning the plays at the same time.
"I've got an open mind for anything," said Cooper, who sounds like the captain he was.
When Redmond had his one moment at center last season, he was just flinging it back there with his wrist. "I was holding it like a cone," he said. Now his grip is getting refined. And it's quite an adjustment making the calls.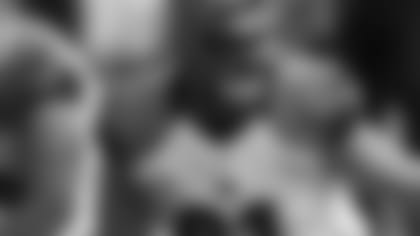 Bengals starting center Russell Bodine led the 2014 scouting combine in the bench press.
"Our offense was very simplified," Redmond said. "One word plays and we'd all go as fast as possible. I'm a guy that likes to go after it, so to have to stop and point, I haven't done that. Everything is riding on you to make calls, so that puts you in a pinch. But I think I can do it."
Redmond is a smart guy used to freelancing. One of his hobbies is poetry and he knows some rappers, so he got the call at one of the events at a bowl game and was asked to freelance some rap against a rep from the other team.
On Saturday, he didn't have to freelance that much because Redmond was back at right guard, Westerman was back at left guard and Ohio center Lucas Powell, another undrafted rookie, took most of the snaps at center with Florida tryout center/guard Trip Thurman getting the rest.
"We were back at our normal spots today. Everything on Friday was such a whirl," Westerman said. "It's like a ladder. Every day you take another step and you get better. Coach (Alexander) showed me just a few things with my grip (Saturday) that really helped me with the shot-gun snap after Friday. I was flicking it with my wrist. Now I'm keeping it (straight) like a lever."
Alexander is confident Westerman is going to work out.  Two of his prized strongmen are starting inside right now. Right guard Kevin Zeitler had 32 reps of 225 before the 2012 draft and in 2014 center Russell Bodine led the combine with 42 reps.
"That cramp issue still hurts me today. I think I could have had 10 more," Westerman said. "I was in an MRI machine for eight hours and when I got out all they said was, 'Lift.'"
Westerman thinks Alexander is going to put his strength in the best place possible.
"It's hard to right now without the pads," Westerman said. "I feel like the things he's going to teach me are going to help my strength. The way he teaches us in pass pro, I'm already a strong upper body guy. Legs as well. But the way he teaches us to use our hands, I think that is going to help a lot."
They hope, at some point, it will even be a snap.
Cincinnati Bengals host rookie minicamp at Paul Brown Stadium practice fields 5/6/2016