When the Bengals sent out Monday's press release announcing their new running backs coach, Jemal Singleton could have written it himself. Since Captain Singleton also set up media events and briefed the brass before they met the cameras during his career as an Air Force press officer, he'll also be able to coordinate his own introductory news conference.
And that makes Singleton, whose love of coaching was so great it cut short his career as a pilot, just the kind of assistant Zac Taylor is seeking for an evolving staff he wants filled with communicators for the 2020s.
The news conference isn't imminent, although Taylor moved closer to completing his staff Monday. He's expected to name a defensive coordinator in the next day or two and he rounded out the offense Monday with Singleton's move from Oakland, where the former coordinator of Air Force's prolific run game completed his 14th season of coaching that includes directing five collegiate 1,000-yard rushing seasons and one in the NFL with Frank Gore's 1,025-yarder for Indianapolis in 2016.
Also Monday Taylor added Moeller High School head coach Doug Rosfeld, a confidant during Taylor's one year as the University of Cincinnati offensive coordinator, with the title of director of coaching operations that pretty much makes him the head coach's chief of staff. Taylor went back to his Texas A&M days for his head strength and conditioning coach when he turned to Joey Boese at the University of Illinois.
Taylor tapped Singleton on the enthusiastic recommendation of his offensive coordinator Brian Callahan, the Oakland quarterbacks coach last season when Singleton coped with loss of Marshawn Lynch.
"He's exactly the kind of guy we're looking for on this staff," Callahan said. "He's a great teacher, a great communicator. He'll form a great relationship with both his players and on the offense. He brings energy to the field, a lot of gas. He's one of those guys that's a slam-dunk hire for us."
Singleton, 43, is now a member of a Bengals offensive staff that's young. But maybe not as young as you think. It's been reported Taylor, 35, and Callahan, 34, are the youngest head coach-OC combo in the league. But the average age of the eight offensive position coaches and assistants is 41.5, compared to last year's 44.3 on a staff that was considered heavily experienced. That offensive staff averaged 9.5 seasons of NFL experience, this one six.
Taylor's group also has 10 years of military experience with six from Singleton and four years in the Marine Corps from new offensive line coach Jim Turner. For Callahan the fit goes without saying. He saw it last year in Oakland, Singleton's third season in the NFL after two with the Colts. If there's one word observers use to describe Singleton's coaching style, it is "meticulous."
It was a natural life for Singleton. He gets his communication skills from his father, a 20-year Air Force technical sergeant, one of the invaluable "Ditty Boppers" that make Morse Code dance into language that is the lifeblood of the service. Born in Turkey, raised in England and Germany before settling in San Antonio, Texas as a high school sophomore, he first learned the game on American military bases.
"He's got the discipline you'd expect from a military man," Callahan said. "He doesn't take a lot of extra. He's very, very certain about what he wants. Meticulous is the right word. Which is what you would expect from someone that graduated from the Air Force Academy. When you deal with people that are from those backgrounds, they do share traits as far as they're going to be disciplined, they're going to be meticulous, they're going to be straightforward. They're not going to waver from their core beliefs that drive how they go about their job. I think it's a great thing for us."
Singleton's focus is well known in Air Force circles as just the sixth player at the Academy that was a captain in both his junior and senior seasons. David Ramsey, the estimable and versatile columnist for the Colorado Springs Gazette, observed last year when Singleton got Raiders job that, "he was an overachieving football player at the Air Force Academy, a 5-foot-9 high school linebacker who became an undersized yet powerful running back for the Falcons … Singleton returned to his alma mater as running backs coach. He crafted Chad Hall's transformation from a fumbler to game-altering runner. In 2007, Hall trampled defenses for 1,478 yards under Singleton's relentless and careful direction."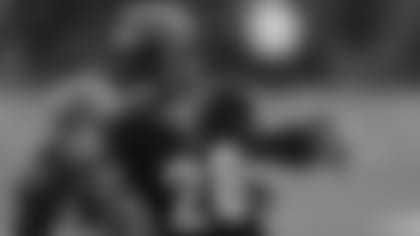 But before he returned to coach, Singleton had to make a huge, tough decision. After he graduated with a bachelor's degree in social sciences, he went to the academy's preparatory school to coach while also taking introductory flight training. He went up in gliders and made maneuvers with Cessnas, but the hours didn't pile up very high before he made the hard call to give up his pilot's slot.
"I like flying, but I just fell in love with coaching," Singleton said of leaving the cockpit. "That's kind of my style. If you're going to do something, be passionate about it. I knew if I was going to be flying, I knew I'd be thinking, 'What if I was a coach? What if I was a coach?'"
What if he was a coach? He still found a way to go up. While Hall and Asher Clark logged 1,000-yard seasons at the Academy with Singleton as the running backs coach and run game coordinator from 2007-10, Air Force was ranked in the top 10 rushing nationally each season. Joseph Randle got two more 1,000-yard seasons for him at Oklahoma State before he got drafted by the Cowboys and Alex Collins got one at Arkansas before the Ravens called.
"Football is in my blood. As you get older, you can't play forever," Singleton said. "I love the relationship part you can make with a young man and not only change his fundamental football skill, but in some cases change his life. The way he grows, the way he thinks. Just help him be a better young man. That personal aspect of coaching I was really drawn to it and it continues today."
Today Singleton inherits AFC rushing champion Joe Mixon, a guy he knows well. When Singleton was at Oklahoma State, it was pretty much a done deal Mixon would commit to Oklahoma. But Singleton did due diligence and reached out in the recruiting process to one of the nation's top backs
"Oh yeah. Antioch," said Singleton of the area that includes Mixon's hometown of Oakley, Calif. "He was going about an hour-and-a-half south (to Norman, Okla.), but I've got some tweets I'm going to look up and show him."
Singleton embraces a running backs room with not only the big and explosive Mixon, but the fast and slippery pair of Giovani Bernard and Mark Walton. Guys like that can make coaching better than flying.
 "Everybody asks me that. If on a trip the pilot goes down, hey, they're looking at me," said Singleton with a smile. "I said, 'Well, as long as that auto pilot works pretty good, I'm sure I can make something happen.'"
Making something happen on the ground will be more than enough for his new staff.