Andrew Whitworth sees himself playing anywhere next season, as long as it is at left tackle.
After returning to left guard for a start Saturday night in Houston for the first time in three years, Andrew Whitworth hopes he gets the call back at left tackle in this Sunday's regular-season finale (1 p.m.-Cincinnati's Channel 12) against the Ravens.
That's his first choice for next year, too, as both he and the Bengals mull their next steps in free agency. At 35 and heading into his 12th NFL season, Whitworth still sees himself as the Bengals starting left tackle even as the Bengals try to find out about Cedric Ogbuehi, the No. 1 pick from 2015 who has struggled to get settled at both left and right tackle.
"My first choice is to play left tackle in 2017 somewhere," Whitworth said Tuesday when the Bengals returned to work from the holiday. "Hopefully here. My No. 1 choice is here."
And his No. 1 choice is the left tackle position Whitworth has anchored for the past eight years with steel-belted reliability. In that stretch the quarterback's blindside, whether it be Carson Palmer or Andy Dalton, has been clean enough to secure three AFC North titles and six post-season berths, and he doesn't see himself giving it up.
"To me it's about putting the best people out there playing football," Whitworth said. "I think I have a talent that's rare at left tackle in pass protection. There are just not many guys out there that are good at that level."
On Saturday night Whitworth worked next to Ogbuehi, but it sounds like he'd prefer tackle. Asked about the possibility of moving to left guard next year to help the transition Whitworth said, "It would depend on what the other offers were. That's a diverse world. It depends on what you're getting paid to do and that kind of deal."
If guard is his only option to stay in the league, he'll do it, but if you look at the rankings of profootballfocus.com's left tackles since Whitworth moved from guard to tackle in 2009, you won't convince him he should stop playing left tackle.
He's currently ranked as the league's second best pass protecting tackle.  Ogbuehi is ranked seventh from last after starting 11 games at right tackle and one game at left.
 In 2010 Whitworth became No. 1 overall after moving from No. 10 in 2009. In 2011 and 2012 he was ranked third and second, respectively, protecting the passer before falling to 24th in 2013 while hobbled with a knee injury. But in 2014 he came back to lead all tackles in overall play, where he's currently ranked third.
"Guard is a whole other world," Whitworth said. "It's physical, banged up, a lot guys are bruised and battered. It's a different style of football in there. It's why you see a lot of guards who are big and heavy. Rhinoceros-built guys. That's why you don't see a lot of tall, rangy 6-7 guys in there."
Whitworth isn't happy with how he played inside against the Texans, since it was a short week and he only got one practice in.
"I didn't do anything glaringly bad. I just kind of did my job," Whitworth said. "Playing a team like they are you get so many crazy looks, it's hard to get settled. You don't have a normal down in there. They've morphed … They're more like Rex (Ryan) back in the day.  They're all over the place. … With the communication and feel, that's was a hard environment to play exceptionally well for sure. Hopefully I'll be back at tackle."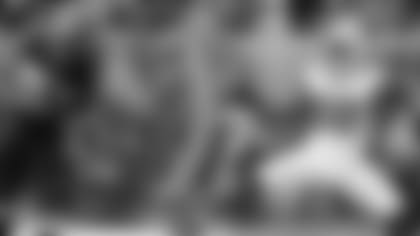 Dre Kirkpatrick had this huge pick on the Bengals goal line against Buffalo Nov. 20.
HELLO SWAG: The Bengals defense and cornerback Dre Kirkpatrick both said good-bye and it worked out. Since the bye week the Bengals' scoring defense over those seven games is third best in the NFL at 16.6 points per game, almost a point better than last year's 17.4 points per game that set the franchise scoring record.
"We bonded a lit bit better," Kirkpatrick said Tuesday. "It was a lot of bond. I feel like we got closer together, but we just didn't get it done."
Kirkpatrick did a little bonding of his own at the bye and he hasn't given up a touchdown in the seven games while building a solid PFF line for the season. The web site has him 12th in the league in passer rating for balls thrown his way and 39th (out of 120 cornerbacks) in percentage allowing completions in his area.
After talking to family and friends that watched him play at Alabama, he went back to his signature swag once they came back from the bye.
"That was something that got addressed to me. My friends and family saw that," Kirkpatrick said. "That was one of the things out of my game. That's what got me here. When I added it back I felt like my play went up even more. At the end of the day, letting it out of your box and putting it out there on the line. Get back to what got you here. Just going out there and playing relentless. Not caring who your opponent is. Not even really thinking about it. Just going out there and play your game."
"I got to have a chance to sit down and talk to a couple of (friends). They just brought it to my attention."
He has already saluted former Denver Pro Bowl cornerback Champ Bailey for helping him during last offseason and walking him through situations that made him sharper on details and he says he'll go back for more this offseason.
Heading into Sunday's last game e's in the boat with about half the players who don't know if they're going to be back because of free agency or the draft or performance. He's in the free agent category who hopes this isn't his last game as a Bengal.
"I don't want to think like that. I love this organization," Kirkpatrick said. "They did everything, taking a chance on me, especially in the draft with all the things I had gone through in my career. I don't want to think like that. I want to think like we will get it done." 
He was wearing a ball cap that said "Ohio,' mirroring his hope for the future. But he wasn't wearing rose-colored glasses, either, when asked what the odds were he's coming back.
"I don't know. That's not my job to worry about that," Kirkpatrick said. "I'll leave it to the professionals and the team to worry about that. My thing is this is where I want to be, but it's a business."
KUMEROW, ROACH CALLED: The Bengals filled the Tyler Eifert and Clint Boling roster spots Tuesday with two practice squad players.
Linebacker Trevor Roach, who played in the first three games of the season and went to the squad when Vontaze Burfict returned from suspension, returned for Sunday's finale. Wide receiver Jake Kumerow, who has been waiting for his first appearance on the active roster during his two seasons in the league finally got it.
"A nice little Christmas gift," Kumerow said of his first game check in the $26,000 range as opposed to his $6,900 weekly practice squad salary.
He's been on the practice squad for 31 weeks, but he's well versed in how a game plan works.
"I take the game plan every week like I'm playing any way. I take full notes," Kumerow said. "I take the position group test that has all the key notes for the game and that. So I know all that stuff. I'm always paying attention to the game plan, so switching over I'll probably still have to do some scout (team) things and hopefully do some more plays with the starters. I'll be ready for both just like always."
An undrafted free agent from Division III Wisconsin-Whitewater, the 6-4, 206-pound Kumerow has NFL dimensions, but this year he was the seventh receiver in a field of six at the end of preseason. He admitted it's been a long road.
"It's tough. You always wonder when you see guys get hurt or something happens on the team, you're always wondering 'Hey, I wonder if my shot will come,'" Kumerow said. "But you can't question what they're doing. It's their job to put people up and my job to just run routes."
When he gets in the game Sunday that will complete another NFL father-son act. His father, Ohio State linebacker Eric Kumerow, was a first-round pick of the Dolphins. His uncle, former Dolphins defensive end John Bosa and his cousin, current Chargers defensive end Joey Bosa, have already done it. His parents have already spoken for Sunday tickets.
"It will be nice having come off the last game having been active because obviously I haven't been yet in two seasons," Kumerow said. "Now I can look back and say 'Hey, there's that one game.' Now I can have a nice little confidence boost coming into next year."