Giovani Bernard has had a rehab as rapid as his moves.
All indications are running back Giovani Bernard (ACL) and tight end Tyler Eifert (back) could be available when training camp opens Friday (3 p.m. on the practice fields) and won't have to start the summer on any restricted lists. But the Bengals are probably going to bring them along slowly in the wake of their off-season surgeries.
It's good news because the minute they take a snap in training camp they'll lose their eligibility to start the season on the physically unable to perform list (PUP). It's been a brilliant performance by Bernard, who went down late in the Nov. 20 loss to Baltimore.
Rookie wide receiver John Ross, taken in the first-round after his shoulder surgery, isn't expected to make his Bengals practice debut for a couple of weeks.
But there won't be an official word until probably Thursday. Rookies and injured players reported Tuesday with everyone else slated to report Thursday for the conditioning test.
COORDINATED CALLS: Head coach Marvin Lewis' coordinators checked in at Tuesday's media luncheon at Paul Brown Stadium and:
-Despite two new starters joining left tackle Cedric Ogbuehi on the offensive line, offensive coordinator Ken Zampese is adamant Ogbuehi is going to bounce back from last season's benching at right tackle. And he'll adjust.
"I have full confidence that he's going to be a fabulous player for us," Zampese said. "It's no different than a new guy at wide receiver or a new guy at another position. You find out what his skill set is so you can put in your game plan to keep it in his wheel house. No different than any other player."
Zampese is banking on the 23 years of experience Paul Alexander has coaching the Bengals offensive line.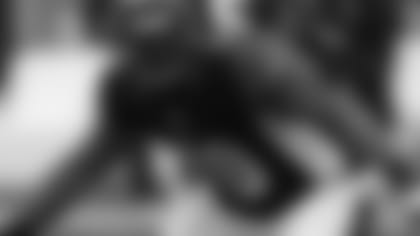 All eyes on Cedric Ogbuehi. Ken Zampese likes what he sees.
"The guy that coaches that group, Paul Alexander, is a great communicator. Just his ability to get guys at an early age and have them perform to and above what their expectations are is good," Zampese said. "Now, we have time on task with (Ogbuehi). It was a little slow because he had the injury (torn ACL) when he got here. We got him in the rotation. He sees how things happen; now he's got a chance to do it from scratch again. Those things give me confidence. He's physically able to do it and we have a coaching staff that's able to get him to do it. Now we just need time to do it."
With Bernard taking time to round into form while second-rounder Joe Mixon learns the playbook, Zampese isn't going to crown Jeremy Hill king just yet. He says look for all three in some form.
"That will work itself out by the time we get there. I'm not even worried about that," Zampese said. "We have plenty of time to find out what each guy is going to be in pads and where they're at when we get there. I'm sure it will be a mix of all guys because they're all worthy.
"I'm not going to hamstring any of those guys on time or this or that because a lot of different things happen. A lot of surprises happen. Gio's already to go, maybe Joe's got it right from the get go, we don't know yet. We haven't put pads on yet. We'll get all those things answered as we go. I'm really excited to see what the answers to those questions are."
This is that rare time of the year when the coaches sound like fans in their anticipation of the pads coming on, which figures to happen for the first time Monday (3 p.m. on the practice fields).
-With more versatile players at his fingertips, defensive coordinator Paul Guenther is envisioning a camp using more players and more packages.
"When you have more guys that can do things it ends up in more personnel groups," Guenther said. "You don't want to do too much and overdo it. It's got to be some of the same stuff already."
Rookies Carl Lawson (end/SAM backer) and Jordan Willis (left/right end), along with sophomore Nick Vigil (MIKE/WILL backer) give Guenther the ability to put them with veterans Josh Shaw (corner/safety), Kevin Minter (MIKE/WIll) and Wallace Gilberry (end/tackle). And let's see if WILL backer Vontaze Burfict gets some snaps at MIKE.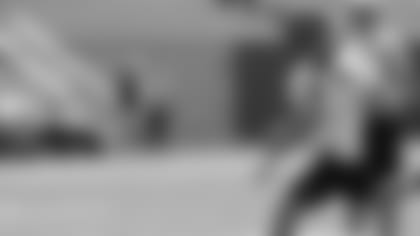 Jake Elliott is one of three kickers in a camp first for Marvin Lewis and Darrin Simmons.
-Special teams coordinator Darrin Simmons has carefully crafted this training camp plan like no other. For the first time in his 15 seasons he's not only got a real live kicking competition, he's got three of them in incumbent Randy Bullock, fifth-rounder Jake Elliott, and free-agent soccer transplant Johnathan Brown.
And as carefully as he's put it together he knows it will change. He has to rotate them because they can't kick every day. But he knows he'll have more field goal attempts than ever before in a camp. And he figures one of them will have to go before the other two and that's the pair that battles until the final cut on Sept. 2.
"We've got to expose them to as many situations as we can to make an honest and accurate evaluation," Simmons said. "It's not an easy thing to do. With one kicker in camp it was more like conservation. Not overdo it. Now it's almost flipped. We have to see three legs."
Making it even more intriguing is the numbers that came out of the spring. Each had about 90 or so kicks and there were only four makes separating them.
"Three good candidates," Simmons said.
Cincinnati Bengals host Pre-Training Camp media luncheon at Paul Brown Stadium.