A.J. Green made it out to the field for Friday morning's walk-through held in a crisp 18 degrees on the Paul Brown Stadium turf, but after being limited the previous two days that looks like all the Pro Bowl wide receiver is going to do because he's listed as doubtful with his partially torn hamstring for Sunday's game (1 p.m.-Cincinnati's Channel 5) against the Steelers at Paul Brown Stadium.
Head coach Marvin Lewis would only offer, "he's progressed as expected,' and that he takes into consideration both what Green is telling him and what he sees when deciding if and when he returns. With Green inactive, it makes the fourth straight game he's been scratched, a career-high.
Sunday's game is set to be played in 25-degree temperatures, so a return in Houston's indoor NRG Stadium a week from Saturday (8:25 p.m.-NFL Network) could be more in the offing. Also classified as doubtful is rotational defensive lineman Wallace Gilberry (calf). It will be the third straight game he's missed after re-signing and playing three.
A rash of players who were out in Cleveland last week went full on Friday but were listed as questionable: long snapper Clark Harris (groin), backup wide receiver James Wright (knee), backup safety Derron Smith (thigh), and backup tight end C.J. Uzomah (calf). Harris went full all week and should be ready to go for the first time since Nov. 20. Wright went full go Thursday and Friday and should be OK.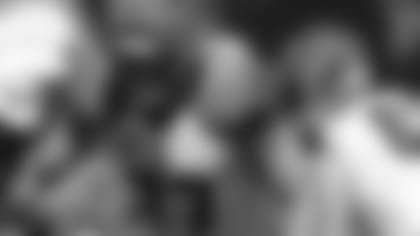 TOASTING WHIT: Talk about a couple of war horses. How about on third down Sunday? Here is Bengals Pro Bowl left tackle Andrew Whitworth, who just celebrated his 35thbirthday Monday, again trying to keep 38-year-old Steelers outside linebacker James Harrison away from Andy Dalton.
This might as well be 2009. Harrison is leading a vintage Steelers' play-off charge with all of his team-leading five sacks coming in the last six games, a stretch where their defense has piled up 23 sacks and played a huge role in the four-game winning streak.
Then there is Whitworth, rated the overall second-best tackle in the NFL and the second best pass protecting tackle in the league by profootballfocus.com. By Whitworth's count from the coaches, he's been charged with one sack allowed against Harrison in his career and that was six years ago.
"(Harrison) keeps getting bigger and stronger every year," Whitworth said Friday. "He's always been about power. We don't say much during the game. Afterwards we always give some love and that's it. It's always going to be a battle. It's tough."
Whitworth is uncertain what comes after these three games. He hopes he signs back. He wants to finish his career in Cincinnati. There is uncertainty with the Bengals, too. After two seasons they're not quite sure what they've got in what they thought were their tackles of the future.
Dalton is pretty certain. At Monday night's birthday party at the Whitworth home, he toasted to five more years with his big left tackle.
"He's having a great year. I think he's been a big part of this team for a long time. Hopefully we can get something done," said Dalton, who would be the first to know.
Dalton is pretty sure Whitworth was the first Bengal to reach out to him when he was drafted in 2011. There was no fooling around. Whitworth introduced himself, congratulated him, and then commanded, "I look forward to meeting you at my foundation event next week. The quarterback always comes to it and you're the quarterback. See you then."
"Ever since he's been a guy that took me under his wing," Dalton said. "He shows a lot of the young guys how to be a pro. Not just football, but off the field, too."
And it will help to have him on his blindside Sunday. Dalton is playing his 91st game Sunday and Whitworth has been there for all but two of them.
"He's one of the best tackles in the league," Dalton said, "and he's doing it at 35."
And he'll have to do it against the one guy out there who is actually older than him.
HILL EMBRACES: No one else wants to breathe it, never mind mention it. But, God love him, Jeremy Hill talks about it as he heads into Sunday's game.
Yes, site and team of the most famous gaffe in Bengals' history. Hill's fumble with 1:23 left and the Bengals leading the Steelers in last year's AFC Wild Card Game, 16-15. A total of 83 seconds away from ending the post-season drought. But as every Cincinnati school kid knows, the Steelers got the ball, renewed life, and victory.
So no one else wants to talk about how Hill has not fumbled once this season. He has run the ball 195 times caught it 20 more. That's 215 touches. No fumbles. He had 249 touches as rookie and eight fumbles. He had 238 touches last season and three fumbles. He had 15 touches in The Game and one fumble.
But Hill will tell you nearly a year after Steelers linebacker Ryan Shazier stripped the ball from him that "possession is more important than yards." The knock has been he didn't go to the ground quickly enough to protect the ball and was looking for a few more extra, needless yards.
"I've playing this game since I was eight years old," Hill says. "I can't let one play describe me as a player or define my career. Hopefully I've got a ton of ball left and I just keep moving on."
Whatever the knock was that night, with the help of running backs coach Kyle Caskey, he has tamed the demon. Caskey winces when the subject is mentioned, but politely gives in.
"After what went down last year and the way things happened at the end, it's overemphasized," says Caskey, who has "ball security," written on every sheet of paper and mentions it in every meeting. "It's a little silly how over emphasized it is, but it is working."
Even during walk-throughs, players are instructed to hand the ball to assistant equipment managers Sam Staley and Tyler ("Trunk") Runk. Caskey doesn't even want them flipping the ball in the air in a casual moment. If the ball isn't being used, he wants it in the hands of Sammie and Trunk.   
"It's not supposed to touch the ground," Caskey says. "We've got all the little toys. Rope balls. Heavy balls. Even if that doesn't do much. It's in their head. That's how we carry the ball."
Hill will tell you it is all mental and not mechanical.
"If you go back and look at the play, I had two hands on it. He just pulled it out of there," Hill says. "Just locked in mentally. That's all it is. There's been more of an emphasis and it's showed a little bit."