A.J. Green says he's good to go, but will he?
Pro Bowl wide receiver A.J. Green says he's healthy enough to play Saturday night (8:25-Cincinnati's Channel 12) in Houston.
Now he just has to hope the Bengals agree with him in their efforts to bring him back at only 100 percent from his partially torn hamstring because he's still marked as limited after Thursday morning's walk-through.
"I'm not the type of guy to just shut it down just to bail out on my team because we're not having the season we wanted to have,' Green said after he came off the field. "That's like a cowardly move to me. If I'm healthy, I'll play. I feel like I'm healthy enough to play this week."
The powers that be (i.e. doctors and trainers) still have a day or two to make that call and it would be hard to see him playing if he doesn't go full in the Friday workout. Anything less than 100 percent won't do it for their franchise player.
 No exam, though, is needed about Tuesday's announcement that Green had been selected to his sixth Pro Bowl in his sixth season even though he has played in just nine games.
They made up the best start of his career with the second most yards in the NFL with 964 yards and the third most catches with 66. Both, by the way, still lead the Bengals even though they've played five games since he got injured on the second snap of the Nov. 20 games against Buffalo.
"No. It didn't surprise me," said Green of his 6-for-6 Pro Bowling. "I played well until I got hurt. I've got a good thing going but like I said, when I'm done playing I'll reflect on that. I'm just trying to get better each year. I had an idea. I don't know. I was playing well leading up to my injury. Just got lucky."
Green has been out there in sub-freezing temperatures the last two weeks trying to get ready. Last week he was limited and that's how he was categorized Wednesday and Thursday. But he sounded more involved this week.
"Yesterday was very exciting to be back out there after not playing for that long," Green said. "No matter our season.  I was just happy to get back there with my teammates."
Green disdains stats, but Pro Bowls and 1,000-yard seasons seem to hold his interest. He's 36 yards shy of joining Randy Moss as the only players to get 1,000 yards in their first six seasons.
"If you want to be great, that's the stuff you strive to make. Into Pro Bowls. All Pros," Green said. "I don't really pay attention to all that stuff. I just go out there and try to be better each week."
Green answers the Tyler Eifert question the way the Bengals are probably answering the Green question. Green saw Eifert suffer a devastating injury in last year's Pro Bowl when torn ankle ligaments shelved him for the first six weeks of the season.
(That means Green and Eifert have played a grand total of two full games with each other.)
Like the Bengals want Green to be full go before he plays, Green would only go to the Pro Bowl if the hammy is fully healthy.
"I don't know. According to how I feel," Green said. "I don't want to put myself in jeopardy if I come back and hurt myself in the Pro Bowl and not be ready when it's time for us to get back to work."
But if it's fully healed, he'll go. Which is probably the way the Bengals are looking at Green for the final two games.
"If I'm healthy enough to play, I'll play," Green said of the Pro Bowl. "But I wouldn't push it. It's an honor to go out there. I just don't want to be like, 'I don't want to play if I'm healthy.' This sport we play is 100 percent (about) injuries. You just have to go out there and play and not worry about that."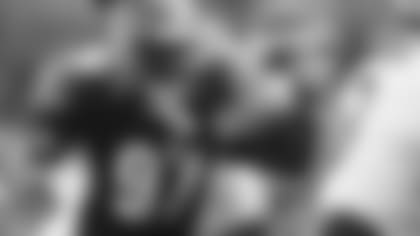 Geno Atkins pursuing another NFL interior sack title.
CED LT SATURDAY? Don't be shocked if the Bengals roll out Cedric Ogbuehi at left tackle Saturday. If the draft were today the Bengals would pick No, 14 and, guess what? That's a good place to get your left tackle of the future if you deem Ogbuehi, the left tackle of the future the 2015 version, is no longer it.
But after showing he's not a right tackle in the first 11 games, Ogbuehi hasn't had a shot yet at left and they have no idea what he can do over there. So the conventional wisdom is they have to see something in order to know what to do at No. 14 even if they re-sign Andrew Whitworth.
Head coach Marvin Lewis is remaining non-committal about his lineup against the Texans, but he did list the two advantages of Ogbuehi playing after Friday's walk through.
"You get an opportunity for his experience to grow. At some point it gives you a look into the future,' Lewis said. The one thing Ced did in college is play right, left and guard. Time will tell on any of this. … in his mind he feels a little more comfortable (on the left) ..."
TEZ WATCH: In his fifth season, is Vontaze Burfict more than halfway through his career? He's not only in concussion protocol this week, he's resting a sore knee and it would seem unlikely he'll play in Houston    
"He's going to throw his body around," Lewis said. "Shoulders and joints. He's banged his knee a couple of times this season and come out for a few plays and then gets back in the game. He's fought through it. It goes with the position. Its rare linebackers have double digit years in their careers. Very rare. There have been a few, but it's rare."
This is at least Burfict's second concussion. He sat out two games with one in 2014 and also had some neck issues that prevented him from finishing most of the six games he played before suffering a season-ending knee injury. It was during that stretch that defensive coordinator Paul Guenther publicly urged Burfict to refine his game and not lead with his helmet.
And now Lewis thinks Burfict has learned to take his head out of the play despite his injury. It is the hazard of the position. Pro Bowl middle linebacker Luke Kuechly in Carolina said this week he won't retire after suffering his second concussion.
"You have to learn to play," Lewis said. "It's a changing game, particularly with the head.  You have to learn to play with your head out of the fray."
GENO MANIA: Defensive tackle Geno Atkins made his fifth Pro Bow Tuesday and Lewis lost a bet. He thought he could get the notoriously silent Atkins to say something to the media as he came off the field. Atkins hasn't talked to the local group since the Wild Card Game. No go. His streak is intact.
No matter. A smiling Lewis declared that Atkins is having a year worthy of his talent even though the team has just 28 sacks after having 43 last season.  Atkins has just 7.5, but he still leads all NFL interior lineman just like he tied for the title last year with 11. He's gunning for at least a share of that title for the fourth time.
"He's a man of few words, but he goes out and performs and plays," Lewis said. "He's productive in the pass and the run and its great people recognize what he does week in and week out. You figure a coach or player you've got recognition of that. Sometimes the fan recognition is probably in sack numbers … I think he's had a productive season."