Giovani Bernard had the biggest play of all Sunday, but that's not all he did.
This is one of the reasons why the 1-3 Bengals didn't call it off at 0-3, or sleep-walk last week in Cleveland, or try to glide into next week's bye Sunday (1 p.m.-Cincinnati's Channel 12) when they play the 3-1 Bills in one of those fork-in-the-road games  at Paul Brown Stadium.
Just look at some of the special teams plays against the Browns. How many NFL teams have veterans doing this?
Both nicked-up starting safeties that missed some practice time making plays in the kicking game? How many teams have the guy who made their biggest play from scrimmage on Sunday also throw a key block on the biggest punt return of the day? How about a starting linebacker in the previous week playing 61 snaps from scrimmage and then the next week playing more snaps in the kicking game (20) than from scrimmage (15)?
Try George Iloka, Shawn Williams, Giovani Bernard, and Vincent Rey.
"We're not coming apart. We're coming together. They're one for all," said special teams coordinator Darrin Simmons this week. "That's how you win in this league. That's how New England wins."
Head coach Marvin Lewis has his critics (slow to the gate on playing the kids?),  but he's got a knack for getting it out of his veterans in any role and making sure the blue-collar culture stays intact so that they'll be in this thing until December as they try to root through their offensive problems. He cultivates guys like the irrepressible Bernard, the workman-like Williams, and the conscientious Iloka.
It will be recalled that Iloka, who didn't practice full until later in the week, made the tackle on the opening kickoff in Cleveland.
"There are safeties around the league that do that," said Brayden Coombs, Simmons' assistant. "Earl Thomas and Kam Chancellor do it in Seattle where they're the safety back on the kickoff.  That's where you want your sure tackler and reliable guy that's not going to get beat. A guy that keeps competing."  
Because of a differently constructed roster with nine talented defensive linemen and an injury to core teamer Derron Smith, Bernard, the Bengals' fifth-year running back, went to Green Bay on the punt return team two weeks ago. Even though he's their third-down back and went into the game with the Bengals' longest run and longest catch of the season. Even though he's coming off ACL surgery.
"First time since Chicago my rookie year and I haven't done it since,' said Bernard of his first NFL game in the 2013 opener. "I enjoy it. You get to beat up on somebody else for a while. To me that's fun."
Last week Bernard got a good lick in on Adam Jones' longest punt return in three years, a 40-yarder that got the Bengals rolling. Then he tried to do it again late in the first half while Alex Erickson ran one and was called for an illegal blind-side block. Three snaps later he bolted through a Browns' blitz untouched on a screen pass for a 61-yard touchdown.
"Look at the pictures of Gio on the field," Coombs said. "He's always smiling. He loves playing."
"I thought it was a clean hit," Bernard said. "I lowered my target. I didn't get fined."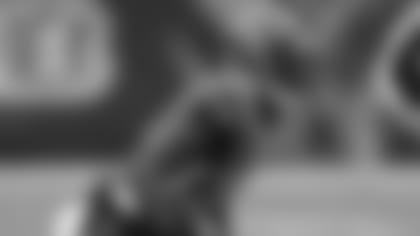 Shawn Williams: tough, tenacious team guy.
There was even more urgency in Cleveland because another core teamer, rookie linebacker Jordan Evans, joined Smith on the inactive list. Then during the game they lost another core guy in fullback Ryan Hewitt. That hauled in the limping Williams into the mix for three snaps while grinding through 32 snaps from scrimmage.
"It's important that everyone has an important role on the team and that it may change at times if a guy like Derron or Ryan Hewitt  gets banged up," Williams said. "Darrin was saying the other day that he gets a lot of praise for having offensive players in key (special teams) and you rarely see that these days.  That's the good thing about this team. We've got guys that can play more than one spot."
He's talking about guys like Bernard.
""Love the guy. Love him," Simmons said. "I think it shows the unselfishness that we have here."
Lewis helped change the Bengals' locker room culture in 2003 with veteran cornerbacks like Tory James, Jeff Burris, and Artrell Hawkins pitching into the kicking game and he and Simmons have made it a staple.
"You have to be a pro," Williams said. "No one's too good to play (on teams). That's the mentality that we have. No one's too good. A first-round pick. A guy who just got another contract. Doesn't matter."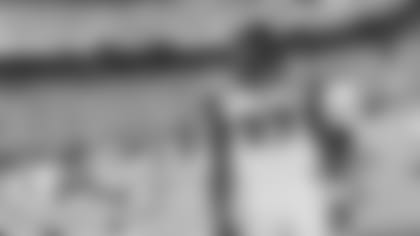 Dre Kirkpatrick is back and ready.
MAC DODGES BULLET: The Bengals had a host of injured players return to full practice Thursday, spear-headed by starting cornerbacks Adam Jones (hip) and Dre Kirkpatrick (shoulder), as well as starting wide receiver Brandon LaFell (knee), back-up tight end C.J. Uzomah (knee), and back-up nose tackle Andrew Billings (shin). Back-up linebacker Jordan Evans (hamstring) came off the rehab field to be limited Thursday. Starting Right tackle Jake Fisher (back) went limited.
The biggest sigh of relief apparently came when back-up quarterback Andy Dalton went full Thursday after tweaking his Achilles in practice. According to ESPN the Bengals worked out Matt Barkley, Matt McGloin, and T.J. Yates Thursday. With No. 3 QB Jeff Driskell (broken hand and thumb) not available until next month, that seemed to be a response to potentially needing a backup for Andy Dalton if McCarron's foot didn't come around. But he did go full and no roster move was made.
Tight end Tyler Eifert (back), wide receiver John Ross (knee), fullback Ryan Hewitt (knee) and safety Derron Smith (ankle) didn't work so they figure to be inactive Sunday at this point in the week.
Cincinnati Bengals host practice at Paul Brown Stadium Practice Fields 10/4/2017