Joe Mixon meets Leonard Fournette again.

It turns out Sunday (1 p.m.-Cincinnati's Local 12) won't be the first time Joe Mixon meets Leonard Fournette this year in Jacksonville. Universally regarded as the two best running backs in this year's draft, both were invited to visit the Jaguars for a pre-draft meeting and they ran into each other while at Tom Coughlin State.


"We just talked about the process, talked a lot of football, about the game," Mixon said after Thursday's practice.  "That's my boy. We were always the 1-2 backs in high school."

That would be 1-2 in the nation. The 6-1, 228-pound Mixon and the 6-0, 228-pound Fournette aren't exactly mirror images, but they go way back even though Mixon is a West Coast guy (Oakland) and Fournette comes out of New Orleans. They went to the same summer camps and got to watch each other long before the 2017 draft. Count Mixon as a fan.

"He runs physical. He's a big guy and he knows how to use it and he can take it 80 yards," Mixon said. "He's got the whole package. He's been like that since he was a sophomore in high school."

It sounds like Mixon could have been talking about himself because while he has been saddled in a struggling running game, he's flashed his wares with big plays in the passing game that includes last week's 67-yard catch-and-run against the Colts in which he made everyone miss but the ghost of Peyton Manning and he got dragged down at the 3. Talk about the whole package.

"I think straight-line speed we're pretty much equal," Mixon said. "We've got different go-tos. We've got a different approach. I'm speed. He's power."
Fournette has been on a roll since the draft. The Jags took him with the fourth pick and he's raced to three 100-yard games in his first six gam in the league with the help of touchdown runs of 90 and 75. Mixon fell to the second round with red flags and while he's been everything the Bengals knew he could be in and outside the facility as the bell cow, the running game has not and he's barely averaging three yards per carry.


"It's been slow, but we've been working at it," Mixon said. "The line is grinding and the backs are out there looking to make plays."
The Bengals are hoping they came make hay against a Jags defense that is giving up 5.2 yards per carry in the run game. The Jets nearly had two 100-yard rushers in racking up 175 on the ground when they beat the Jags in OT, Todd Gurley led the Rams to a win with 116, and Tennessee's Derrick Henry put up 92 on just 14 carries in the Titans' win in the Jags home opener.

"They've gone against some great backs and they faced some great blocking. We hope we can do the same thing," Mixon said.

Mixon has been a beast in space and he looks extremely comfortable in the passing game. He's got 17 catches for 189 yards, putting him on pace for 39 and 432, respectively for the season a year after third-down back Giovani Bernard had 39 for 336.

"I'm just starting to play loose," Mixon said. "The timing of things. Picking up blitzes. Now that I'm playing loose they're throwing more stuff at me. And I'm just trying to take it all in and make plays."

But the fans won't be looking for Mixon and Fournette to end up in a catching derby.


"It's going to be very interesting," Mixon said.


KICK MOVE: The Bengals may have to add a kicker after Randy Bullock (back) was listed as questionable Friday. He showed up with a tight back Wednesday and didn't practice but he kicked Thursday. Still, head coach Marvin Lewis knows backs are cranky and indicated they were looking at options if they're not sure Bullock can go.  That includes just going for two points or having punter Kevin Huber do some of the duties, or have a position player Lewis wouldn't name like Chad Johnson back in the day. But that was a pre-season game, so look for them to use the only real option if Bullcok can't go and add a kicker. As expected, wide receiver Tyler Boyd (knee) and middle linebacker Kevin Minter have been ruled out.

Right end Michael Johnson (back) is the only other Bengal listed as questionable after he sat out Wednesday and went limited Thursday and Friday.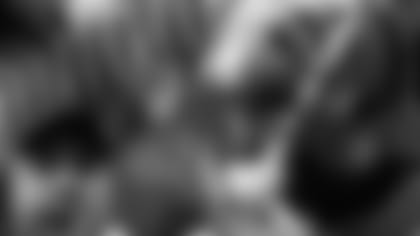 A.J. Green looks to channel 2014.

GREEN DAY? We've only been here twice before. That's how many times in his 93 regular-season games wide receiver A.J. Green has gone back-to-back games with three catches or less. The last time before the last two games came in a span of four days three years ago when he had three catches each against, yes, Jacksonville, and Cleveland, Nov.  2, and Nov. 6, 2014. The only time before that had been the last two games of his rookie year when he had two catches each against Arizona and Baltimore.

(Earlier in that rookie year he had one catch against Pittsburgh before getting hurt and was inactive the next week before getting three catches against Cleveland.)

And in 2014, he was coming off missing three straight games with a toe injury. Plus, wouldn't you know it, those two down games were before they embarked on a three-game road, trip just like they do now swinging through Jacksonville, Nashville and Vin Millerville.

The Bengals would no doubt take now what happened then. The Bengals won all three (in New Orleans, Houston, Tampa Bay) with Green making 22 catches for 305 yards and two TDs.

But Jacksonville is no day at the beach with the second-year Jalen Ramsey slated to match up against Green for the first time. They're raving about Ramsey like he's a certain Hall-of Famer. Well, now he gets to go against one and he's impressive.

Ramsey and A.J. Bouye are the NFL's top cornerback tandem when it comes to passes defensed with both in the league's top five. Ramsey is rated tied for third among all NFL corners by profotballfocus.com with no TDs allowed and giving up just a 41.4 passer rating in his area.

Not only that, Bouye is rated PFF's sixth best corner, but it is expected the 6-1, 209-pound Ramsey is going to shadow Green all over the field. Will he get help? That's the question. The last time Green was left one-on-one, he rampaged through the Bills for 189 yards back on Oct. 8. That was against rookie Tre'Davious White, also a first-round pick like Ramsey. But White was the 27th player chosen, Ramsey the fifth in 2016.

Will they give him help?
   





Cincinnati Bengals host practice at Paul Brown Stadium 11/01/2017