Carl Lawson: Dunlap hopes he chases his club rookie sack record.
Pro Bowl left end Carlos Dunlap is looking at the Bengals' rookie pass rushers and sees Carl Lawson's 107 pass-rush snaps and even Jordan Willis' 45 and thinks he and Pro Bowl defensive tackle Geno Atkins are pioneers.
"They won't make that same mistake again," Dunlap said Wednesday of his coaches. "If young players can help us early, get them out there. Geno and I performed great as rookies. They see that rookies can come in and play. It was our class and then A.J. (Green) and Andy (Dalton) came in the next year."
Dunlap and Atkins broke in so long ago in 2010 that it was two years before the league furnished snap counts. But he thinks he showed head coach Marvin Lewis that rookies always shouldn't sit and wait. It will be recalled that Dunlap probably didn't get his 107th snap of his rookie year until late in the season. He didn't play in his fourth game until the eighth game of the year and he didn't get his first NFL sack until his fifth game when he hauled down Peyton Manning and then went on to get 8.5 more in the final six games to set the club's rookie sack record of 9.5.
Lawson has 2.5 heading into his fifth game and that's OK with Dunlap. Kind of.
"He can chase it. I didn't say get it," said a smiling Dunlap, who has one sack this season and needs one more to tie Ross Browner with 58 for third on the all-time list. "It will help all of us, so go chase it. He's just a natural pass rusher. He's so quick, elusive, plays with good leverage."
Yes, Dunlap is thinking about No. 58, which is Lawson's number, by the way.
"Absolutely," Dunlap said. "I don't circle it for when I want to get it, but obviously that's a goal for my career. I don't go into the game like when I get this or when I get that. I'm thinking about the big picture. I want to lead this team and the NFL. However I got to do it, that's how I want to do it."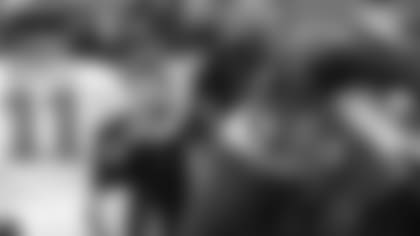 Dunlap looks for 58th career sack.
_Here's a curious thing about the Bills. They have one of the most feared running games in the league with the remarkable LeSean McCoy and the no nonsense blocking scheme of former Gary Kubiak aide Rick Dennison. And yet they are 29th in the league in allowing sacks per pass, which has to grab the eye of the Bengals old and young pass rushers alike.
Left tackle Cordy Glenn hasn't played in the last few games with a foot injury that has bothered him since training camp. He was limited Wednesday, but could go Sunday and get Lawson and Willis, or Dion Dawkins may go again and he's ranked 34th among tackles in pass blocking, according to profootball focus.com. Lawson and Willis have been known to switch sides and help Dunlap, too, and they'll get Jordan Mills, ranked 28th.
"It hasn't made me any more hungry," said Dunlap of some near misses. "If you're not missing them, then you're not getting back there. There's going to be a couple that you miss, but obviously a player at my level, I expect to make all of those plays. Right now I've left a couple out there, and I don't plan on leaving anymore."
 _The Bengals' struggling run game and hot passing game began preparations Wednesday for Sunday's game with the Bills (1 p.m. -Cincinnati's Channel 12) and the NFL's ninth best defense light at tight end. There were no sightings of Tyler Eifert (back) or Ryan Hewitt (knee) on the practice field and C.J. Uzomah was on the rehab field with wide receiver John Ross (knee) and linebacker Jordan Evans (hamstring). That left Tyler Kroft and rookie Cethan Carter to practice at the position …
Right guard Trey Hopkins (knee), who returned last week in limited fashion after an Opening Day injury, is hoping he'll be back for the Bills …
Ross looks to be improving because he wasn't on the rehab field last week. It's believed Hewitt is eyeing a return after next week's bye and maybe Ross, depending how it responds, is in the same boat as the Steelers wait at Heinz Field in two weeks …
_Lawson emerged fully padded and well-teethed for the workout. Lawson went down in Bengals lore Sunday when he chipped and/or broke his two front teeth as he hauled down Browns quarterback DeShone Kizer in the fourth quarter. Some of the teeth were apparently salvaged and what wasn't has apparently been helped along by expert dentistry. He grabbed one off the turf in Cleveland and a trainer grasbbed the other one. The trainers have informed Lawson it was a preventable injury if he wore a mouth piece and has asked him to wear one and he has told them he will.
He wore a mouth guard at practice Wednesday, but he said it was a little too bulky and he's looking to wear a fitted mouth piece Sunday...