Tyler Boyd helped out at Andy Dalton's Celebrity Waiter event Monday night.
In his first appearance at Celebrity Waiter Night, Alex Erickson found out why the people have kept coming back for the last six Junes in downtown Cincinnati for the biggest fundraiser in the Andy and Jordan Dalton Foundation.
The mother had the answer. The mother who spoke Monday night about how her child had been stricken with Leukemia and how the foundation, quarterbacked by the Bengals quarterback and his wife targeting ill children and their families, had literally won the day.  
"I knew they had a foundation. I kind of knew how they were trying to help people but I didn't know the whole story behind it," Erickson said after Tuesday's voluntary practice. "Just to see their faith and how it's driving them is pretty special.
"A lady shared how she adopted a kid from China and has Leukemia. It's cost thousands of dollars of medical care and Andy's and J.J.'s foundation has taken care of it for them. I can't imagine what they are going through and to have the support in their time of need is pretty special. There are hundreds of stories people could have shared. It's a powerful thing."
Erickson answered Dalton's call, as did his fellow wide receivers A.J. Green, Tyler Boyd, and Brandon LaFell. Among the 15 players or so was an honorary offensive player for the night, linebacker Vincent Rey, who also offered to carry a tray. So did tackle Eric Winston, the NFL Players Association president mingling with the rank and file. Left guard Clint Boling, who has made most of them, if not all, was there at the Hilton Cincinnati Netherland Plaza Hall of Mirrors.
And so were Dalton's two young tackles, Cedric Ogbuehi and Jake Fisher, showing they had Dalton's back in what the Bengals hope is a season they also have his blindside and everywhere else enemy rushers have their designs.
"It was great to see to see them there," Dalton said. "They were one of the first guys to get back to me and tell me they'd do it."
For the first time, the players didn't actually have to wait on tables. "Last year all we had to do was pour wine," Green said. "That was OK, but I liked just talking and singing autographs."
Whatever it was, the Daltons have the formula. Monday night raked in $225,000 in their efforts to provide grants for not only sick children, but their siblings and other family members. The donations boost the foundation's popular programs "King for a Day," "Date Night," and "Holiday Hearts," that are designed to uplift needy families strapped by a child's health problems.
"The biggest thing is what the foundation does and our passion for the foundation. I think people see that and what we really want to do is help people in this community," Dalton said. "That's the big thing and people see that and they want to be a part of it.
"Last night I heard people saying they'd done it four, five years. A lot of support from the city, which is good."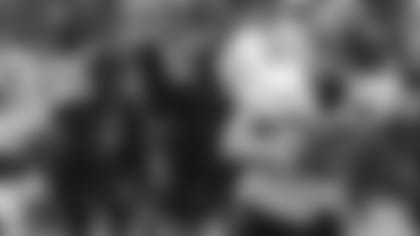 *Former Bengals Pro Bowler Cris Collinsworth likes what he sees from Joe Mixon.     *
CC TAKE: Cris "Emmy," Collinsworth, the Bengals' three-time Pro Bowl wide receiver who you may have heard in NBC's Football Night in America broadcast booth, loves the talent they've arrayed around Dalton. As he watched Tuesday's voluntary practice on the field adjacent to Paul Brown Stadium, Collinsworth gave rookie running back Joe Mixon a big high-five when he put his skill set in the same realm as one of his teammates that went to four Pro Bowls in the 5-10, 180-pound James Brooks.
"He's 225 and he can block," Collinsworth said. "He's an incredible runner and tremendous receiver. Maybe not James Brooks, but you can begin to dabble in that category a little bit. At 225, that's pretty impressive … I'm going to leave the politics out of it for a little while and just talk about him as a football player. I thought he was the most complete back in the draft."
Collinsworth thinks the Bengals can contend for the AFC North, but with the Steelers coming off an AFC title game loss to the Super Bowl champion Patriots, Baltimore improved, and Cleveland re-stocked via a slew of draft picks, he can only conclude it's a tough league and it rests on Dalton's shoulders.
"Andy is coming into his prime and the burden is really on him to control the pass rush this year while the two new tackles figure it out," Collinsworth said. "His ability to control the pass rush through his release time and audibles and his intelligence is going to be significant for this team."
Getting recognition if you play quarterback in Cincinnati wearing No. 14 is a sore subject for Collinsworth, the Rookie of the Year when Ken Anderson led the Bengals to their first Super Bowl in 1981 and won the MVP. There is no such thing as underrated.
"You'll never get rated until you win in the playoffs. For a quarterback that's just the way it is," Collinsworth said. "It's the reason Kenny Anderson is not in the Hall of Fame. He didn't win the Super Bowl in a game not even remotely his fault. We played horribly in that game and he played pretty well, but that's the standard for those guys. For Andy, he's in a small market and they haven't won a play-off game. Win play-off games and he's going to get recognition and people are going to start putting his numbers together. Pretty good numbers. But Kenny Anderson had pretty good numbers and never got credit."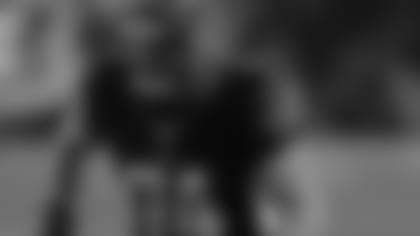 Jake Fisher is having a good spring at right tackle.
O-LINE UPDATE:  Ever since the voluntaries started two weeks ago the Bengals have been encouraged by the two young tackles. After Tuesday's practice, offensive coordinator Ken Zampese gave Ogbuehi and Fisher the best of compliments.
"I don't notice them. That sounds terrible, but it's better than it sounds, I promise," Zampese said. "Those guys are coming along. Coach (Paul) Alexander spends a lot of time with them on the pass sets and how they're handling the edge rushers. Each time we go out and face our defense we get better and better because they're good on the edge. The young defensive end gives us a really, really good look. Both of those young defensive ends."
Zampese is talking about third-round pick Jordan Willis and fourth-round pick Carl Lawson. Yet while the third-year tackles should be ahead of the rookies, Ogbuehi and Fisher have both showed up stronger than at any point in their careers.
"They're in good shape and they've got good attitudes," Zampese said. "And that's the best thing we can have from them right now because we have a chance to accelerate the learning curve. Their eyes are wide open, they're energetic, they're enthusiastic about what we're doing. They're on the spot to produce, and they know it. And they're doing everything they can to make sure they come through for all of us."
And Andre Smith's move from right tackle to right guard has Zampese ice cream truck giddy.
"I just love when Andre's in our huddle. I'm not particularly concerned where he plays, as long as he's in our huddle," Zampese said. "I really like him personally and I like his production. I like that he's done it before. And I like his 35-inch reach. (The reach is) kind of an added bonus. It's the sundae with the whipped cream and the cherry."
PUSH-UPS: Bengals head coach Marvin Lewis has introduced an age-old technique in the 21st century. Losers do pushups. Ten to be exact. The offense and defense each had to drop for ten when they lost their respective periods Tuesday.
"It's a heck of a deal," Zampese said. "Coach started counting wins and losses through a period, so it brings a focus and a heightened awareness to it because everybody's competitive. When you make a competition more public, the better you get out of each guy. You get more focus out of each guy. It was a good thing. It was fun."
Dalton sentenced the defense to ten on the last play of red zone when he threw a rope to Boyd cutting between safeties Shawn Williams and George Iloka for the score.
"I thought it was good," Dalton said. "I think the biggest thing is we're trying to create the competition and pushups are the punishment right now."
Still, the offense didn't have a great day as they continue to install plays. A few bad throws, a few drops,  a few missed blocks.
"There might have been a couple of things out there that weren't on the same page, there was some new stuff that we're kind of getting used to," Dalton said. "I thought we competed and I thought we made some plays. Some of that stuff is going to happen, now's the time that you want to correct it and understand exactly where guys need to be and different things. But I thought today went well, though."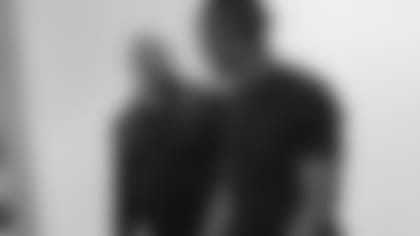 John Ross returns next week.
SLANTS AND SCREENS: No. 1 pick John Ross returns next week for the three-day mandatory minicamp. But he's not going to work until training camp as he rehabs his shoulder. Dalton's not too concerned about him contributing as one of the wide receivers.
"We're obviously going to expect him to play and contribute. Because he's going to be a really good player for us," Dalton said. "But I think the biggest thing is just hearing it and processing it and knowing what to do quickly. From what I've heard, I don't think he's going to have any problem with it.
"He can be studying the playbook but until you actually are around it and hear it being told to you and have to know what you're doing in a short amount of time, it is going to put him behind a little bit. But hopefully he comes in here, I think he'll be in here next week, I think he graduates this week. So he'll get his first kind of taste of what it's like with everybody. Hopefully he's a quick learner and can pick up on it quick." …
The Bengals have their third practice of the week Wednesday and then they'll have a team-building day on Thursday before next week's mandatory mini from Tuesday to Thursday.  On Thursday they'll have an Olympics style competition featuring three-point shooting. Dalton, Geno Atkins, and Cedric Peerman are the captains of one team and Green, Boling, and Rey are the captains of the other.
"We have  a lot of shooters on this team," Dalton said. "We were in here earlier and they were cleaning  glass. They put a new net on.  I think we're a basketball team. They have a clean backboard to shoot." …
The kicking competition continues. On Tuesday it was veteran Randy Bullock and rookie Jake Elliott. They were both perfect from 41, 37, 48, and 44 …
Cincinnati Bengals host OTAs at Paul Brown Stadium Practice Fields.