Jim Haslett hired Packers boss Mike McCarthy as his OC all those years ago.
Sept. 20, 2009. Lambeau Field. Bengals-Packers.
OK, OK. It was the 17th anniversary of Bengals nose tackle Tim Krumrie mangling the Majic Man's ankle and giving rise to the legend of Brett Favre. The improbable Favre came off the bench and just as improbably led the Packers to a last-second win on a bomb to someone named Kittrick Taylor and instead of Bengals rookie head coach Dave Shula moving to 3-0 it was Favre moving into immortality.
But it was also the biggest win in Bengals head coach Marvin Lewis' 15 seasons.
And if they get one Sunday at Lambeau (4:25 p.m.-Cincinnati's Channel 12), that will knock the '09 Packers game out of the No. 1 slot. They haven't been 0-3 since '08 and only twice under Lewis.
Sure, the win over undefeated Kansas City in 2003 that put the Bengals into first place on Nov. 16 in Lewis' first season was big. That was validation. And the overtime win over two-time NFC champ Seattle in 2015 at Paul Brown Stadium was big. That was vindication for a team lusting to grab some post-season glory.
But the 31-24 win over Aaron Rodgers and the Packers on 9/20/09? Huge. It saved the Bengals from oblivion.
Talk about offensive struggles. In the week before in the opener at PBS, the Bengals didn't score until their last drive and still lost the game with 11 seconds left on a tipped 87-yard touchdown pass that looked even more ridiculous than it sounds for their most crushing Opening Day defeat. It made the next game at Green Bay seem virtually out of reach with the Super Bowl champion Steelers waiting at PBS the next week.
The Bengals were coming off a 4-11-1 season, in their last 35 games they were 11-23-1, and no one thought their quarterback could stay healthy for an entire year. But 31 points came out of nowhere when Carson Palmer survived two Charles Woodson interceptions (one for a pick six), Chad Johnson made a rolling third-down catch for a touchdown and did the Lambeau Leap, and the game ended with Rodgers stranded on the Bengals 10 with no timeouts left after his offensive line false-started.
(Four Bengals are left from that team, right end Michael Johnson, right tackle Andre Smith,  defensive tackle Pat Sims, and punter Kevin Huber. Sims recovered a huge fumble when it was 21-21 to set up a go-ahead score and Huber nailed a punt inside the 20 late in the game.)
Since that day, the Bengals are 73-52-2. They still don't have a post-season victory in those eight years, but they've got three AFC North titles and they and the Packers are two of four NFL teams that have made the playoffs at least six times since 2009, joining New England and Seattle.
What are they if they come back to PBS from Green Bay 0-2?
The Pack, of course, didn't dissolve that day. They've been to the postseason every year since '09 and went on to win it all the next year behind the wizardry of Rodgers.  The two clubs, though, have a bond with two Pittsburgh guys, Lewis and the Packers' Mike McCarthy, running the shows. They worked together at the University of Pittsburgh in the early '90s and share some common denominators.
Their franchises both disdain free agents, they live on the draft, and the structures of their work weeks are similar when it comes to modality Fridays and up-tempo Saturdays.
Throw into the mix Bengals linebackers coach Jim Haslett, another Pittsburgh guy, and the connections are even closer. So in one game you'll have three Pittsburgh guys who have been named an NFL Coach of the Year: Lewis in '09 and Haslett in '00 by the Associated Press and McCarthy by Motorola in '07
When Haslett was named head coach of the Saints in 2000, his biggest move may have been hiring McCarthy as offensive coordinator even though he had only a year coaching Favre as the Packers quarterbacks coach.
Haslett didn't hesitate with a rookie OC.
"Why not? I was a first-year head coach," he said
Haslett knew what he wanted and a Marty Schottenheimer disciple (yet another Pittsburgh guy) was just fine with him. Before McCarty moved to Green Bay he had spent six seasons with Marty Ball in Kansas City.
"He had great knowledge of the West Coast offense and I wanted to run the West Coast passing game," Haslett said after Thursday's practice. "Very detailed. Very organized. Knew what we wanted in the passing game and he changed the running game to fit our personnel."
Haslett's influence can be seen in the Packers coaching staff. Special teams coordinator Ron Zook was Haslett's defensive coordinator in New Orleans and three guys played for Haslett in various stops: linebackers coach Winston Moss, safeties coach Darren Perry, and assistant special teams coach Jason Simmons.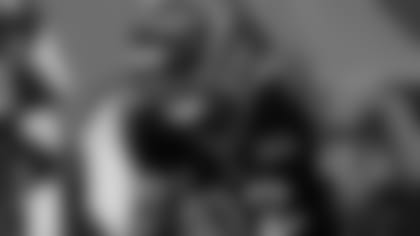 Alex Erickson has a homecoming Sunday.
BIG DAY FOR DARLINGTON: Imagine the Bengals lose the coin toss Sunday and wide receiver Alex Erickson of Darlington, Wis., drops back to return the opening kick at Lambeau.
"I've been there a couple of times," Erickson said this week. "The fans are rocking, sold out every game. It's a big event when you go to a Packer game. Everybody's all in. It will be special after spending time watching that field. Seeing the guys on that field."
There are about 3,000 people in Darlington and toward the end of Erickson's run at the University of Wisconsin it seemed like that's how many people were attending the Darlington tailgates at Camp Randall. Last one out turn out the lights.
There won't be anything quite like that at Lambeau, but there is still going to be a tailgate in Erickson's honor with about 30 of his family and friends.
"Everybody knows about Lambeau, how historic it is. It's a special place for everyone in the NFL to play," Erickson said.
Of course he grew up following the Packers and his favorite player Favre, although he was born six weeks after Favre was born against the Bengals. But it was the jersey of Packers running back Dorsey Levens (No. 25) that he wore.
"Dorsey the Horsey," is how Erickson remembers it. "I loved that guy. I didn't have a Favre jersey. But I liked running backs."
INJURY UPDATE: The Packers may not have their best defensive player (tackle Mike Daniels), their best outside pass rusher (linebacker Nick Perry), their left tackle (David Bakhtiari), or their dangerous wide receiver (Randall Cobb) on Sunday.
That's going by Thursday's injury report, which indicates that the Bengals won't have rookie wide receiver John Ross after he apparently tweaked a knee in Thursday's practice. It's believed he'll get an MRI, but he did walk in from practice on his own without a discernible limp.  He was also limited Wednesday when he left practice sick.
Back-up cornerback KeiVarae Russell (hamstring) and back-up safety Derron Smith (ankle) also appeared to get hurt Thursday because they appeared for the first time on the report in the limited category. Defensive tackle Geno Atkins (shoulder) and right end Michael Johnson (concussion) were limited for the second straight day. Tackles Cedric Ogbuehi and Jake Fisher were back to a full load Thursday after being sick Wednesday. 
Ross inactive would mean Tyler Boyd, iced in the last game by the coaches, gets another shot. Rookie wide receiver Josh Malone also figures to sit again.
Since the Packers work a lot like the Bengals and don't practice Friday but go hard in a brief workout Saturday, don't look for their Thursday DNPs to play Sunday. Along with Daniels, Perry, Bakhtiari, and Cobb, starting cornerback Davon House (quad) also didn't work Thursday. But their rookie corner, second-round pick, Kevin King, their top draft choice, is expected to get a start, anyway.
Cincinnati Bengals host practice at Paul Brown Stadium Practice Fields 9/21/2017