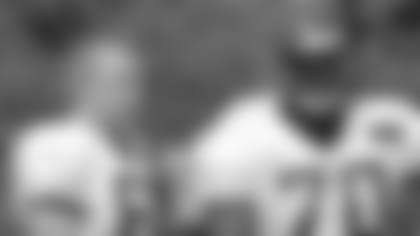 Cedric Ogbuehi (70), with T.J. Johnson, faces old practice foe Myles Garrett.
The Browns have one big piece Sunday (1 p.m.-Cincinnati's Channel 12) at Paul Brown Stadium that they didn't have in Cleveland seven weeks ago. Overall No. 1 draft pick Myles Garrett has been as advertised pass rushing off the Browns' right side. When he plays, that is.
In just 207 snaps and five games Garrett already has four sacks, five QB hits and nine hurries. But even though he missed him the first time, Bengals left tackle Cedric Ogbuehi knows all about his fellow Texas A&M Aggie since Garrett was a freshman when Ogbuehi was a fifth-year senior.
"His body type was the same as a freshman. You can just tell those guys are going to be good," said Ogbuehi before Friday's walk-through. "He's obviously a different player now. He's the same guy I saw as a kid, but now he's bigger, faster, stronger. We did talk a lot. He's a good player and he helped me out and I helped him. We had a good on-field relationship and off the field he's cool, too."
They are three years apart (Ogbuehi is 25) so they didn't hang around off the field and they haven't kept in touch since Ogbuehi left in the first round in 2015. But he caught up with Garrett on the tape this week.
"He can pretty much do it all. He's a well-rounded rusher for a young guy," Ogbuehi said.
Ogbuehi's struggles have been well documented, but he thinks he's getting there. He's given up five sacks this season but just one in the last two games and the offensive line comes home buoyed a bit after their pass protection allowed just five sacks in three straight road games.
"Better. I think I'm getting better, but I have to keep improving," he said.
Plus, the Bengals converted 47 percent of their third downs last Sunday against the Broncos' top-ranked third down defense with three Andy Dalton touchdown passes highlighting the display.
"You like to think guys gain momentum," said offensive coordinator Bill Lazor. "Different guys figure certain things out. Technique, or how to play the game, or how to prepare. And so hopefully it's a step forward for him that can be built upon. That's what you like to see. There's no excuses for anyone, but he's still at the younger end of his career, so let's make it not a spike, but a stepping stone. I hope."
INJURY REPORT:  It looks like for the second straight week the Bengals are faced with another game-time decision when it comes to one of the cornerbacks they use frequently. Darqueze Dennard (knee), the slot corner who played so well on the outside last week in Denver, practiced Friday for the first time this week but was listed as limited and questionable.
William Jackson (toe) actually had a more active week last week than Dennard this week. Jackson went limited Thursday and full Friday but he was deactivated after they monitored him in pre-game warmups. If Dennard can't go then Josh Shaw gets the call in the slot after the coaches believe he had a bounce-back game in Denver.

Jackson and Adam Jones (concussion) have had all but a full week of work after missing last week. Jackson was limited Wednesday but full go the rest of the way, as is Jones. The only players ruled out Friday were starting safety Shawn Williams (hamstring) and back-up linebacker Vincent Rey (hamstring). That would suggest middle linebacker Kevin Minter (elbow), who has missed the last four games, is returning.

TRUNK'S TREASURE:Here's Sunday's weather report from Bengals assistant equipment manager Tyler "Trunk," Runk: Kick-off temperature 42 degrees reaching 47 degrees during the game. No chance of rain. Wind out of the west and southwest at five miles per hour. Sideline and pre-game warm-up gear consists of heavy sweatshirts and stocking caps. No winter coats yet with heaters available on the sideline.