By the time Giovani Bernard showed up on Draft Day, the Bengals brain trust already knew he had the personality of a winner.
Back before the NFL Scouting Combine was conquered by the NFL Network and sanitized by the league office, teams literally had to fight to interview prospects in a nightly showdown of wits and sometimes fists.
Back at the turn of the century when the combine was a wild, wild West fenced off to only the honchos of NFL personnel departments instead of the suits of today's "media event," things weren't quite as organized. When it came to interviews there were no schedules, only anarchy and it was the same with media interviews.
Rookie Jerome Bettis became every scribe's good guy 22 years before they put him in the Hall of Fame when he pulled fellow prospects out of the player hotel restaurant to talk to the small gaggle of reporters that stalked the combine in those days.   
Now in Indianapolis, where this year's combine is on stage next week, each team is assigned 60 players for 15-minute slots through the entire week. Andy Warhol's 15 minutes of fame now covers the 350 or so combine prospects and has for the last several years.
And if the schedule isn't adhered to there may not be a fine but there'll be hell to pay.
Duke Tobin, the Bengals director of player personnel, has streamlined the interview process from chaos into science at the Bengals suite in the players' hotel. The core group includes Tobin along with a couple of his scouts, a team psychologist, head coach Marvin Lewis, and director of player relations, Eric Ball. They're always there while the coordinators and position coaches change according to the prospect getting interviewed.
"The process has evolved," says Tobin as the Bengals try to take the script out of a prospect's hand and replace it with improv.
Back when Bengals Pro Bowl left tackle Andrew Whitworth delivered what is widely believed to be the best 15-minute interview anyone at Paul Brown Stadium can remember during the 2006 combine, he can't remember being asked a non-football question. Whitworth's detailed narrative of each day of his week at LSU before a game riveted his audience and foreshadowed one of the great careers in Bengals history.
But not only is this not your father's combine, it is not your big brother's combine. Those days have changed and the Bengals aren't the only ones raising some eyebrows asking just about anything.
Duke Tobin has streamlined 15 minutes of chaos into efficiency.
If Michigan State cornerback Darqueze Dennard, the Bengals' first-round pick in 2014, thought his first question was going to be about playing the boot, he was almost right.
"What's the capital of Italy?" recalls Dennard of the Bengals' first question, still stunned nearly three years later. "That threw me a little."
But Dennard says the Bengals weren't the only team going off the wall.
"I hate to say this, but maybe we unsettle the player out of his comfort zone so we can get to his true personality a little bit," Tobin says.  "These guys are all very well-schooled on how they want the interview to go so we don't give them everything they're expecting and sometimes things they're not expecting. We want to see how quickly they can think and adapt and react and converse and how fast their mind works and how they react to a somewhat stressful job interview type of environment."
The Bengals submit their list of 60 interviews a few weeks before the combine and there is logic to it. Who did they interview in Mobile, Ala., last month at the Senior Bowl? Which positions do they want to emphasize?  Which of the most interesting prospects have the biggest questions?
And, sure, some years their draft list mirrors their list of 60 interviews. But with the potential of 11 picks pending the announcement of compensatory draft choices next month, maybe as much as half the class won't have a 15-minute seat in Indy.
"We can talk to them at a variety of times," Tobin says. "Our coaches do a great job just picking up the phone and asking them about a specific play."
But here's the most overblown headline of every combine: "So-and-so prospect talks to such-and-such team." Guess what? Every team talks to every prospect.
That's because the 15-minute interviews in the suite aren't the only interviews going on. Position coaches are interviewing prospects in the old train station adjacent to the players' hotel in downtown Indy.  It may not be as formal because there may be two or three position coaches talking to one player, but it is efficient.
"We don't try to make it 30 on offense and 30 on defense. But it's not 45-15, either," Tobin says of the formal interviews. "And I wouldn't base our draft off that list. This isn't our only chance to sit down and talk to guys. The Senior Bowl has really opened up accessibility for teams to talk to guys and we can talk to them at their pro day as well as back here at our facility."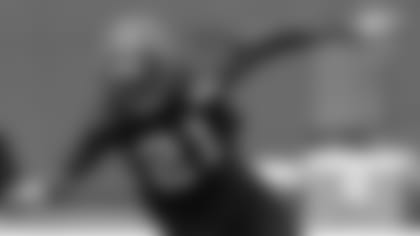 It helped Darqueze Dennard knew the capital of Italy. But it was his knowledge of Spartan warfare that helped get him drafted No. 1.
But it is the first impression they get for many of them and you know what they say about first impressions.
"We try to choose guys we need to find out a little more information," Tobin says. "It's our first chance to get to know them as people, know their personalities. See what makes them tick. We've got a personality component and a football component."
How far has it come? Ask Jeff Brickner, making his first trip to the combine as the Bengals director of operations and a veteran of the old combine wars as the assistant equipment manager under head coaches Bruce Coslet and Dick LeBeau. In the horse-and-buggy days of the early 2000s, there was no schedule during the nightly grab-bag for interviews at the players' hotel.
Teams used "runners," employees turned into a ferry service to steer prospects into their suite and every team had one on poolside.  An air gun would go off every 15 minutes to signal an interview change, but it might as well have been a Tom Brady Super Bowl jersey. No one paid attention to it.
Some teams weren't beneath hiding prospects in their suit or even taking them off site. Most teams had two, three, and even more runners. As the only runner for the Bengals, Brickner had to form some unholy alliances (the Al Davis Raiders?) that were shaky at best.
"In the end, no one was your friend. They didn't care what happened to you. It was a dog eat dog world," Brickner recalls. "If your coaches were waiting on a guy, especially your head coach, and you kept him waiting, well, you didn't want to do that. Most of the runners were people just trying to move up the ladder and they couldn't keep a coach waiting. You kept your head on a swivel and walked fast."
Brickner used his farmer's work ethic and harvest time wiles to stay undefeated. By the time he left the combine every year, he nabbed every prospect on his list even though many retreated upstairs to their rooms to get away from the cesspool.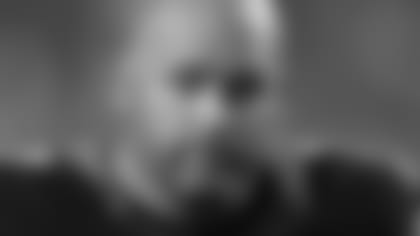 Andrew Whitworth: the ultimate interview.
"You had to be creative phoning guys up in their rooms. You didn't tell people your secrets," Brickner says. "Our next door neighbors had a 6-4, 250-pound former offensive lineman and he put one of the other scouts up against the windows with the arm around his neck. Another guy did another team wrong. He didn't tell him the truth. The other guy was probably waiting on a player for a team and when the guy let him go to another team, he ended up in the pool. You want to keep the people on your team happy."
Tobin knows how to make the prospect happy. After they get through asking about geography and maybe some Civil War history, they'll move to football.
"This is what makes a lot of the guys light up. This is what they live for," Tobin says. "We'll show him a play and when it's quad up on the board even before its run, they might say, 'Oh yeah, I remember this.' We'll take a play and ask him what his technique was, what the coaching points were, and what were his corrections."
Dennard admits he had a sigh of relief when he saw what was on the board after calling Rome the capital of Italy.
"I think I said Rome," Dennard says. "Then I just started running through the defense at Michigan State. I guess it was OK. They still took me."
Dennard's profile fits what the Bengals have been seeking the past six or seven years or so in interviews that have been loosely co-chaired by Tobin, Lewis, and a psychologist. A smart, productive leader-type with a lot of snaps in a winning program.
"That's the good thing about having so little turnover in the evaluation end," Tobin says. "We all know what we're looking for."
The guy who may have come the closest to matching Whitworth is North Carolina running back Giovani Bernard at the 2013 combine.
"We try to keep what happens in the room in the room for the sake of the player. You hate to single guys out," Tobin says. "But Giovani Bernard kind of lit up the room. He was engaging. His personality came through immediately. He was As across the board in every component. I think now after a few years the media sees him how we saw him early in the interview process. We have to try and dig in a very short time frame."
So there was no surprise after Bernard visited PBS two months following the combine he sent thank you notes to Lewis and Bengals president Mike Brown.
But it's certainly not a cut-and-dried process. Bernard is a one and only. Yet one thing is for sure. They've come a long way.
"I think they've closed up the pool now," Brickner says.
Marvin Lewis visits Withrow High School to speak with Student Leaders 2/21/2017