Running back Cedric Peerman is one of Darrin Simmons' valued special teams captains.
Other than head coach Marvin Lewis and the strength staff, special teams coordinator Darrin Simmons is the only other coach to work with every player on the roster and after viewing the first three days on the field in 2014, he senses the urgency.
He thinks the overall size-speed ratio looks about as good as it ever has and it can be argued that his unit reflects how the effective drafting has carried into the late rounds and college free agency and not just up top.
 "We don't have a lot guys that are difficult to coach. They're willing and I think it's because they feel we're on the cusp of something good and they all want to be a part of it," Simmons said this week in a conversation with Bengals.com. "It's the whole program in general. I think everyone feels that we are there and they want to do something to give us that extra push to put us over the top."
Simmons's unit may be primed to make a jump back up in the special teams rankings after last year's re-building project was good enough to place in the top 12.  After leading the NFL in 2012 in a compilation of the top ten major special teams categories, the Bengals lost three of their most productive players in Dan Skuta, Jeromy Miles, and Brian Leonard, and lost wide receiver Andrew Hawkins for half the season with injury.
But citing his three specialists that are going into their fifth year together, punter Kevin Huber, kicker Mike Nugent, long snapper Clark Harris, as well as the stability of captains Ced Peerman and Vinny Rey, the emergence of second-year players like Shawn Williams, and an intriguing mix of rookies headed by Nikita Whitlock, Simmons is hopeful a season like '12 is on the way.
He and assistant coach Brayden Coombs compiled a list of 10 things that need improving, but in classic Simmons style he had eight items alone under improving vise play on punt return.
Simmons also says the Nugent-Quinn Sharp battle at kicker "will be heated," second-year defensive end Margus Hunt will have his day, and he's still hoping to get Adam Jones for more punt returns.
GH: Do you think you're at a point where you've got enough experience where you can make a run back into the top five?
DS: Take the next step. To get back up there we have to make more explosive plays in the return game and we can't give up any explosive plays. Ever.
We were really, really young a year ago. Jayson DiManche was a first-time player. J.K. Schaffer was a first-time player. Now those guys have some skins on the wall. They've played in games; they've played in playoff games.
GH: Who do you like from the crop of rookies?
DS: I like them all. There's none I don't like.
GH: What you've done with solid guys on teams seems to reflect the good drafting at the top of the roster as far as finding committed, smart guys.
DS: You're only as good as whatever you want to call it now, your 53rd or 90th player. That level has gone way up. From the bottom (of the draft) and through college free agency. Vinny Rey came through here as a college free agent. Cedric Peerman was drafted by someone else (2009 sixth round by Baltimore), but we had past experiences with Ced because we coached him at the Senior Bowl. It may not be this year; it may be a couple of years we get somebody else. Maybe they're on another team right now. You still may come in contact with them a couple of years down the road and you remember you had a certain liking for him his draft year.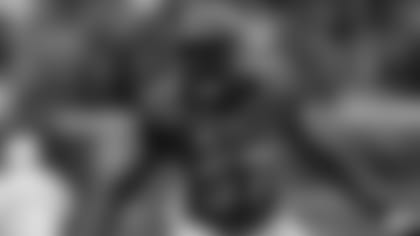 Captain Vinny Rey came out of Duke undrafted in 2010, learned at the playbook of Dhani Jones, and took his number when Jones retired.
GH: What exactly can a special teams coach do in the spring?
DS: We don't have a lot of time out there, but we have a period. It's an introduction for the young guys to do it our way and some guys haven't done much special teams at all. I rely on the veteran guys to help pass along the level of accountability and standard we've set as a special teams unit to the younger guys.
In the spring we begin to install what we do and how we do it, but it gives an opportunity to evaluate guys mentally. Can they handle everything that's being thrown at them offensively and defensively and can they piggyback their responsibilities in the kicking game? How much can they handle? Do we have to pull the reins back because everyone comes in at different levels? Somebody like (rookie LSU wide receiver) James Wright comes in here a lot further along than most because he's played it. That's what he did.
When you've got some of these guys who have come from bigger programs that use their quote unquote star players to play on special teams because they know they can gain an advantage (that helps.) Dre Kirkpatrick has been a starting gunner for us and he played his last year at Alabama on special teams. He was a gunner. He played on punt return. He did these things. That was something natural for him. They already knew to do that. Same thing at LSU. They kind of come in ahead, so it's a matter of catching some of these guys up.
The No. 2 thing we evaluate in the spring is how they move athletically. That helps me order them when we get to training camp.
GH: You're the guy other than head coach Marvin Lewis and strength coaches Chip Morton and Jeff Friday that work with every player. To your eye, how does this year's team look out there?
DS: We've got a lot of good athletes, a lot of size-speed guys. They're all unique. The one thing that stands out is they're all pretty smart. We don't have a lot guys that are difficult to coach. They're willing and I think it's because they feel we're on the cusp of something good and they all want to be a part of it. It's the whole program in general. I think everyone feels that we are there and they want to do something to give us that extra push to put us over the top.
GH: Are you as athletic as you've been?
DS: I think it's pretty close. In some positions we're very deep. There will be some great battles in training camp. When we can go through the first week of punt protections and for me to feel really good about our first group, our second group and our third group is not far behind.  We've got a lot of options.
GH: Any of the new guys stand out and I guess I count SAM linebacker Emmanuel Lamur in there since he's played just 10 games.
DS: I really like where he's at mentally and physically. It means so much to him to do well not only for himself but for the rest of his teammates. He holds himself to such a high standard. When you take football away from him for a year because of injury, I think he feels so fortunate to be out there. I think James Wright has come in as advertised. I've been real impressed by him. (Michigan State rookie safety) Isaiah Lewis looks really sharp. Darqueze (Dennard) has done well. (Rookie linebacker) Marquis (Flowers) is one of these guys that doesn't come in with a lot of playing time or experience on special teams that is going to have to play catchup. He'll be fine. He's willing. He'll get there. I'm just saying from the experience standpoint he's at the low end of things.
I've been impressed with (Stanford rookie tight end) Ryan Hewitt's movement and his feel for things. And we know with Nikita Whitlock, you better bring your lunch every time you go up against him.
GH: Whitlock is the rookie nose tackle turned fullback from Wake Forest. How intrigued are you with him?
DS: I'm very intrigued. This is all new to him. As a defensive tackle I'm sure he hasn't covered many punts. But, trust me; it's not going to be for a lack of effort out of that guy. He's very smart.
GH: It looks like wide receiver and linebacker are jammed.
DS: It's going to be a tough shakeout.
GH: Wright looks like he'll be in the hunt for that last roster spot at receiver.
GH: He's a warning shot to those other guys?
DS: Anytime you bring in new players it's a warning shot to everybody. I don't think veteran players get phazed by young guys because they were once a young guy, too. 
GH: Is your toughest challenge to get guys that haven't done much teams to realize how important it is?
DS: If you're trying to twist a guy's arm, you've got the wrong guy. I'll end up going to the next one. Trust me, there are enough guys around here that want to do it and they know what butters their bread.
GH: Who are some of those veterans?
DS: You have to look no further than our two captains. Vinny Rey and Ced Peerman…Neither of them were drafted by us, but yet at the same time they were able to stay here because of what they did in the kicking game. We have a bunch of those guys. Taylor Mays, to a degree, trying to re-find himself after the trade with San Francisco. He's done a fine job for us as a role player and niche player on special teams and I appreciate his want-to and his desire and here's a guy who was a second-round pick. And I've never had to put a sell job on him. He viewed it as a way for him to get on the field. Shawn Williams is one of the young guys. We're still young. We only have two really veteran players in Ced and Vinny. Everybody thinks E-Man is a veteran guy, but his NFL career is, what? Ten games? That's it. There's really no other running backs and (fullback) Orson (Charles) has basically two years.
The other people I look to for your leadership are our specialists. Mike, Kevin, and Clark are a solid bunch. They're very sound, very solid, very team-oriented guys.
GH: What has been the thread for your high rankings during the past three playoff runs?
DS: Being able to maintain the continuity of those three specialists. Our core guys feed off what the specialists do. The better Kevin punts, the better they cover. The better Mike kicks off, the better we'll cover. They feel like they have a chance. It's no different than it is with Brandon Tate or Adam Jones back deep as a returner. The better they return – it's a fact – they'll block better. It's a certain level of excitement for these guys. We have a good group of core guys. Hard-working, tough-minded guys. I think it's led by Cedric and Vinny. To a certain degree, that's been passed down.
We've transitioned in our time here. Whether it was Dan Skuta and Jeromy Miles and they helped pass that along to the next group of guys.
GH: Who would you like to see Ced and Vinny pass it to?
DS: I certainly hope they're not going anywhere yet. I don't know who that is going to be. That takes care of itself when we see what that 46-man (game day) roster is going to be….Some of these guys have to learn and understand what their role is again on a team. You can be a dominant game effective player being a core impact player on special teams.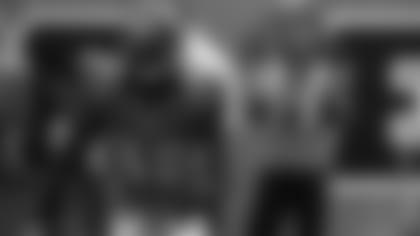 Last year's third-round pick, safety Shawn Williams, changed his jersey to No. 36, but Simmons hopes there'll be no change from last year's quick progress.
GH: You seem to like Shawn Williams. You guys kind of have that same intensity.
DS: He's very intense. He's someone I respect because he's very smart. He pays attention in every meeting. For young guys who haven't played on special teams as much, they come in here and put in so much effort just learning their position. Sometimes it takes them awhile to get the whole feel of the grand scheme and how they fit. I could put Shawn at virtually any position in any phase and he would do fine because he has a grand scope of understanding.
All these guys are four-phase players and Shawn's a five so that's like starting five personnel groupings and they have to learn five unique skill sets (kickoff, kickoff return, punt, punt return, field goal block), so that's five completely different positions. To absorb all that and to learn all that and be able to be effective is a big thing.
GH: What do you want to improve on in 2014?
DS: I want to improve on 10 things. The first thing I want to improve on is tackling. You can't miss tackles. When you miss tackles, you're not going to be efficient enough in coverage. We have to be better one-on-one making impact tackles. We have to reduce penalties, especially on punt return. Our vise (players blocking on the outside on punt return) have to do a lot better than they've done.
GH: You've got about 10 things listed just under vise alone.
DS: Just little things within that. We also have to create more turnovers than we have been. We only got a couple last year (four including three blocked kicks); we need a lot more than that. We have to improve our field goal block, refine our ends as rushers on punt return, develop a backup long snapper, get our ends on our field goal team better…
GH: Speaking of ends, do you expect Margus Hunt (owner of NCAA-record 10 blocked field goals) to be more of a factor?
DS: Margus was a factor last year. He didn't block any kicks, but he was a major factor in some good pressure and he was the set-up guy a little bit. You go with the hot hand in Carlos (Dunlap), who blocked two and we were close on many more. I expect Margus to be in the middle of that mix this year. He was more of a set-up guy for Carlos. Carlos is a unique athlete. He as long as you can get, too. Everyone wants to be down on Margus because he didn't block any field goals, but he was effective. He'll have his day in the sun. There's no doubt about it.
GH: How has Kevin Huber looked after his season-ending broken jaw?
DS: He's come along fine. He's still in the rehab phase of his offseason. His mechanics are fine. He's not been affected at all.
GH: You must have seen something in kicker Quinn Sharp because you brought him back after he signed last year out of Oklahoma State as a free agent.
DS: He came in here a year ago and had a very good preseason. Especially at the start. He maybe ran out of gas a little bit down the stretch of the preseason. I expect that to be a pretty heated competition. Between Sharp and Mike Nugent. It's a difficult thing when you're someone like Quinn, after you get cut, to find time to train and train with the same intensity that you did before you came out. He's working his way back to where he was and I feel real comfortable where he's at and where things are going. I think we've got a guy in (punter) T.J. Conley who has a very strong leg and we'll just keep refining things to make him more consistent. 
GH: Do you have any goals? You don't seem to be driven by the special teams rankings…
DS: As a special teams coach, that's one of my only litmus tests. Those rankings and where we fit in. To be ranked up high in those things, it is what it is. Anytime you don't have a lot to go on, that's kind of what you gauge stuff on to a degree. There are holes in all those rankings.  Everybody has theories on what that stuff means or doesn't mean. We have to make more explosive plays.
GH: Do you have to replace wide receiver Andrew Hawkins, a gunner and vise player?
DS: Yeah, we have to replace him.
GH: Is that why rookie receiver James Wright, the seventh-rounder is so attractive?
DS: He's another option that we can put in the competition. Don't forget, we have Ryan Whalen, a tough, hard player who's had experience at playing at that position. Cobi (Hamilton) is somebody who has to get going here and get on board.
GH: Do you think Adam Jones can still be a factor returning punts?
 DS: Sure I do. When people tell him he doesn't have it, tohat motivates him and drives him even more. So I love telling him he doesn't have it any more because that makes him mad.
GH: Did you raise your eyebrows when they picked Dennard because now maybe you can use him more with Dennard getting some snaps at corner?
DS: Any time you can bring in good players a position, it will work itself out.
GH: You're always looking to upgrade at returner, but you're also not afraid of going to war with Brandon Tate again, right?
DS: I've been to war with Tate for a while. I'll go back.