Duke Tobin and the Bengals are drawing accolades for their roster.
Duke Tobin hates this story.
Tobin, the silent partner in this decade of Bengals excellence, treats the spotlight with the disdain of an uninformed scouting report.
"I don't mind having a lot of opinions," Tobin says of the Bengals' melting pot draft process. "What I mind is opinions that aren't fully researched."
He makes noise about one thing. He's adamant football is a team game on and off the field.
"I think what breeds dysfunction in an organization is when pieces of the organization start reaching out for credit that a group has achieved," says Tobin, their director of player personnel. "It happens all over the league. The more you can resist that, the better."
This desire to lay low in the most visible of ventures stems from the deepest of places.
"If you're looking for a couple of words on Duke," says Steve Katsogianos, his best man he has known since freshman year of high school, "he's very loyal."
 For instance, when Tobin assigns a player a grade, he still thinks back to those Chicago Bears teams of the 1980s that dominated his youth when he was a ball boy, net raiser for field goals and extra points, bottle washer, and whatever else for one of the greatest teams ever.
"Personality matters in football," says Tobin, who remembers how the biggest star of all, Walter Jerry Payton, lit up the place with his smile and would find time to ask him who Hersey High was playing that week. "The dull guys without much personality and spark and energy are always the ones that tend to fail. And we had very few dull guys without energy and spark and passion for the game. That was a team with big personalities, but they got along."
When he unwinds with his vintage cut-throat competitiveness on the golf course back home in Chicago once a year, it is still with his friends that helped him quarterback Hersey to the 1987 Illinois big school state title.
When he has a date night with the wife and without the three boys, it is still with the cheerleader that yelled through the victory over East St. Louis High in the state title game when he ran for a touchdown, threw a touchdown pass, and caught a touchdown pass.
"He's one of those guys who could will you to win," says Dan Sabatello, one of those annual golfers and the wing back who threw the pass to Tobin that day. "He wants to win, no question . . . I have a hard time figuring out his handicapping systems he comes up with because it's not the standard one. He's playing to his strengths."
"Kats," as Tobin calls his best man, would agree.
"Darts, nerf basketball, anything, we had to play it and he was always going for the win," says Katsogianos, a linebacker on that team.  "We won that championship game, 26-6, and I dropped an interception and they probably wouldn't have scored. He reminds me about that one, you can be sure."
And when Tobin steps in front of the national microphones for the first time at next week's NFL scouting combine, he'll greet the press with the same button-down Missouri-Show-Me virtues that his father used to run three NFL teams while drafting six Pro Football Hall-of-Famers.       
"Football is a group effort," Tobin says. "There's no one guy that converts a third-and-one. It wasn't just the guy that made the call. It just wasn't the guy that made the decision to run it. It wasn't only the center or quarterback or left tackle. So when you have one guy saying, 'Hey we converted that because of me,' the other 15 to 20 people involved are going to feel slighted. It doesn't make any sense for anyone in football to reach out and take individual credit.
"It never has and it never will," says Tobin of the siren's lure of publicity. "It's my turn to talk about the Bengals. That's fine. I can do it. I can take that stuff or I can leave it. If it advances our club, I'll do it. If there's no need to do it, I'll probably avoid it. I think it's better if the head coach handles most of the publicity. He's the guy in the public. He's the guy who's known and that's fine."
Tobin was rated the 15th best QB in the country in "Super Prep"'s 1988 pre-season issue.
This time head coach Marvin Lewis takes a break from his face-of-the-franchise responsibilities at the combine, but he clearly has a lot of faith in Tobin stepping to the podium. It was at the 2013 combine where Lewis first drew attention to how Tobin was driving the Bengals' excellent drafts resulting in two straight play-off berths.
"He's done a very good job of putting the information together, the cross-checking of things, the organization of things. He's really streamlined it, I think both personnel and coaching-wise," Lewis said in his media availability at that combine. "I've been very impressed with Duke from the very onset. He's continued to grow. Mike (Brown) has given him a great deal of responsibility and put him in charge of a lot of things."
In the three years since the Bengals have won two AFC North titles with a .688 winning percentage in the regular season and others have noticed.
Hall-of-Fame executive Bill Polian praised Tobin earlier this month for putting together the best roster in football. John Clayton, an NFL Insider before most everyone else, button-holed a fellow Pro Football Hall of Fame voter at Super Bowl week to wax poetically about Tobin. A report last month said Tobin turned down requests to interview for the general manger jobs in Tennessee and Detroit, fueling speculation the Bengals have locked him up for the long term.
And just this week Bengals president Mike Brown, the man who makes the final call, talked about how much he relies on Tobin in the draft room. With his encyclopedic institutional knowledge Brown's brother Pete, senior vice president of player personnel, is also a valued resource as is Lewis, a 24-year NFL coaching veteran with a seasoned eye.
Indeed, the Bengals may have the most voices of any draft room in the NFL. But it runs through Tobin, who has harnessed the exploding technology into a tool instead of letting it become an albatross while putting everyone in the building on the same page with an iron-clad grading system and easy navigation between lap tops and surfaces.
"Pete's involved. I have some role. So do our coaches," Mike Brown says. "Duke has become the focal point for everyone. He keeps it on track. I would say today the responsibility is largely his. He puts it all together."
Always the Hersey High quarterback, Tobin, 45, keeps spreading around the credit. Lest he break his own cardinal rule of taking credit. There are the scouts he deploys, the coaches he listens to, and the management he trusts. "A collaborative effort," he calls it.
"That's Mike's way and it's a good way," Tobin says. "We've got a lot of experience and experience matters in personnel.  We've got experience in personnel, we've got experience on the coaching staff, we've got super experience in ownership of the team (where Mike and Pete Brown combine for about 100 NFL drafts). They've seen a lot of players and I think we play off that experience well.
"It makes everyone invested in the pick if they're involved. That gets more buy-in from everybody and everyone has an idea about the big picture of the team and when that (draft pick) walks through the door, we're all on board. I think that's where we've grown and become pretty good as a unit."
Tobin heads to Indianapolis Tuesday where he'll meet up with the only mentor he's ever had, father Bill Tobin, the Bengals' 75-year-old Midwest scout who loves the trail as much as ever. Fitting really, in a complete-the-circle way. It was at the 1999 combine where Bill Tobin, recently ousted as general manager of the Colts, told Mike Brown about his son that had been a scout for him and wanted to make it a career.
"That was good for us," Brown says and with then director of football operations Jim Lippincott leading the way Tobin learned how the Bengals wanted it done while bringing his Bears perspective.
Bill Tobin, best known for building the 1985 Bears into one of the greatest teams of all-time, spent 18 years in Chicago before turning the Colts into a winner in the mid-1990s. After a brief stint running the Lions at the turn of the century, Bill joined Duke in Cincinnati and the father has had a front-row seat watching the son's responsibility grow.
"He hounds everybody the same way," Bill Tobin jokes.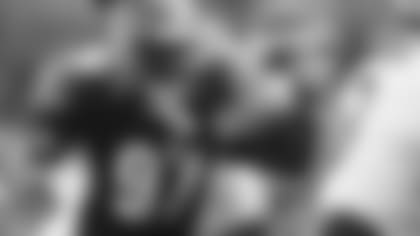 Geno Atkins is one of six Pro Bowlers drafted since 2010.
But it is no laughing matter when he looks out a window at the Paul Brown Stadium field.
"I think the team out here is very similar to what we put out up there (in Chicago),' Bill Tobin says. "We didn't have any bums. We may have had one, but that would have been an accident.
"They were smart. They were tough as nails. They were courageous. They were team oriented. They weren't always the biggest. They weren't always the fastest. But they were pretty damn smart and courageous, stable, and they liked the game."
This is a pretty easy evaluation form to fill out when it comes to the relationship with his father: "I'm proud to look at myself as an extension of him," Duke Tobin says.
"We look at players the same way. We like guys that mean a lot to the teams they're on. Guys who elevated the team. Gave maximum effort. Weed out the guys that play because they want to, not because they can."
So it's no coincidence when you go back and look at the "Super Prep," magazine of 1988 when Duke Tobin headed into his senior year at Hersey as the 15th rated quarterback in the country the scouting report said, "You've heard it before: 'Not the fastest guy and he doesn't have the world's strongest arm, but he always manages to win.'"
(It figures that Tobin had no idea the magazine existed until 12 years later when then Bengals strength coach Kim Wood, a world famous archivist, walked into the office and handed it to him.)
"Duke was a guy who played his heart out," says Matt Russell, a college teammate. "It was important to him, and the guys on our team knew it. They respected him and knew he'd fight. I was younger than Duke and respected him as a winner.'
He had his pick of colleges and in another flash of loyalty he stayed home to go to Illinois. Another quarterback named Jeff George also came in and Tobin later transferred to Colorado. George became an overall No. 1 pick. Small world? Bill Tobin took the Colts job a few years later only when he got the go-ahead to trade George.
Tobin ended up throwing only 36 college passes, but he was on teams always ranked in the top 20 and that's probably where his eye began to mature. At Colorado he had a slew of teammates that went to the pros, starting with the man who kept him on the bench, Kordell Stewart.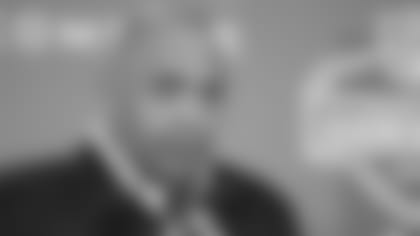 At the 2013 scouting combine, head coach Marvin Lewis noted Tobin's work.
There was also future Steelers sacker Chad Brown and Ted Johnson, a 10-year linebacker, and Christian Fauria, a 13-year tight end. There was a future 10-year running back in Ronnie Bradford and Jay Leeuwenberg, a nine-year vet that played every offensive line spot.     
"That was a big part of it. You're a college player and it kind of drives it home what those pro teams are looking for. Which ones succeed and why. I knew it personally because they were teammates. You had an appreciation why someone went high in the draft and why some went low and why some made it and some didn't.
"You saw Chad Brown's production and then you saw him work and you knew why. There was no one better to be around than Christian. He was happy to be playing. He liked it and he was good at it."
So was Matt Russell, voted the best linebacker in the county before the Lions drafted him. When knee injuries ended his career a few years later, Russell embarked on a path that has him in Denver as John Elway's director of player personnel. So he's still watching Tobin since you can argue they've helped build the two best teams in the NFL.
"I'm not surprised by what he's done. He's a football guy," Russell says. "He loves it, and he knows what he's doing. He can evaluate guys. More than anything, he knows who can play in this league and he knows what wins. That's crucial to the job, and he gets it." 
And he wants to do it here. He's not looking to chase a general manager title. His standard of success is his father's 18 years in Chicago.
"I wanted to go to a place where I could work my way up and stay and make my career with one team, just like the Chicago Bears were our lives growing up," Tobin says. "A kid doesn't want to move every couple of years. I've been lucky to do that. We're Cincinnati Bengals. Not only do I think it's the right thing to do, it's the best thing for my family."  
He figured that out his first day on the job as a scout.
"Mike took me to lunch and I'm sitting there talking football with the owner and his family. That just doesn't happen very often in the league," he says.
 Tobin is about the same age as Brown's daughter, executive vice president Katie Blackburn, and her husband, vice president Troy Blackburn, the couple that runs the Bengals day-to-day, and he gets along with them easily. He moves around watching home games and one of his stops is with them.
And now that East Coast scout Greg Seamon has left to join Hue Jackson's coaching staff in Cleveland, Tobin and Troy Blackburn are the two longest off the tee in the administration wing and that can make for some heated competition. If they're playing in back-to-back groups, neither is averse to occasionally sending a message by leaving a ball teed up at the tips.
"I'm a loyal guy. Loyalty matters. Ownership here is loyal to its employees and employees ought to mimic that loyalty," Tobin says. "(Ownership's) lives are football, That's what they're about. They don't have outside business interests. This is what their lives are all about and they're excellent at it. That's what makes it a unique, special place. It's all about football. From the lowest guy all the way up to the owner. It's all about football."
It has always been about football. Whether it is catching the ball from Sabatello or standing at the combine podium.
"It's not an individual game at any level," Tobin says. "It's not an individual game in personnel; it's not an individual game on the field. When you start reaching out for individual glory, it breaks down."