As he did all season (here in San Francisco), A.J. Green offered a big play in Pro Bowl.
HONOLULU - Sights and sounds of Sunday's Pro Bowl:
Michael Irvin drafted six of his seven Bengals because he liked their athleticism and winning pedigree and under 83-degree skies at Aloha Stadium they helped him drill Jerry Rice's club, 49-27.
Tight end Tyler Eifert limping off the field with an injured foot in the last couple of minutes in the game brought them back from Paradise pretty quickly.
"I was having a great day until that happened," said left tackle Andrew Whitworth. "I'm thinking he's OK. That it's some kind of sprain."
Initial reports that indicated Eifert didn't break the foot after he said he jammed his heel seemed to lighten the mood. But Whitworth said it does point to the league looking at coming up with a Pro Bowl format that fits all needs.
No matter how Eifert's cat scan comes out confirming or not confirming the initial X-Ray, his injury is going to fire up the debate about whether guys should play or not after this Pro Bowl boasted the most replacement players ever.  Imagine if Eifert were a free agent?
"I see people tweeting they don't want any of their favorite players getting hurt but they want everybody to play hard. But football doesn't work like that," Whitworth said. "They have to play it as long as people watch it. And it's a great event for guys to come to, but they have to come up with a better concept."
But that said, Whitworth said he thought the Pro Bowlers on Sunday played harder than they did in his previous Pro Bowl experience three years ago. And his offensive line busted against a good pass rush. If it's one thing guys do in a Pro Bowl, its rush the passer and Team Irvin didn't allow a sack in 32 passes.
"Guys played well. We went after the quarterback on the defensive line and Mike (Bennett) got (co) MVP. That's huge," said Bengals left end Carlos Dunlap after his first Pro Bowl. "We were running some games and mixing it up. We wanted to get to the quarterback and hold him up . . . We were all looking to win that 10-day vacation."
He texted teammate Geno Atkins, the three technique playing in his fourth Pro Bowl, in the week leading up to the trip to learn the proper comportment and intensity level.
"I had a chance for a sack and grab the ball, but I didn't want to be that guy," said Dunlap, who did bat down a Derek Carr pass and put enough pressure on Tyrod Taylor to force one of the six Irvin interceptions.
Dunlap, by the way, is all for keeping the Pro Bowl intact.
"I think they should move it around to different countries," he said. "Try Brazil. Try London. Keep it warm. You've got to keep that vacation feel."
Dunlap had plenty of vacation on the island, along with hosting a dinner on the beach and leading his family on a horseback ride through the mountains and down on the beach, he actually swam with sharks. The only thing in the water between him and them?
"The instructor," Dunlap said.
"My family didn't want to do that. Only my agent (Drew Rosenhaus) and my brother. I let them get in for 15 minutes and when I saw it was straight, I got in."
So there you have it. Rosenhaus, who wrote "A Shark Never Sleeps," has written the postscript.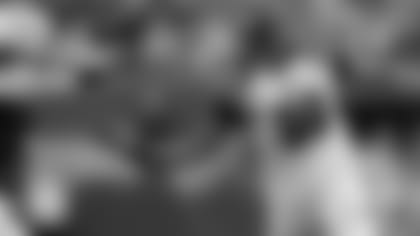 Carlos Dunlap, who knocked down a pass Sunday, swam with the sharks on his trip.
WHAT's A BIG WIN without a big play from wide receiver A.J. Green? After having just one catch in the last two Pro Bowls, Green wriggled loose for three catches for 60 yards, his second best Pro Bowl since his monster 119-yard, three-TD game in 2012.
And you can make the argument that his 44-yard connection with Vikings quarterback Teddy Bridgewater in the last minute of the first half broke it open. It looked for all the world like Team Irvin was going to run out the clock, but when Bridgewater was getting chased out of the pocket, he made one last jump-ball heave to Green covered by two guys. Green launched himself between them, caught it inside the 10, and when they scored a TD two players later with 32 seconds left the lead was 28-14.
"That's what he's done his whole career. That's why he's here," Bridgewater said. "I told these receivers all week. I'm not checking it down. I'm not throwing it away. I'm not taking a sack. I'm throwing it up for these guys to make a play."     
He said he's seen Andy Dalton and Green do it plenty of times.
"Of course. You watch them do it all year," he said. "This time I was hoping for a little Bridgewater and Green."
RUNNING BACK CEDRIC PEEERMAN, chosen as a special teamer and the lone Bengal on Team Rice, got his only carry of the season in the Pro Bowl. It was a fake punt on fourth-and-two from the Rice 49 on the first series of the second half and it kept his club in it for the time being because it led to a TD that cut it to 28-21.
But not everyone was faked out by the six-yard run. Like Irvin punter Sam Koch of the Ravens.
"I'm running up and down the sideline saying, 'Peerman is going to run the fake,'" said Koch, after he embraced him following the game. "We watch film on them all the time because they're in the division. The guy's a great player.  I love watching him play. I called it."
Peerman, who lined up like he does in Cincinnati as the personal punt protector, ran the play that was called on the sidelines. He had no other option. Usually he's got a lot more leeway when he lines up the Bengals.
"They over ran it and I just cut it back up inside," Peerman said. "I looked over there and there weren't a lot of guys that play on special teams. That probably helped."
There was no time to savor it. Peerman, holding a football he was getting signed, planned to leave the stadium and go right to the airport for a red-eye flight that would get him back to his wife. Their first child is due Feb. 6, so the week is off to a good start.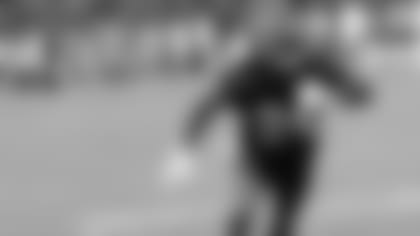 Richard Sherman keeps an eye on Adam Jones (above) when he watches film.
IT WAS ADAM JONES' first Pro Bowl, but he clearly took a lesson from Green, the five-time Pro Bowler. Both lockers were empty right after the game, signs of a quick get-away. But that didn't stop Seattle cornerback Richard Sherman from raving about Jones, his fellow Irvin corner.
"I was happy for him. I've been a big fan of his for a long time," Sherman said. "He plays the game the right way.
"I was thankful to see him out here," Sherman said. "You know him. You see he's always where he's supposed to be when he's supposed to be there. He gambles a little bit and he gets his hands on the football and he did that today."
Jones didn't have one of the six Irvin interceptions, but he did get a desperate lateral at the end of one of them that went nowhere. On the second play of the game with Eli Manning the Rice QB, Jones tried to jump a sideline route to wide receiver Amari Cooper that backfired for a 23-yard gain. But that's one of the last times they threw at him.
"I watch a lot of him and the Cincinnati defense on film," said Sherman of the defense that barely finished second to Seattle's No. 1 scoring defense. "They played a lot of the same teams and they use some similar concepts we use in Seattle so we have to watch them to get a read on the offense.
"They had a great year. It sucks what happened. They were rolling. Injuries are the damper. That sucks."
Sherman said in no way does the final play of the Wild Card Game put a blotch on Jones or WILL linebacker Vontaze Burfict and how good that defense is. Or how much those two guys mean to it.
"Not at all. Everyone knows how much passion and energy and dedication that guys play this game with," Sherman said. "Everybody on that ball field is out there doing what they can to win. You never judge a guy for one thing. How far do they go if he's not there at all? How far do they go with him not playing defense? Without Vontaze? You can say what you want about that last play, but are they even there without them? I don't think they are."
Take in the sights of the Pro Bowl including the Draft and the first practice.
Photo Credit: Jennifer Stewart/NFL