Matt Sherry and his dad usually hit Mel's Diner when he comes back from school a mile down from their home in East Providence, R.I., and last Sunday morning was no different.
Even if the usual order of a sausage and cheese omelet, with home fries, came spiced by Jack the owner wishing him good luck in the second day of the NFL Draft.
"I hadn't talked to him in a few days, so I was asking him all kinds of questions," says Karl Sherry. "What exactly is going to happen. What happens if you get drafted? What happens if you don't get drafted?"
They never had to get that far because the Bengals took Sherry about eight hours later with their second pick in the sixth round to add a Villanova finance degree into an intriguing tight ends mix that already includes the team's spiritual leader, a contemporary Christian music artist, and graduates of Brigham Young and Yale.
Sherry, who calls himself "a numbers guy" after a senior season he took three graduate courses, is No. 1. As in the first tight end taken in Bengals head coach Marvin Lewis's six drafts.
He's headed to the right classroom. Since Bengals tight ends have to know about six different positions because of varying personnel groups, position coach Jon Hayes says, "Our guys have to be smart."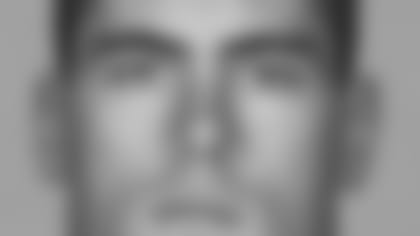 Sherry knows that he has the numbers that compute too neatly into a stereotype. He stands 6-4. Weighs 252 pounds. Runs a 4.66. A guy who catches with his hands and not his body and had 37 catches, five for touchdowns last year.
"I think people just assume I can't block because I can run and had some catches," Sherry says. "But I can block. I want to do it and I know I have to improve. But I'll put my face in there."
Sherry has declared war on stereotypes. The other one he doesn't like is that since he's already about a third of the way to his master's, then pro football must be just a fallback, right?
"In no way is this a lark, or am I just happy to be there and enjoy the ride," he says. "Football is what I love to do. It has been my life."
Still, the biggest challenge in making a roster is going to be physical. The Bengals want him not only to build up his upper body, but also his lower body to compete in a group headed by mini-tackle Reggie Kelly (called simply "all man" by Hayes in the blocking game and, by the way, a Mississippi State grad), so key in the locker room and in the pass protection that has helped the Bengals allow the fewest sacks in their history in two of the past three seasons.
Free agent Ben Utecht, seeking a master's degree at the University of Minnesota, is also going to make it. Utecht, just off his role as a presenter at the Dove Awards for Christian music in Nashville, arrives from the Colts as an accomplished pass catcher and experienced blocker. Dan Coats, the BYU product who made the club last year as a rookie free agent, has grown his body into a younger version of Kelly.
Yale's Nate Lawrie has played 18 games for three different teams and is looking to hook on after playing in three games last season following his promotion from the practice squad.
And now there is Sherry coming out of the football outposts of Rhode Island and Villanova after making something called the Colonial Athletic Association all-conference team.
Sherry's arrival looks to be the printout of Lewis' offseason directive re: tight ends.
Instead of looking for the rare ones that can both catch and block, find an athlete that can run and catch and has the frame to get bigger and then develop him into a blocker. "He's someone who has the athletic skills and hopefully will grow, and we can develop him into an on-the-line-of-scrimmage blocker," Lewis said after the Bengals drafted him. "I kept saying that at some point, we needed to take the plunge with a guy who has the big bones and will continue to grow and develop, and be a 270-pound guy that can run. As the guy we just drafted gets into a lifting program and the things you have when you get to this level, he's going to add the 15 pounds that all these guys do, as well as continuing to have the skills to be a down-the-field receiver. This is a guy that fits that bill."
After getting a head start on his MBA, Sherry is comfortable in a grind. With post-graduate courses in economics, statistics and accounting offered only at night at 'Nova, here is Sherry's typical day last year during the football season:
"Get to the stadium at 1, meetings at 2, and practice from 3-5:30," Sherry says. "Then go to class from 6-9. I just turned 22 years old and the toughest thing for me was that most of my classmates were in their 30s. That was different."
Karl Sherry has watched his son build himself up from a gangly 220-pound high school senior tp gain two Division 1-AA offers coming out of Bishop Hendricken, and he didn't like what he thought he heard some NFL teams inferring.
"Since he graduated early and is so far into getting a master's, it was almost like, 'Can football be that important to you?' '' Karl says. "I resent that a little bit. I was having that conversation the other day with someone. You ask him about the NFL and look him right in the eye and tell me you don't see that passion."
Sherry, who finished in the top 10 percent of his class at Bishop Hendricken, doesn't remember a weight-lifting program and admits he was "a weakling." So he has been there before with Lewis calling him into the weight room.
Still, he earned preferred walk-on status at Boston College, Vanderbilt and Syracuse. But when Villanova and New Hampshire were the only ones that offered a full ride, it was a no-brainer.
"I visited Villanova and I didn't want to go anywhere else," he says.
But Sherry didn't have much luck with quarterbacks there in his last two years. They both got hurt and he ended up playing a lot of H-back as a senior.
But he can catch. He's always been able to catch. Karl Sherry says, "He won't tell you this, but I never remember him fumbling in high school or at Villanova."
The last New England tight end who could catch for the Bengals worked out pretty well. Danny Ross still is one of those with a Super Bowl-record 11 catches.
"I remember Dan Ross. He was in the papers all the time," says Karl Sherry, who pitched at Boston College about the same time Ross was catching balls crosstown at Northeastern.
Karl and wife Kathy then moved briefly to the Midwest. Before Matt was born in Chicago, they lived for a time in Lexington, Ky., and there were times Kathy would drag Karl up Interstate 75 to shop in Cincinnati.
"She'd hit Pogues," Karl says, "and I'd go to Gold Star Chili."
Matt Sherry's Cincinnati debut wasn't until about 25 years later, when the Bengals invited him to Paul Brown Stadium a few weeks ago as one of their 30 pre-draft visits. There was no workout, just a physical and meetings with the coaches.
Sherry, who also visited Green Bay and Indianapolis, ended up particularly impressed with Lewis.
"Coach Lewis sat at dinner with us and he was very down-to-earth," Sherry said. "I got the feeling that the coaches there are closer to the players than on other teams."
One of Karl's friends growing up turned out to be Jim Donaldson, a long-time beat reporter covering the Patriots and the NFL for The Providence Journal. Donaldson is a pretty good golfer, but he's had to get used to getting flogged by Karl's 5 handicap. But then about the time the little kid that followed them around got into high school, neither of them could beat him and his handicap hit 3 before he stowed the bag when he went away to pursue football.
When Karl mentioned to Donaldson that Matt ran a 4.66 40, Donaldson, raised on the game by savvy Patriots scouts such as Dick Steinberg and Bucko Kilroy, raised his eyebrows.
"I told Karl," Donaldson says, "that's fast enough to get a look."
Donaldson, now a ProJo sports columnist, reminds you that Rhode Island isn't exactly Mayberry when it comes to the NFL.
Will Blackmon, Sherry's teammate at Bishop Hendricken, was a fourth-round pick of the Packers in 2006. Mark van Eeghen left the Raiders in 1981 as the school's all-time leading rusher. Both are from Cranston.
Steve Furness, out of Warwick, also went to Bishop Hendricken before ending up winning four Super Bowl rings as a defensive tackle on Pittsburgh's Steel Curtain.
And Matt Sherry has no problem coming up with the two most well-known players out of Villanova:
Hall of Famer Howie Long and Eagles Pro Bowl running back Brian Westbrook.
Now Sherry gets a shot to show them he's not all arms, legs and brains.
"It's been my dream to play in the NFL," he says.
He had two posters on his wall growing up. One had Red Sox first baseman Mo Vaughn.
"And Ben Coates," he says.
Patriots Pro Bowl tight end.