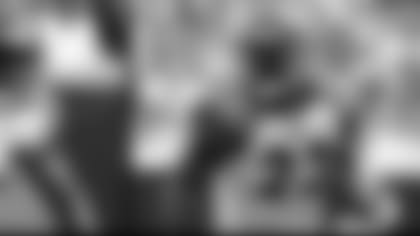 Rudi Johnson (left) and Chris Perry give the Bengals a potent 1-2 punch out of the backfield. (Getty Images)
Janice Johnson, a seasoned football observer from driving her son Rudi to every youth football game in the environs of Ettrick, Va., watched the play in the season opener on her TV.
She can't remember if her son helped up Chris Perry from the deck or if it was the other way around. But she had a good feeling about it.
"You could tell there's a good chemistry," Janice says. "It was like, 'You and me can do this together. We complement each other.' It wasn't like it has to be one or the other. That was nice."
Johnson and Perry are a big part of head coach Marvin Lewis' lab that is brewing with the Patriots periodic table of teamwork and unity. Both are big-time running backs used to their own stage, but for the moment they are comfortable sharing the ball and themselves.
Which is the only way their mothers raised them.
Janice Johnson is in the first year of running the Rudi Johnson Foundation, which just awarded five college scholarships to needy as well as highly-qualified high school seniors in Cincinnati and Ettrick. Irene Perry is the director of the Chris Perry Foundation that began running routes this summer and is aimed at cancer awareness as well as youth activities.
"He heard it from the time he was little from all the people in his family," Irene Perry says. "Aunts, uncles. His grandmother. His father. There for the grace of God go I."
Johnson and Perry. Perry and Johnson. So different, right? Johnson, the power, lunch-pail back between the tackles who lets his yards do the talking. Perry, the outgoing sleek and flashy athlete who runs like a back and catches like a receiver.
But not all that different, right?
Johnson had to pay his dues in junior college and on the Bengals bench before making it to the Pro Bowl and later with a five-year, $22 million contract. Perry had to pay his dues, too, on the Michigan depth chart and also on the Bengals bench in his NFL rookie year with a deep abdominal muscle pull that limited him to two carries. Now he is one of the pleasant surprises as a multi-purpose threat for one of the league's chic teams heading into Sunday's third game of the season in Chicago as Johnson's backup and the featured third-down back.
"That was a good thing that happened too him," Irene Perry insists of the injury. "Football players are like gladiators. He's been playing football since he was seven, and now he's 22. He was always invincible. There's nothing wrong with dealing with tough times. I think he grew from it. He appreciates playing football more now."
So different, so similar. Their mothers made sure they lived the dream.
When Rudi Johnson was nine years old, the little man wore a Vikings starter's jacket and wrote a poem predicting he would play for the Vikes one day in the NFL. Instead, after rushing for 90 yards against the Vikings last Sunday to move into second place in AFC rushing, Johnson remembered why it was the Vikings.
"That was back in the day everybody was wearing the starter's jackets and I think I liked the colors. I was the only one wearing it," he says.
When he was nine or 10 years old, Irene Perry remembers "Christopher" signing autographs for people and telling his mother he wanted to play in the pros. He already had the "CP" down. Irene, a writer by trade from Brooklyn who has her master's degree in economic development from New Hampshire, would grab a baseball glove and catch Chris on the front lawn in North Carolina when he wanted to pitch.
"After a couple of throws, I'd have to stop because it hurt," she says.
In Virginia, Janice Johnson has similar stories. Janice, also a single Mom who used to be the manager of student accounts at Virginia State before opening an insurance agency and then a fiscal officer for a non-profit group, had busy weekends, too.
"When he was little and he was playing, I would drive him to his game in the morning," Janice says. "But after he was playing, he would want to go to all the other games in the league. I would drive him around and it would be all day a lot of times. We'd have sleepovers with his team after the games."
Rudi still talks about the Super Bowl video Janice got for him when he was 10 or 11. She got a deal on it at the grocery store with the coupons from her cigarettes, and he watched it every day. Not just during football season. Every day. The video ended at the Doug Williams Super Bowl after the '87 season, and Rudi imagined himself getting the game's MVP in every one of them.
He must have remembered those drives with her to all those ball fields. He must have remembered his mother saying something about how one day she would love to drive a Jaguar.
One day after he was drafted, he told her he got that gift she wanted and she thought he was referring to a flower pot she saw at Wal-Mart that she had told him about until she looked outside the front of the house.
"All he ever wanted to do was play football," Janice Johnson says. "He remembers some of the kids on his team that didn't make it. They went other ways."
Johnson and Perry must have had memorable childhoods. Rudi has given that youth league of so long ago equipment and uniforms, and a banner stretches at the field recognizing his gifts. Perry has signed up his foundation with "Families Forward," a Greater Cincinnati organization that is sending him into schools every week to read to students, as well as talking about life skills.
"I was lucky. I had some great opportunities growing up," Chris Perry says. "Not everybody has that."
Janice Johnson says her son's foundation is more like a community action agency designed to assist all needy people and not one specific charity. They have their eyes on helping fund Spanish classes in the Ettrick school system for kindergarten through Grade 5 in the effort to help make students more bilingual and more competitive in school and after they graduate.
So different, but so ... Chris Perry took a trip to Europe this past summer and one day he looked around at the old buildings and the different cultures and got an idea.
"He thought that kids should be exposed to something like that when they're young," Irene Perry says. "He came home with the idea and I told him, 'Find a corporate sponsor and see what you can do.' "
The idea has developed into "Tripping With Chris Perry." He's still looking for a sponsor, but next summer, if possible, he'd like to accompany about 20 or so needy and worthy students on such a trip.
Irene Perry, who didn't have her hair the day the Bengals drafted Chris, is a determined bundle of electrons used to pushing her son. She knows he still doesn't like the fact she sent him to a military academy for high school, but she also feels like she did the right thing. She knows because she says Chris talks to his sister almost every day at her boarding school offering encouragement and support.
Which is what he gave Irene during her struggle with breast cancer. It's been about a year since she was declared cancer-free, but they remember every flip and flop of the heart and are devoting time and money to make the fight easier. During his mother's fight his senior year at Michigan, he made sure he visited cancer-stricken children.
"I know when I was sick, I didn't want to see anybody," Irene Perry says. "You don't think people want to touch you, or hug you, or be with you. But the thing that made me the happiest is when people would ring the doorbell."
Their kids are still playing and they're still helping. Irene Perry is organizing a golf tournament for the foundation next summer. Janice Johnson is getting ready to host adults and children from the Ettrick community at Paul Brown Stadium next month, when childhood friend James Farrior arrives with the Steelers. There are also plans for next week's foundation party for students in Cincinnati.
Sometimes the mothers don't have to say anything, like the European trip. When Rudi heard about a family that ended up in his hometown after being displaced by Hurricane Katrina, he sent them a freezer full of food.
"The thing we always talked about is the opportunity is so great," Irene Perry says. "Look how many kids get this chance. How many teams are there? Thirty-two? How many do they get to draft? It's such an opportunity."
It's Sundays now. Not Fridays nights and Saturday mornings. It's the NFL now and the roles aren't the same.