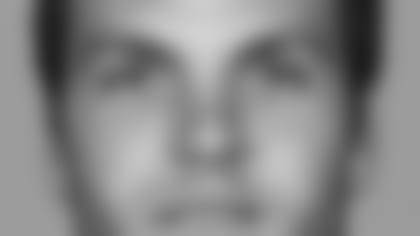 From Mile High to Mile Hell, the Spirit of St. Louis lives 107 times over.
Only Willie Anderson, the last Bengal from the 20th century, has played in more games in stripes than Brad St. Louis, long snapper with a short memory.
Anderson is also single, so when Michelle St. Louis heard that linebacker Brian Simmons had been released a few weeks ago she had no problem doing the math.
"Now I'm the oldest wife," she told her 30-year-old husband at a moment when her family is stepping up their involvement in a Cincinnati community they have chosen to live full-time.
As the last pick in the first draft of the 21st century, St. Louis has survived three head coaches, the 2000 rookies, and five punters.
"It's kind of hard to believe that no one from my draft class is still around," he said.
St. Louis may be facing the most crucial spring of his eight NFL seasons, but his off-field focus and goals have ripened. His foundation is now off the ground with Michelle as his co-pilot as they target childhood obesity.
St. Louis' Dietetics degree is one of the leftovers from Southwest Missouri State before it became Missouri State, but his frightening family experience has more to do with the cause than anything else.
"Both my grandpa and great grandpa died of heart attacks when they were 52, so on the St. Louis side of the family it's always been a (nervous) thing," St. Louis said this week. "That was an anxious year for my dad and my uncles. It really makes you think.
"With football, it seems like you're always being excessive. You get as big as you can, you eat as much as you can, you work out as much as you can. You have to turn it off at some point. My dad was a lineman, he loved to eat, but then you have to change your habits and eat good food."
Mike St. Louis, a Canadian Football League lineman in the late '60s, is 11 years to the good at age 63. His son reports he biked 150 miles this week, as usual, as well as playing tennis and golf and is a svelte 220 pounds.
"I'm trying to put the whole thing together with family history, how to better yourself in athletics, what you learned in college and from others," Brad says.
The foundation kicks off with a football camp this summer for children in grades three through eight with the emphasis and awareness on nutrition and keeping kids active.
"I'm probably going to speak at more schools, too," said St. Louis, who has two preschool boys of his own. "They don't usually let you come in and talk about nutrition, but it's nice to have the Bengals behind you and kind of gets you in the door and you can start talking about it.
"What's normal in our society really isn't normal (for nutrition). You have to change your life and that's hard because it's what everybody is doing. You have to change attitudes. McDonald's is what's normal because fast food is so convenient, especially for kids because they're always running around. You really have to limit the fast food."
St. Louis is living a steady diet of rehab this offseason, bouncing back from one of the Bengals' best kept secrets of the last two months or so. He never let on, not even after he uncorked one of the most devastating and surreal miscues in Bengals history when his wayward snap on an extra-point with 40 seconds left in Denver cost the Bengals overtime and quite possibly the playoffs.
Never let on that he played the last part of the season trying to cope with a knee injury. He went through a couple of knee braces and after rolling a snap back against Cleveland that snapped the Bengals four-year skein of extra points, he switched to a lighter brace.
Couldn't the braces have fouled up his follow through? Couldn't they have altered his mechanics? Couldn't they have wreaked havoc on his stance in one of football's most delicate operations?
How many guys would have said so as they met the media on that awful Christmas Eve when Mile High went to Mile Hell?
"A lot of guys," said special teams coach Darrin Simmons. "But Brad isn't a lot of guys. He proved that. No excuses. That's how he feels. It's a high standard. We've got some issues there that we have to work on. But no one takes his job more seriously."
Here's a guy who once went three straight seasons and more than 300 long snaps without an unplayable snap and who has had only two unplayable in seven years.
Here's a guy who has snapped for the NFL's second most accurate kicker of all time and the Bengals' best punting season in a decade, and a guy who has played in 80 straight games and is only noticed when he screws up.
But just like that day in Denver when he unflinchingly met the press, St. Louis continues to offer everything but excuses.
"Nope. You won't get me to say it; you won't get me to say that's why it happened," he said of the effect of the injury. "That's part of being a professional. You have to adjust. You have to perform no matter your personal problems, or injuries, or whatever else. That's your job. If anything, it bothered me most when I tried to run downfield and cover."
Yet even with their key guy limping, the Bengals punt cover team led the NFL. St. Louis had just one assisted tackle, but Simmons knows he meant a lot more than that. Especially on executing football's version of the pick-and-roll with St. Louis setting the selfless picks.
"He's the leader out there. He gets other people free so they can make the tackles," Simmons said. "The fact that we led the league shows you how valuable he is."
The 107 games don't mean St. Louis hasn't already been leading. The long snapper can't lead through the media, posters, money or stats.
But, "I try to do everything the right way and make sure I know what everyone is doing on punt (coverage)," he said.
He has been one of the staples of a punt cover team that has blossomed since head coach Marvin Lewis arrived. St. Louis concentrates on working in sync with linebacker Landon Johnson, his personal protector the last three seasons, as well as his guards.
"Those are the guys I have to communicate with. It's nice knowing I've got Landon back there making the calls for me," St. Louis said. "When Marvin came, the emphasis changed. Instead of the offense and the defense, it was offense-defense-special teams, and sometimes it's special teams, and offense-defense."
It's a lonely job as St. Louis waits for his kickers to join him when offseason workouts start April 2. Until then, he takes a wrestling mat in his basement at his Northern Kentucky home and puts it up against the wall to work on the short snaps. For the punt snaps, he's been using rehab trainer Nick Cosgray in between dips into the cold tub at Paul Brown Stadium and exercises in the weight room.
"Getting through the week after the Denver game, that was tough," St. Louis admitted. "But now there is down time and I spend time with my kids and wife. And I just think about getting better."
Yes, he does have a beard this offseason. But it's not gray.
"It's for the wife; she likes it," said St. Louis, who offers no disguises. "But it will be too hot for training camp."