Luke Kuechly's Bengals memories go back to Corey Dillon.
SAN FRANCISO – This is a Super Bowl story striped with Who Dey. A gold plate spiced with a Three Way of Family, Faith, and Football the only way Cincinnati can serve it up on Friday nights at 7:30 and Sunday afternoons at 1 p.m. and every other minute of the week.
This one on Sunday (6:30 p.m.-Cincinnati's Channel 12) is about grandfathers and big brothers and nephews and beating cancer and winning state titles and favorite Bengals and making the West Side and the East Side proud all around town.
"Cincinnati football is big," declared Panthers linebacker Luke Kuechly on Wednesday, the biggest understatement of a week full of Super bombast. "You grew up watching it at the high school and being around it. It's super important and people take a lot of pride in it."
Like on West North Bend Road at St. Xavier High School, where Kuechly led the Bombers to an Ohio Division I state title. Like on Forest Road to the east at Anderson High School, where Kuechly's Panthers' teammate, left guard Andrew Norwell, won a Division II state title as a sophomore and came within a break and a bump of another one as a junior.
Those were the first two years the Anderson program was without its architect after head coach Vince Suriano moved on to the college ranks. During his 20-year run where he turned the de-caf into latte on Beechmont Avenue, Suriano coached Norwell's older brother Chris on a 10-0 team back in '02 when Andrew was 10.
 "I always loved the Friday night lights," Norwell said Wednesday. "I watched my brother play and saw how important it was. They were a good group of guys. (Suriano) ran it like a college program and when he left, Coach (Jeff) Giesting kept it going."
Kuechly is a Pro Bowler with first-round pedigree who guards the middle of the Carolina defense with such an uncanny brew of tackles and turnovers that Superman himself, Panthers quarterback Cam Newton, calls him "Captain America."
Norwell, an undrafted free agent out of Ohio State, may have a profile lower than Clark Kent, but he's a major reason Superman has leaped enough tall buildings in a single bound this season to be NFL MVP. Despite playing more than 800 snaps with a 320-pound ferocity, Norwell didn't have a penalty while becoming ProFootballFocus.com's fifth best run-blocking guard in the NFL.
"He's a mean, big, nasty guy who'll punch you in the mouth," said Eugene Robinson, a former NFL safety who is the Panthers radio analyst. "The story of this team is the offensive line from an offensive standpoint. They're incredible. They've opened up holes and kept Cam Newton upright. This guy is mean, dude. He'll get after you, dude. He's relentless and he has the right persona to play that left guard spot."
Despite their glittering accolades, this one is a block party in the Bay Area, Cincy style.
The 24-year-old Kuechly went to his first Bengals game in the late '90s before Paul Brown Stadium was built.
"It was one of my earliest memories of being a Bengals fan," Kuechly said. "It was Cinergy Field and Corey Dillon ran wild. I went to the game with my grandpa. That's probably my favorite memory of being a Bengals' fan."
 "One minute the kid is shooting baskets in your driveway," said Suriano, whose house was in back of the Norwells' home. "The next minute he's going to be on your TV set playing in the Super Bowl."
The 24-year-old Norwell watched the Bengals, too. Even though he was born in the next-to-last season of Hall-of-Fame tackle Anthony Munoz's Bengals career, Munoz is probably his favorite Bengal. A lineman, after all.
"He stayed in the community," Norwell said. "I heard him speak a few times. Good guy."
Kuechly and Norwell came of age when the Marvin Lewis Bengals came of age. They were headed to high school when the '05 Bengals won the AFC North and Norwell remembered Willie Anderson playing right tackle.
"I watched them as much as I could," Kuechly said. "I didn't go to a whole lot of games growing up, but I was always tuned to watch them on TV. It's what I did on Sundays. I'd get my homework done real quick and I'd (watch the game) or my buddies would come over and we'd go someplace and watch it."
Kuechly doesn't know why, but the guy he remembers most from those teams is a running back. And his two favorite defenders were ends and not linebackers.
 "Rudi Johnson was a fun guy to watch.  I don't know what it was. He ran hard, he played tough, he stuck out to me," Kuechly said. "Robert Geathers, Justin Smith, those guys were fun to watch."
But the biggest inspirations came at home and from the coaching staffs. Kuechly's father and uncle and cousins played at St. X. And, truth be told, the Norwell who was supposed to make it first in the NFL was Chris Norwell, a gifted 6-5, 250-pound all-city basketball player who played the defensive line at Illinois.
"He was my mentor," Andrew Norwell said. "I watched everything he did. How aggressive he was. He was very passionate in his play. He was very mean when he was on the field, where I try to emulate that."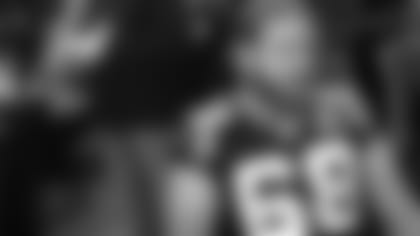 Andrew Norwell never saw Anthony Munoz play, but he knows the story well.
Chris Norwell played well enough for the Illini that when then Ohio State coach Jim Tressel came calling on Andrew very early he told him, "I'm not going to make the same mistake I made with your brother and I'm going to offer you a scholarship."  
Chris Norwell also played well enough that the Patriots signed him after the '08 draft before cutting him in early August. The Vikings picked him up and he survived until the last cut, a remarkable and courageous feat when he was diagnosed with Burkitt's non-Hodgkin's lymphoma shortly after he got home.
 "No doubt in my mind," said Suriano, when asked if Chris Norwell would have made the Vikings if not for his health. "As tough and as physical as he was. He got after it. He was a grinder. And to think he had cancer and still made it to the last cut."
The Norwells' notorious work ethic surfaced again. Chris figures he spent more than 70 nights at Jewish Hospital and his familiar versatility carried the day. Basketball or football or tight end or pass rush or the hospital room or weight room. Andrew Norwell may have always been the biggest kid around, but it was Suriano that nicknamed Chris Norwell "Bubba," back during his own days shooting baskets in the driveway and the big, tough kid with no fear won this battle, too.
 Now Chris is the up-and-coming defensive coordinator at Cincinnati's Division III Thomas More College with an eight-month-old.
And not a smidge of bitterness.
"You can always play the what-if game. Would I have been in the NFL?" Chris Norwell asked. "I don't look at it that way. When that happened, I got into coaching and I love what I'm doing at Thomas More. There's a reason for everything."
Suriano think there's a reason Andrew Norwell has made it this far, too, which has Chris getting on a plane Friday to Super Bowl 50.
"I think it does Chris' heart good to see Andrew do well," he said, "because he's able to see Andrew do some of the things he had dreams of doing and what he could have done if he hadn't got cancer."
But this isn't about anyone living vicariously through anyone. There is too much to do as coach. Back in '14 when Andrew found out he made the Panthers' 53-man roster for Opening Day as a rookie, he called Chris when  Thomas More was on a bus to play Rose-Hulman Institute.
"What a thrill that was," Chris Norwell said. "I told all the coaches and players and everybody was really into it. Look at all he had to overcome to make it. Undrafted. On a good team. He ends up starting. This is all about the little bro. He did all the hard work. When you see someone you love and care about go past you, it's a great feeling to watch."
Everyone in Cincy is along for the ride now. Suriano, a member of the Ohio High School Football Hall of Fame, knows just what it means as the University of Cincinnati football's director of high school and player relations.
"It says a lot for high school football in Cincinnati when you've got two kids from the same era playing in the Super Bowl," Suriano said. "Think of it. St. X won a state championship. Andrew was on a state championship team and a runner-up team. I don't think it was the (hey-day) of high school football here or anything like that. There have always been great players and great teams here and there always will be."
But the Cincy story shows this when it comes to the other hotbeds in Texas, Florida, and California: "We don't have spring ball and those kids develop a little faster because they have spring ball. But the kids who play high school football in Ohio catch up very quickly."
Quickly enough that after playing three seasons at Boston College Kuechly became a top ten pick. Even though he was a lock to go long before the Bengals picked at No. 17 in 2012 and he had several other pre-draft appointments, Kuechly didn't turn down a chance to go to the Bengals' local day for area prospects a week before the draft.
"I grew up watching the Bengals, so to see the facility behind the scenes was great and I was able to (rub) shoulders with some of the guys on the team," Kuechly said. "The weight room, the locker room, the training room. I went in the training room and saw Jermaine Gresham. He was a fun guy to watch play, a big, athletic tight end. That was kind of neat."
Kuechly's visit is legendary. Bengals equipment manager Jeff Brickner remembers how Kuechly returned his work-out clothes in the same neatly folded pile. So Cincinnati polite.
"That's the way it came," Kuechly shrugged the Wednesday of Super Bowl week.
He didn't have to just look at the AFC playoff picture to daydream about a Cincy-Carolina Super Bowl.
"My buddies at home always talked about it," Kuechly said. "Everybody in Cincinnati is a Bengals fan so with them in the AFC and us in the NFC, everybody was always, 'What if you play the Bengals? What if you play the Bengals?' And they were all telling me they would root for the Bengals. Their loyalty is strong with the Bengals."
Kuechly didn't see the heart-breaking end of the Pittsburgh game. But he heard plenty about it.
"I think people were excited with how they fought and how the team played," he said. "It was a great season for them. Obviously they wanted it to end a little differently. But they'll be back strong next year."
Until next year there is the next Sunday. And that means a huge chunk of Bengaldom is no doubt pulling for a different breed of cat. If the clock didn't run out on the Steelers, then this is the next best way for a Cincy football season to end. For all the grandpas and big brothers and Bengals fans in the neighborhood. "A big day for Cincinnati," said Suriano, one of the guys next door.