Vance Joseph is still watching Daronte Jones (above).
MOBILE, Ala. _ If you don't think the NFL moves fast, then you didn't see Vance Joseph run Tuesday's North practice down here at the Reese's Senior Bowl.
It will be recalled it was three years ago at this game the Bengals, knowing full well they had one of the game's best young coaches, didn't give him permission to leave his contract as a secondary coach and become defensive coordinator of the Broncos. Now he's the head coach of the Broncos and the Bengals are working on their second cornerbacks coach since Joseph left the next season.
He just so happens to be a Joseph disciple in Daronte Jones, a 39-year-old Maryland native who met Joseph when Jones coached college ball with Joseph's brother 15 years ago in Louisiana.  Joseph has followed his career and hired him as an assistant secondary coach in Miami when Joseph left the Bengals and became the DC of the Dolphins in 2016.
On Tuesday Joseph alluded to the Bengals winning a recruiting battle to land Jones. It's believed a couple of big-time college programs nearly grabbed him.
"Good young coach. Very bright. Great with the players. He's definitely a get," Joseph said. "He had a lot of opportunities to go to other places. He chose the Bengals. He's a great get for you guys. He's also coached in the CFL. He's a bright prospect. He's got a bright future in coaching. You guys did good."
The North practice looked a little bit like a Bengals practice since Joseph planned it and modeled it on Denver's two-a-day schedule.
"This is going to be a pro training camp practice," Joseph said Tuesday morning. "A lot of individual drills to showcase the kids' skill sets. A lot of one-on-one drills. Wide receivers-DBs, linebackers against running backs and tight ends against safeties. Three team periods and two or three competitive periods."
ALLEN TRACKING HILL: Until he started throwing the ball for Joseph Tuesday, people were talking about Wyoming quarterback Josh Allen going to still Hue Jackson's Browns as the draft's overall number one pick. But Allen does have a big arm and big Carson Wentz dimensions and while he's an erratic thrower he's going to go early.
But the scouts won't like how he executes his handoffs, thanks to hard-charging Bengals rookie running back Brian Hill. Allen and Hill played together last year when Hill broke all kinds of Cowboys records.    
"I love Brian. He's a fierce competitor," Allen said before practice. "He's a fierce competitor. He's not afraid of contact. He's going to lay the boom a few times a game. I was always terrible carrying out my fakes because I handed the ball off and I'd just stop so I could watch him run over people. He's very fun runner to watch. He's a smart kid and he's going to adapt to the Bengals offense and hopefully he gets a lot of touches there next year."
Allen spoke to Hill just after the Falcons released him in mid-season and just before the Bengals picked him up when Jeremy Hill went on injured reserve.
"It was tough there because of the two running backs they had in Atlanta," Allen said. "But (when) I did talk to him he said he learned a lot from those two guys, two  experienced guys and he's happy for the time he got to spend with them."
The former teammates haven't had time to chat since Hill arrived in Cincinnati and Allen has entered the whirlwind of top prospect.
"He's getting used to a new city and I've been a little busy on my end," Allen said. "I'll probably hit him up in talk in the next few weeks and months."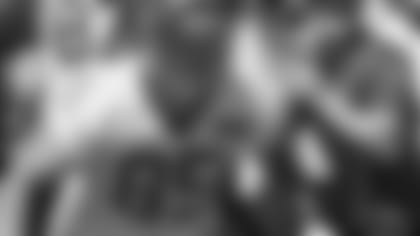 Cutting up with Tyler Eifert.
LOFTY LINEAGE: Notre Dame tight end Durham Smythe never played in South Bend with Bengals tight end Tyler Eifert but it's almost like he did.
"We're fortunate at Notre Dame to have a lineage of tight ends that goes back to the 1980s and 1970s," Smythe said. "As of late there have been some guys that came through that have really elevated that. Kyle Rudolph, Eifert, Troy Niklas, Ben Koyack, guys that are still in the league … It sets a standard for the guys who come in. There's a lot of responsibility to be able to play up to that level. It's something we take pride in and we talk about it."
Although he grew up in Texas he was a fan of the Fighting Irish and was drawn to Rudolph when he was an impressionable middle schooler. And even though he grew up north of Austin, he knows Rudolph's Cincinnati high school.
"Elder,' he said with a smile.
But he's gotten to know Eifert on head coach Brian Kelly's cutups since Eifert did his damage in Kelly's system.  
One thing that stuck out and why he's on so many of the cutups is just how he runs his routes and how cerebral he is in that process," Smythe said. "He's a great athlete   but when you see him break down a leverage to the point where the defender doesn't know what is really happening, you see him get so much separation the defender has no idea where he's going. He really knows how to get the defense in a weak spot."
The 6-2, 253-pound Smythe didn't have near the 6-6, 250-pound Eifert's production or dimensions in college. Eifert caught 111 balls and nine TDs in his last two seasons at Notre Dame while Smythe went for 24 catches and five TDs.
So he's not a first-rounder but he believes he's a solid two-way player as a receiver and blocker. And he says he can catch.
"I want to show them that's something I can do. I can catch the ball, run good routes," Smythe said. "It's … more of what  I was asked to do in the offense … Scouts or whoever (can) jump to a conclusion if he doesn't have that volume, he can't do it. I don't consider myself (a receiver or blocker). I'm in the middle."