Alex Erickson can become the third Bengal to win an AFC kick return title on Sunday.
In what has been a staggering season for their proud special teams, the Bengals are staking their claim to a consolation prize in the form of the AFC kick return title.
Rookie wide receiver Alex Erickson, who got his second wind in the season's second half, holds a tenuous lead heading into Sunday's regular-season finale (1 p.m.-Cincinnati's Channel 12) against the Ravens at Paul Brown Stadium with Jacksonville wide receiver Marqise Lee needing two returns for his 30.3-yard yard average to qualify for the title and trump Erickson's 28.4-yard average.
Special teams coordinator Darrin Simmons didn't get that specific in his Wednesday meeting, but the concept has been embraced.
"We talked about it this morning and it's a goal," Simmons said after Wednesday's practice. "We're going to do whatever we can to make sure he comes out of the game with it. It would be a nice achievement for Alex and it's something our kick return group can take pride in. But we're winning the game first. Whatever it takes to win."
But it won't take away the sting of the Bengals' worst special teams performance in eight years. Not only did the run of five straight postseasons end, so did the kicking team's skein of five straight seasons in profootballfocus.com's top 14 that included three  top ten finishes.
If you don't think that goes hand-in-hand, think again with PFF ranking the Bengals at No. 23. When they were No. 24 in 2008, they were 4-11-1. When they were 22nd in 2010, they were 4-12.
At least Simmons can isolate the problem. Kicker Mike Nugent was cut with three games to go after he missed 12 field goals and extra points and last week his replacement, Randy Bullock, missed a walk-off 43-yarder at the gun in Houston.
"It's a goal of mine to get it fixed. We can't go through another year like this one," Simmons said. "I don't know any of the play-off teams that don't have a great kicker. You have to have somebody you can rely on. We'll try to find that guy. Where ever he is."
But they know where Erickson is, a moxie 6-0, 195 pounds who in the last eight games has become the first Bengal ever to string together three kick returns of at least 65 yards in the same season. He's second in the NFL behind the league-leading 31.5-yard average of Minnesota's Cordarrelle Patterson.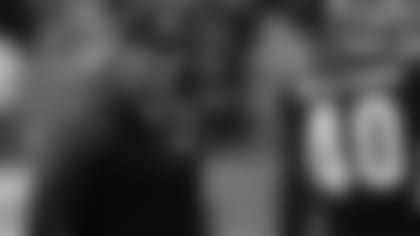 Darrin Simmons is looking for a kicker, but he's found a kick returner.
And his timing has been impeccable. His 65-yarder came on their first drive after they fell behind, 7-0, in Wembley. His long of 82 opened the second half on Monday Night against the Giants, and his 72-yarder finished off the 20-point first half against the Steelers.
It won't be easy against Baltimore, always rated one of the top special teams in the league and coached by the veteran Jerry Rosburg. And, typical, they have the league's 10th best cover kick team this season.
And of course there is Ravens All-World kicker Justin Tucker, who not only kicks touchbacks, he puts kickoffs through the uprights. He's not going to give Erickson a lot of chances, tied for eighth in the league with 51 touches.
Plus, Lee faces the Colts' Adam Vinatieri, next to last in the NFL with three touchbacks.
But Erickson and his guys are working on a second wind.
"He's being very aggressive," Simmons said. "There's not a lot of dancing around with Alex. He's not juking, and jiving and dancing with it and that's a good thing."
But Erickson isn't quite sure where he stands. He didn't check out the numbers Wednesday all that closely.
"Couldn't tell you," he said.
At the moment, an NFL title for an undrafted guy out of Wisconsin who just started returning kicks last year isn't on the radar.
"It's hard for me to reflect when you're in it and your head is down and you're pushing it," Erickson said. "For me, I don't really have time to reflect on it. I would think after the season there'll be time to do that."
But he's aware enough to know it was a struggle at the beginning in seven games of frustration. When Simmons and assistant Brayden Coombs got the stat sheet on the morning of Oct. 24, Erickson was 25th in the NFL in kick returns with the disturbing average of 5.7 yards per returns and a long of 15.
The kick return team had been a reflection of the special teams transition that took place at the end of the roster on cut down day. There were five new receivers, a new safety, a new linebacker, and their Pro Bowl player, running back Cedric Peerman, was out for the first ten games.
There were just three players back on kick cover from 2015, fullback Ryan Hewitt, running back Rex Burkhead, and defensive lineman Margus Hunt. And there was Erickson, learning as he went.
"I don't know if it was putting extra pressure on it or what. Coming out of the gates. We just weren't having the success" Erickson said. "And the thing was we knew we could do it because we've shown we could do it. It's a matter of doing it consistently and I think we just kept staying after our approach in practice and sticking to the plan.
"Darrin and Brayden prepare us better than anybody I would bet. It was trusting in what they were teaching and it showed in the second half of the season. We got some momentum going and got explosive plays every week."
For Erickson, maybe it was just a matter of literally breathing.
"You're trying so hard to succeed you suffocate yourself a little bit," Erickson said. "It really showed with the decision-making at times. Sometimes you have to breathe naturally and let it go."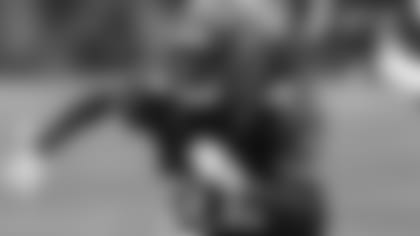 Adam Jones won an NFL kick return title two years ago.
Erickson also watched film of teammate Adam Jones, the first Bengal to ever win a kick return title two years ago. He simply absorbed him, too.
"I'm out there with him every day for kick and punt return," Erickson said. "For him, you just watch him be fearless running through the holes just trusting it's going to be there. I learned a lot just watching. He's still one of the best returners in the NFL. When you have a resource like that you don't want to lose it.
"He's just decisive in the way he cuts. He's a playmaker, too. It looks like there's nothing there sometimes and he'll work his magic and somehow pop out at the other end and get a return out of it."
In the last two months Erickson has found you can't underestimate decisiveness.
"You attack and go vertically, it puts pressure on them," Erickson said. "They have to break down sooner and if they don't, you cut off and they miss tackles. Being decisive puts pressure on them and being a special teams unit that's one of our things. Pressure and the only way to do that is speed and attack them."
And Simmons and Coombs didn't change the plays. "Same plays, but they all set each other up," Simmons said, and the blockers began to emerge and jell.
Just look at the first big one in London. It was a group effort of Hunt, Burkhead, tight end Tyler Kroft, linebacker Marquis Flowers, and rookie safety Clayton Fejedelem. Then in New York rookie wide receiver Cody Core blew up a defender on a run to the boundary. Then against Pittsburgh two weeks ago they got another group effort, sparked by a Peerman pancake and wide receiver James Wright walling off the edge.
But what you didn't see was Hewitt and Fejedelem digging it out in the middle line of work. Those are the guys with the toughest blocks. They get no help since they aren't part of a wedge. They have to get set in space and block guys one-on-one coming at them full speed.
"Hewitt continually makes our toughest blocks. He's been fantastic," Simmons said.
But it won't be Hewitt's name on top of the AFC rankings.
"It's one of those things," Erickson said. "It's my name and my number up there. But it's a product of those ten other guys, too. That's what's great. Everyone is taking pride in having a guy up there. It's our kick-off return unit. So we're all taking pride. I'm trying to do my job and they're trying to do their job and we're just all trying to get to the same place."