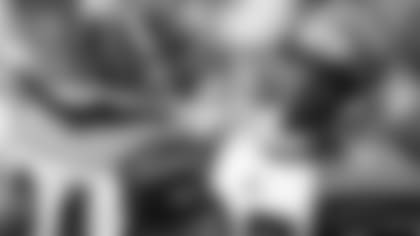 T.J. Houshmandzadeh and Chad Johnson celebrate Houshmandzadeh's first-quarter touchdown. (Getty Images)
SEATTLE - This time the Bengals defense and special teams waited until the last minute to implode in a quick-strike 24-21 loss that instantly changed victory into defeat.
With a minute left Seattle quarterback Matt Hasselbeck fired a 22-yard touchdown pass for the go-ahead score as cornerback Johnathan Joseph let wide receiver Nate Burleson get behind him and there was no help over the top.
Quarterback Carson Palmer and the Bengals offense were confident that they were in good position with a minute left and all three timeouts remaining following Seattle's touchdown, but wide receiver Glenn Holt coughed up a fumble on the ensuing kickoff, robbing the Bengals offense of one final shot.
"I was trying to score a touchdown, trying to get through the hole," Holt said. "When I jumped his helmet hit the ball."
Palmer couldn't believe he didn't get another chance to go for the tying or go-ahead points.
"With a minute left and three timeouts left, we were finally in a good two-minute situation," he said ,"but we didn't get the opportunity."
Wide receiver Chad Johnson added, "I know one thing, as an offense, if we had the ball with a minute left, we were going to go down and score."
Palmer looked to have his his 11th fourth-quarter victory. He played pitch and catch with wide receivers T.J. Houshmandzadeh (141 yards) and Chad Johnson (138) on his last drive, and had what should have been the winning points courtesy of running back Kenny Watson's eight-yard touchdown run behind the left side with 2:42 left in the game that gave the Bengals a 21-17 lead. Head coach Marvin Lewis opted to go for a two-point conversion following the touchdown, but Watson's sweep to the left on the attempt was well short of the goal line, setting up Seattle's final game-winning drive.
"Anybody who says that they're not worried about the way we're playing is lying," said right tackle Willie Anderson. "We've got a whole lot of work to do, players and coaches both. We have to find a way to play better at the most critical times."
A week after getting buried in a cloud of 51 points and 554 yards, the Bengals defense gave the team a chance to take control of the game in the second half, nearly blocking Josh Brown's 23-yard field goal with six minutes left in the game that gave Seattle a 17-15 lead.
Before Brown's go-ahead field goal, safety Madieu Williams had set up the Bengals in Seattle territory when he intercepted a pass off a deflection and returned it 35 yards down the sideline. Palmer converted huge third down passes to Houshmandzadeh and rookie tight end Daniel Coats on the ensuing drive, but the Bengals could only manage Shayne Graham's 24-yard field goal with 9:58 left that gave the Bengals a 15-14 lead.
Running back Rudi Johnson left with a hamstring problem early in the fourth quarter, and at the time he had managed just nine yards rushing on 17 carries. The nine yards were a career-low for Johnson when he has at least five carries. Johnson said after the game that his hamstring injury wouldn't keep him out of next Monday night's game against New England.
With the Seahawks holding a 14-10 lead in the third period, rookie safety Marvin White downed a Kyle Larson punt on the Seahawks 2. On second down, blitzing linebacker Lemar Marshall rung up a safety to cut the Seahawks lead to 14-12. Marshall came in untouched for the Bengals' first safety since an Oct. 29, 2000 victory in Cleveland.
But the Bengals couldn't convert like last week and despite getting the ball back on the Seattle 47 after the free kick, Palmer uncorked his second interception of the day when he overthrew Chad Johnson in the end zone and safety Brian Russell caught it over his shoulder.
"I wish I hadn't thrown it that far," Palmer said. "I didn't give Chad a chance to go up and get it, but Russell made a good play."
The Bengals lost another linebacker and then their composure before losing their lead with 2:06 left in the first half when wide receiver Deion Branch raced past Joseph in straight man-to-man coverage for a 42-yard touchdown catch that gave Seattle a 14-10 halftime lead.
"It was a zone and in a zone there are going to be some holes, and they found a hole," Joseph said.
Middle linebacker Caleb Miller, already working in place of the injured Ahmad Brooks, left late in the half with a lower back injury and did not return. On the next snap, with Anthony Schlegel moving to the middle, strong safety Dexter Jackson was called for a late hit on Seattle running back Shaun Alexander. And on the next snap Branch fried Joseph.
With Miller down, Schlegel, a Bengal for three weeks, and Dhani Jones, a Bengal for barely three days, had to get work. And Jones added a nice special teams tackle on a punt return that put Seattle on its 23 late in the third quarter, and the score still 14-12.
Hasselbeck's pitch capped a torrid half of quarterbacking. He finished 13-of-20 for 141 yards, and after hitting 13 of his first 14 passes Palmer ended the half 15-of-20 for 209 yards with his NFL-leading ninth touchdown pass, and his favorite target Sunday, the NFL's co-leading receiver, Houshmandzadeh, had 119 yards on nine catches.
But Palmer made a bad decision late in the half after a nice stand by a Bengals defense that looked to regain its bearing after last Sunday's shellacking.
When Palmer rolled out and tried to hit on the run Houshmandzadeh deep down the sideline, Seattle safety Deon Grant leaped in front to make an interception with 3:06 left and set up the touchdown.
Then Chad Johnson dropped two balls to blow up the two-minute drill.
"Anybody who says we'll be fine is a liar because of the way we're playing," Anderson said.
The defense played well enough win, but the biggest mystery was the disappearance of the running game. The Bengals tackled eight times for loss in the game, for minus 20 yards. At one point Rudi Johnson had minus-three yards on 13 carries as the Bengals offense worked, at times, behind a revamped line with two new tackles.
Palmer attributed the run game struggles to the defense of Seahawks linebacker Lofa Tatupu.
"Lufa is as good as a Tampa 2 MIC linebacker as you're going to find," Palmer said. "He was in the backfield all day. We wanted to wear that team down and we did at the end of the fourth quarter. We fnally got some runs, but we didn't do it enough early."
Willie Anderson, apparently still bothered by his foot, came out of the game early in the second quarter and was replaced by Scott Kooistra. But Anderson did come back in the game later and said he would be back for next Monday's game. Levi Jones got his first snaps at left tackle while Andrew Whitworth went to left guard in place of Stacy Andrews.
The game started just the way the Bengals didn't want with Seattle's Josh Wilson returning the opening kickoff 72 yards to the Bengals 24, but Houshmandzadeh's 35-yard touchdown catch on third-and-15 helped the Bengals gain a 10-7 lead midway through the second quarter.
The Bengals' first drive consumed 14 plays and more than seven minutes and overcame two false starts penalties and a holding call on Anderson.
Playing in the NFL's loudest stadium, the Bengals, who had just two false starts all season, flinched early. Palmer had to call a timeout before the third down-play, and then right guard Bobbie Williams moved early.
But Houshmandzadeh, who caught four passes for 70 yards in the drive, was wide open on a corner route. Houshmandzadeh finished with a career-high-tying 12 receptions for 141 yards. The 12 receptions tied the total he had against New England on Dec. 12, 2004, and fell one short of the club record 13 set by Carl Pickens.
After Wilson's return to open the game, it took Hasselbeck just three plays and 89 seconds to give Seattle a 7-0 lead on an 18-yard touchdown pas to wide receiver Bobby Engram. Again victimized on third down, rookie cornerback Leon Hall lost Engram out of the slot on third-and-four.
Two new players were on kickoff cover, including linebacker Dhani Jones, signed just five days ago. Also rookie cornerback David Jones, who arrived the first week of the season, appeared in his first game.
And the special teams unit continued to struggle when it was called for 12 men on the field defending the extra point. At the end of the first quarter, wide receiver Skyler Green committed the cardinal sin of fair catching a punt on his own 6.
Both running games had trouble getting going in the first quarter. Rudi Johnson had just a yard on his first seven carries and Alexander had minus four on three carries and finished the half with just 22 yards on nine carries against a rejuvenated Bengals defense.
But the quarterbacks were feasting. Hasselbeck hit nine of his first 10 passes for 75 yards, including his first three third-downs. But his 19-yard completion on third-and-10 went for naught when the Bengals later held and forced a punt. Palmer hit his first three third-down passes.
The clubs traded turnovers early in the second quarter. After coming back to catch a ball over the middle, Houshmandzadeh fumbled on second effort and a strip by linebacker Leroy Hill at the Bengals 37.
But Hall came back two plays later to get his first NFL interception off a tip and Palmer, on fire, threw completions of 18 and 20 yards to Chad Johnson. But Rudi Johnson lost four yards wide left on third-and-one and the Bengals needed a 43-yard field goal by Shayne Graham to give them a 10-7 lead with about nine minutes left in the first half.
"They are two games we felt like we should have won," said Houshmandzadeh of last week's game against Cleveland and Sunday's loss. "Two games we felt like we were the better team. But instead of 3-0 we're 1-2. And we've got probably the best team coming to play us next week. It's going to be tough."
PREGAME NOTES: The Bengals injury woes were reflected up the middle when head coach Marvin Lewis' inactive list came down for Sunday's game here at Qwest Field.
Out were center Eric Ghiaciuc (thumb) and middle linebacker Ahmad Brooks (groin), but Lemar Marshall (groin) did draw the start at strong-side linebacker despite not practicing until Friday.
Also down for the second straight week was core special teams member Chinedum Ndukwe (hamstring), the rookie safety.
The importance of the game against the 1-1 Seahawks came through even before kickoff with AFC North rivals Pittsburgh and Baltimore back east controlling games that would give them winning records at 3-0 and 2-1, respectively.
The 1-1 Bengals wing their way back from Qwest with a Monday night date against undefeated New England.
The Bengals felt comfortable turning to backup center Alex Stepanovich for the second straight week because the former Cardinals starter is used to playing in the Seahawks' noise-infested building against Seattle's small but quick front seven.
Physically it would appear to be a better matchup for the 300-pound Stepanovich than last week's scrum against 400ish-pound Ted Washington. But the Bengals still managed to rush for 137 yards on 26 carries and as Stepanovich said during the week after going against Ted he feels like he's ready for anything.
Caleb Miller got the start in place of Brooks in the middle, which put more stress on a much-maligned special teams unit that gave up a 63-yard punt return and an 85-yard kick return in the first two games.
Special teams was probably where linebacker Dhani Jones was headed. Jones was active despite only three practices with the club after signing earlier in the week.
The microscope is trained on the backers and the secondary after the defense allowed 51 points, 554 yards, and eight plays of at least 20 yards last week against one of the NFL's worst offenses.
Also on the inactive list were linebacker Rashad Jeanty (leg), wide receiver Tab Perry (hamstring), defensive back Ethan Kilmer (knee) and defensive end Frostee Rucker (coaches' decision).
Seattle had a healthy roster with no changes in its starting lineup. Backup running back Maurice Morris was down but starter Shaun Alexander's wrist injury wasn't expected to slow him down.
MORE PREGAME NOTES: With the Patriots headed to Paul Brown Stadium for next Monday night's nationally-televised game, the spying issue is going to be aired all week long.
Although Lewis refused to discuss it last week, Seattle head coach Mike Holmgren had no problem addressing the issue as a former member of the NFL Competition Committee. Lewis is a member of the committee and has been hesitant to speak.
"The only point I wanted to make is I resent sometimes the implication that we all do this. We don't," Holmgren said. "They are an outstanding football team. They have an outstanding coach and coaches. And that's enough. It should be enough and it probably would be enough. Yeah, it surprises me when things like this would happen."
Holmgren, who served with Bengals president Mike Brown on the committee, said the topic is continually discussed and it's not easy because technology has created issues that weren't around 20 years ago.
"It opens the door for speculation," Holmgren said of the Pats case. "It's a shame. It's a little like the vast majority of players in the league are good guys and don't get into trouble. They're good husbands, good fathers, good citizens and then it only takes a few to have everyone thinking, 'My goodness, the league is falling apart.' There's nothing further from the truth.
"Yeah, it bothers me. I always looked at as a privilege to coach in this league. I'm the luckiest guy in the world and I try to follow the rules and I kind of expect everyone else to as well."