The Cordy Glenn trade was big in more ways than one.
The Bengals' mandatory minicamp begins Tuesday and when it ends Thursday the official seven-week period of conjecture, speculation and guesswork is underway because they won't be seen on the field for the next 42 days.
Camp is closed to the public but that doesn't mean there's a moratorium on the hopes and fears that they did enough during the offseason to pull the offense out of a two-year coma.
Certainly just the presence of the very large Cordy Glenn at left tackle Tuesday is physical evidence of the effort since he's the product of a trade involving a first-round pick designed to improve one of the offense's most visible positions.
But the hopes of a little-used role player also reflect how this offense may be changed by as much philosophy as looks. Ryan Hewitt, the forgotten fullback, has been looking pretty upbeat this spring working out of a new playbook that has offensive coordinator Bill Lazor for an editor and new offensive line coach Frank Pollack as a frequent contributor.
Maybe it's not a coincidence that when Hewitt's play-time began to dip in 2016 so did the offense in general and the running game in particular.
Maybe. Maybe not. All we know is when Hewitt took between 35-40 percent of the snaps during his first two years in the league (2014-15) the Bengals finished sixth and then 13th in rushing and 15th offensively overall both years. Then when the snaps dipped under 30 percent, they finished 13th and 31st in 2016-17 rushing on the way to finishing 13th overall in '16 before coming in dead last in '17 for all things offense.
Last season's knee injury that took Hewitt out of three games didn't help his snaps, but Pollack's approach to the run game has revived him. Pollack arrived this January after three years running the line in Dallas, so the Bengals have been saturated by tape of a Cowboys running game that finished ninth, second, and second under Pollack from 2015-17.
"He's more old school style. Watching Dallas film, you get a feel for it," Hewitt said. "Its stuff I like doing and stuff I think can help me create holes for the running back. It's the stuff I was doing my first couple years that we got a little bit away from. So hoping to get back to that."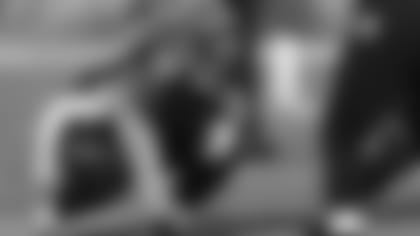 Ryan Hewitt: remember him?
That would be lead plays with Hewitt clearing the way for running backs Joe Mixon and Giovani Bernard. So that fits him. But given that Lazor is a product of the pure, uncut West Coast offense under Mike Holmgren, Hewitt also fits that type of versatile personnel groups Lazor seeks because of his pass catching at tight end.
One day last week Lazor noted how he had Hewitt playing tight end with the first team.
"A big part of the thing is we're committed to being able to play football a lot of different ways," Lazor said. "Some of that is one-back, some of it is two-back. You need the right guy to do that. He's smart enough. He's versatile enough. When I got here (in 2016) I was told he was a tough, smart kid.
"Some teams we play, you can see they see him as a fullback. But a lot of teams we play aren't sure because we move him around a little bit."
Lazor served one year under Holmgren in Seattle, but Hewitt played pretty much the same spots he's played here for several years in Stanford's old school West Coast scheme.
"It's nothing really new for me," Hewitt said. "I'm just trying to get back to what I'm used to doing and I think we're going to do that."
Hewitt's number of snaps is pending. Glenn's snaps are set in stone. As close to 100 percent as he can get after he missed the final 10 games of last season with a foot injury. They've opted to bring him back slowly and work his way back into shape, but he says the foot feels fine and he likes the running game, too.
"It's fast. We've got some explosive weapons," Glenn said. "We have a different variety of schemes. We've got different ways to attack a defense. With 28 (Mixon) and 25 (Bernard), it's nice."
Glenn, who turns 29 during the first month of the season, is heading into his sixth season in the NFL and he knows that getting swapped for basically a first-round pick brings responsibility.
"I'm not a rah-rah guy. I've always tried to lead by example," Glenn said. "Just watch me work every day. But it's the kind of thing in the room where you can feed off each other. Somebody might watch how you use your hands or you might see how they took a step and you kind of look to each other."
Head coach Marvin Lewis hasn't pounded his best players this spring. His best player, wide receiver A.J. Green, has been used sparingly. So has his most brittle, tight end Tyler Eifert. Safety Shawn Williams has nursed a hamstring issue and spent much of the practices on the sidelines and No. 1 pick Billy Price has gone nowhere near center with his rehabbing shoulder even though he's been quite active in the drills. Expect more of the same this week.
They've also limited Glenn's snaps, largely because of the foot but also because they'd like to get a gander at a lot of guys. Pollack pledged to use the kids everywhere and it looks like the only guys exempt from moving have been the two veterans in Glenn and left guard Clint Boling. With as many as five tackles possibly making it, that gets a little bit interesting.
Former No. 1 pick Cedric Ogbuehi, who has struggled at both tackles during his career, looks to be having a bit of a revival under Pollack as he plays both sides. With Glenn getting spelled, guys like Bobby Hart are also playing both sides even though he appears to be in a battle to start at right tackle with Jake Fisher. While Fisher nursed a nicked shoulder, Kent Perkins is also getting time as he continues to interest them in his second season undrafted out of Texas. At 6-5, 320 pound Perkins has some serious NFL thickness.