Devon Still and his daughter are set to receive one of sports' most coveted awards next month.
Bob Valvano, Jimmy V's younger brother, has seen The Speech a thousand times. No exaggeration.
But for the first time since that March night in 1993 when a dying Jim Valvano accepted the Arthur Ashe Humanitarian Award and then challenged the world to beat cancer with the iconic benediction, "Don't give up, don't ever give up," Bob Valvano gave the exact same speech by request at a fundraiser the other day in the town where he lives, Louisville, Ky.
Two stages. Eight rock bands.  A sea of sound.  It all stopped when Bob Valvano started reciting the 10-minute spellbinder that has come to define one of sports' most coveted awards.
"The place was dead silent," Valvano says. "It's amazing, it's captivating.
"There were cancer survivors and people still fighting it. When Jim says, 'Cancer can take away all of my physical abilities. It cannot touch my mind, it cannot touch my heart, and it cannot touch my soul. And those three things are going to carry on forever,' a bunch of people in the crowd raised their fists at that."
For Bob Valvano, that's the heart of his brother's message because it inspires and resonates. And that's why he's so pleased that Bengals defensive tackle Devon Still and his daughter Leah have been named recipients of the Jimmy V Perseverance Award to be presented July 15 at the ESPYs in Los Angeles.
"Look at the players around the league falling all over themselves to do things for them, like donating receipts from jersey sales," Valvano says. "It's one of those stories that just transcend a community or a team or an athlete or even a sport. When you see something like that, you see the impact that it has on people and you see what a wonderful job they've done in a positive way. They're inspiring, they're motivating, they're loving. That's what I look at because that's what I thought Jim did all through his battle. These two are very deserving, no question."
It was a year ago this week that instead of celebrating Leah's dance recital, Devon Still tried to process the heartbreaking words. His four-year-old had just been diagnosed with Stage 4 neuroblastoma, a rare form of pediatric cancer that could go either life or death after a battery of exhaustive chemotherapy treatments.
In March Still announced on Instagram that Leah is in remission, but last week he posted that she suffered a setback in her stem-cell treatment with a disease that occurs when tiny veins and other blood vessels inside the liver become blocked. It can cause death but the hope is the condition has been caught soon enough. The commitment to his child remains. He has stayed by her side at home and put football to the side this spring.
It caps a year in which the Stills became the charismatic, inspirational, and determined faces of pediatric cancer. After deciding not to retire Still used the NFL's platform to tirelessly campaign for the cause and after he was cut and then re-signed to the practice squad his No. 75 jersey became the biggest seller in Bengals history at $100 per shirt. The Patriots cheerleaders wore them on the Foxboro sidelines when the Bengals played in New England on a Monday night and Saints coach Sean Payton ordered 100 jerseys to be distributed at Cincinnati Children's Hospital.
The Bengals raised $1.2 million and during an emotional half-time ceremony at Paul Brown Stadium Leah helped present the check to Children's.
  "The whole thing is inspiring," Bob Valvano says. "His reaction to it. He's been trying to walk a very fine line. He's a public figure and as we all do with traumatic events, we all don't have good days but he's not allowed to show that.  But he's been supportive and strong for his daughter while still playing at the highest level of his sport. And I've seen that same quality and been impressed by his daughter. Kids are amazing in general…They are unbelievable in their spirit and determination and she seems to be the same way. The two of them tug at your heartstrings every time you see them."
It was fitting, really, that Bob Valvano made The Speech in the middle of a day-long rock concert because by the time Jim Valvano coached North Carolina State to the ultimate Cinderella national title in 1983, he had become one of the first of that new breed of college basketball coach as rock star. Irreverent. Funny. Smart. A guy that could talk a blue streak about a winning streak.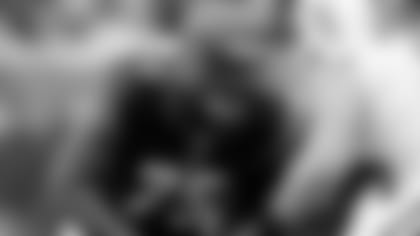 Still was Big Ten Defensive Player of the Year at Penn State when the Bengals took him in the second round of the 2012 NFL Draft.
Bob followed him into coaching and broadcasting. When his last stop came after five seasons at Bellarmine at the end of the '90s, he settled in Louisville where he hosts a sports talk show four times a week on ESPN 680 and is the lead college basketball analyst for ESPN Radio.
But the Jimmy V Foundation is always close to his heart and The Speech is the heart of it all.
"I'm not boasting because it was his speech. It's like a great work of art," Bob Valvano says. "When you see a great work of art, almost every time you come back you see something else. I'm struck by other parts, or how it connects with someone else.
 "When he made the speech, I thought the saying was almost too simple. But that's what resonates with people. In this case when you break it down, what resonates with people are a father and his little girl. We look at it and we have another child dealing with cancer. But maybe they're a stutterer. Maybe they have dyslexia or maybe they're not popular. Whatever. We ache when our child aches. We look at (Still's) manner publicly and he's always dealing with it upbeat, supporting her, motivating her. That's what resonates with people is family and they deserve the attention, the support, and the accolades because they've handled it incredibly and as gracious as you can."
The guy that convinced Valvano to give The Speech this past weekend was the organizer of the concert to raise money for local cancer patients, Louisville musician Randy Napier. Napier, battling Stage 4 stomach cancer, has lost half his body and is down to 120 pounds but he showed up as a natural phenomenon at the concert with a pump and a dream. One pedometer had him at 20,000 steps for the day a few weeks after he threw himself out of an airplane.
How could Valvano say no to that? He didn't want to do it, particularly in a rock concert, but after he did it, he couldn't imagine not doing it.  They both wept.
"Randy was nice enough to say my brother's speech is a big reason (for his positive attitude). He's watched it over and over. That's why he wanted me to do it," Bob Valvano says. "To have that kind of approach, for whatever reason, those are the most moving and inspiring people."
Bob Valvano's favorite part of The Speech is when his brother sees the guy with the notorious 30-second sign off stage. He wants Jim to wrap up The Speech in 30 seconds, which would have been like telling JFK to skip "Ask Not What Your Country Can Do For You," or telling FDR he has to fear the union instead of fear itself.
"He says, 'I've got tumors all over my body. Do you think I'm worried about some guy in the back with 30 seconds?" says Valvano, laughing along.
For Bob Valvano, time is what the whole thing is all about. Once late in the battle he called Jim on a good day in that stretch when Jim was trying everything new and he happened to be painting when Bob called. He was also preparing his speech and he was still announcing some games and some people wanted to know why he was still going full bore.
"You have two choices when you wake up in a situation like that," Bob Valvano says. "You live or you die. He chose to live every bit of his life…You can get a new job, you can get re-married. You can move. But time is all there is."
Bob Valvano makes a decision every year at this time. He can attend the ESPYs and be in the audience when the Jimmy V Award is handed out and meet and greet before and after. Or he can be in the middle of ESPN Radio's day-long Jimmy V-Thon in Bristol, Conn., that raises about $2 million in one day. It's a tough call because both events are so emotional and important.
Like last year in L.A., when Valvano hugged Jimmy V recipient Stuart Scott, the late ESPN anchor, in a moment that hit Valvano so deeply that he wrote about it on his Facebook page.
He has yet to decide where he'll be next month. But knows what he'd like to say to Devon Still if he does make it to L.A.
"I would just say hopefully he finds in my brother's speech a message that resonates with him and is as inspiring to him as it is to many other people who quote it and share it with friends,' Valvano says. "If he does, I'd like him to know I don't think I've seen anybody embody it more than he has. He's a very fitting, appropriate, deserving person to be recognized because he very much embodies everything that speech talks about."
Valvano also knows what he'll do as he tells him.
"I would be proud to get to shake his hand if that opportunity comes," he says.
The 30-second guy is going to have another rough night.