Wide receiver Brandon LaFell had some huge catches, including the Bengals' first TD.
PITTSBURGH - If you've seen one Bengals-Steelers game in the 14 editions during the Green-Dalton Era, you've probably seen them all. Sunday's 29-14 loss had the same grinding feel.
Not enough offense. A few big plays against the defense. A special teams gaffe. More Steeler complaints of a play by Bengals linebacker Vontaze Burfict. And after the game, more questions if the Steelers are in the Bengals' heads.
This rivalry must lead the pro sports world in trash talk tweeting.
"I'm a man. I'm not going to let another man have my number," said left end Carlos Dunlap when asked if the Steelers have their number. "They managed the game well and did the things they had to do and we didn't. Simple as that."
Or as cornerback Dre Kirkpatrick said, "You hate to lose, that's what gets in your head, it's not them. When you lose that's where the frustration is. I'm embracing that we lost today. … Fear yourself. Be accountable."
-The Bengals have failed to score more than 21 points in any of those 14 games to let the Steelers dictate the flow with their punishing offensive line and pass rush.
In 18 of the last 22 Bengals-Steelers games, as uncovered by the Dayton Daily News' Jay Morrison, the Steelers have scored points in the final two minutes of the first half and when the Bengals suffered a three-and-out with 1:50 left Sunday, they ended up giving up two field goals in the half's final two minutes to fall behind, 20-14, allowing the Steelers to jack up the run and rush to hold them to 19 yards the rest of the way.
"That drive right before the half really killed our momentum," said wide receiver Brandon LaFell, who scored one of the two touchdowns on a third-down red zone play. "That three-and-out, it seemed like we could never recover. We had too many negative plays on first down in the second half that really put us behind the chains and allowed them to what they do. Rush four people and drop seven. Rush three, drop eight and get to the quarterback. We just played into their hands and you can't do that."
-They got one first down after tying the game at 14 with 7:12 left in the half and that negated any kind of a defensive stand with a large number of offensive snaps. The Bengals DBs did a very nice job on Steelers wide receiver Antonio Brown, the NFL leader, as they usually do. They got great play from cornerback William Jackson in holding him to four catches and 65 yards. Although Brown scored on the first drive, Jackson defended him on two third-down plays in the end zone later in the game, coming from behind to knock the ball out of his arms on one.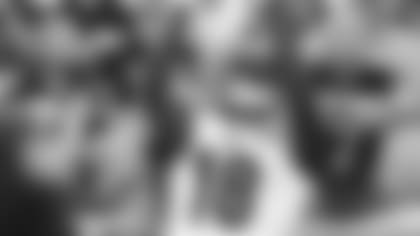 A.J. Green didn't have a catch after the first quarter.
But remember last year's game here at Heinz Field when the Steelers ran 74 plays?  On Sunday, the Bengals' second-ranked defense had to face 68 plays, allowing the Steelers talented offensive line to wear them down with more than half the snaps belonging to runs by running back Le'Veon Bell.
His 134 yards weren't as many as the 185 he had at Paul Brown Stadium three years ago, but they stole the clock just as effectively.
"Over the course of the game, I start feeling like that. Roosevelt Nix, our fullback, is the best fullback in the world. I was just watching him hit guys all day," Bell said. "Near the end of the third quarter, they weren't feeling the holes, as aggressive as they were early in the first quarter and second quarter. That's just the offensive line and Rosie wearing those guys out over the course of the game. Those guys get a lot of the credit for us to be able to run the ball as much as we did today."
 -With the Steelers able to fall back in a zone with the lead and the Bengals' inability to run the ball (they've had one 100-yard rusher against Pittsburgh in the Green-Dalton Era), Bengals quarterback Andy Dalton could find no holes and uncorked his first two road interceptions of the year on back-to-back series in the third quarter off two deflected balls. The first one led wide receiver A.J. Green too far on a slant and it bounced off his hands into the arms of cornerback Joe Haden. The second one was an ill-advised throw into a forest zone for rookie wide receiver Josh Malone's first NFL target.
"The Steelers are just one team. They are in our division. They aren't the only team that we play," Dalton said of the head games. "Obviously we have had some tough games against them but they aren't the only team that we go against. It is not about us against the Steelers. It's about us playing well and beating whoever we are playing. Unfortunately today we didn't do it. Our goal for next week is to beat the Colts."
 -Look familiar? With that lead, the Steelers were able to tee off for their four sacks on five economical plays in the fourth quarter, taking advantage of the stunts and games up the middle that overwhelmed a Bengals offensive line still trying to get its footing in a tackle rotation.  For example, one sack was allowed when rookie running back Joe Mixon was late picking up linebacker Bud Dupree after some confusion up front.
"Our linemen slid the wrong way on that one," Mixon said. "I've got to pick up the linebacker. We got it squared away on the sidelines."
You couldn't tell the Steelers were without their best defensive lineman, Stephon Tuitt, as rookie T.J. Watt worked up and down the defensive line for one of the sacks as he and Dupree wreaked havoc with outside-in stunts.
"We knew that they had a three-man rotation at tackle coming into the week. And I think we just wanted to get a piece of everybody," Watt said. "Bud and I, we can rush from both sides. So we wanted to switch it up a bit to kind of break up the monotony of going against the same side every single time. I think it really helped and just kind of gave the guy the perspective of what's on the other side. We definitely have pitches that we can throw on the left or right side.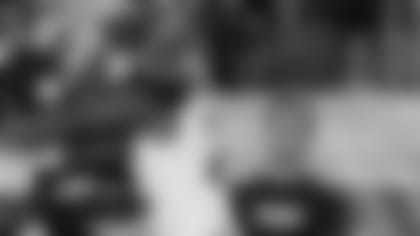 Cornerback William Jackson (in the white) played well against Antonio Brown, reminding the Steelers why they coveted him on 2016 draft day.
-The Steelers always seem to have one play that signifies their physical dominance of the day and they got it Sunday on Bell's 42-yard catch and run that led to the go-ahead field goal late in the first half and swung the game for good. After his jump-cut froze linebacker Vincent Rey, Bell leveled Kirkpatrick with a stiff-arm.
"That was one of my better stiff-arms of my life. I don't know what happened or what came over me that play," Bell said. "I remember going through the progression and timed it up with Ben Roethlisberger. He threw it to me. I had a guy over me. I just remember giving him a little move, and I heard him say 'Oh my goodness'. So I said oh, he missed. After that I hit a little seam and broke a tackle."
 -Even though the Bengals have contained Brown recently, they've let other receivers make big plays. Last year it was Sammie Coates. Three years ago it was Martavis Bryant. On Sunday, they had a miscommunication in each of the Steelers' two touchdown drives, one resulting in Bell's 23-yard catch-and-rumble on third-and-five to set up the first score and the other became the 31-yard TD catch to rookie wide receiver JuJu Smith-Schuster down the seam.
Both were wide open. No one near them.
"We got mixed up in the progressions of our coverage," said Vigil of the Bell play.
On the 31-yarder, the Bengals were in a base defense against the Steelers' three receivers.
"It was a mixture of a good call against the defense and how we played it," Vigil said. "They were in a cluster (formation). That was just a good play call and we just didn't play it right."
It was a tough day for a proud defense that had played so well all year.
"It's frustrating because our offense came out and played really well and we had chance to get out and take the lead," Vigil said. "We didn't get them stopped in the first half. That hurt us."
-Brown, who has the lone three punt return TDs against Bengals punter Kevin Huber, didn't come close Sunday as Huber kept his solid year going with two of his five punts inside the 20 with a net average of 48.6. But the gaffe came on a Steelers' fake punt late in the game when they failed to cover wide receiver Darius Heyward Bay split wide and personal protector Robert Golden uncorked a 43-yard pass.
"I thought we came into the game in the right frame of mind. We just have to stay true to it all the way through," said head coach Marvin Lewis.
-And as always seems to happen lately in a Bengals-Steelers game, Pittsburgh objected to one of Burfict's plays, claiming he kicked Nix in the head after one snap.
"I just don't like when guys come and do dirty plays. It is okay to play tough and try to hit guys hard in the course of the play, that's fine," Bell said. "But I don't like unnecessary roughness or things that happen after the play. My fullback got kicked in the face. That's just not football to me. I don't think that's a respectable play.
Bell had no answer why the official right in front of the play didn't throw a flag.
Some were wondering about safety Sean Davis' helmet-to-helmet hit on Mixon that didn't get called and …
Cincinnati Bengals travel to take on the Pittsburgh Steelers in week 7 of the regular season.