The Bengals signed up Jessie Bates to hawk passes.
Jessie Bates III carries the legacy of family on his shoulders.
Bates, the second-round safety who has been getting a ton of high-profile snaps as the Bengals go slow with starter Shawn Williams' hamstring, has tattooed to one shoulder the birthdate of his older sister and to the other the birthdate of his younger brother in roman numerals.
But Bates carried another legacy into Tuesday's next-to-last voluntary practice of the spring. After the Bengals defensive meeting before the team took the field, Williams convened a brief meeting of his position group for the benefit of rookie safeties such as Bates, Tyrice Beverette and Trayvon Henderson.
"Shawn told us we just need to take advantage of the opportunity to ask questions of the veterans," said Bates, who got the sense the vets weren't always as giving as Williams and the other starter, George Iloka when they were breaking in.
Williams won't be asked to let it go full bore until training camp and they're doing the same with tight end  Tyler Eifert and A.J. Green, one because of his injury history and the other because, well, why start one?
But Williams hasn't let it stop him from taking the lead in walk-throughs and on the sidelines, like when he watches Bates take his place.
Williams remembers when. Like his own rookie year in 2013 when veteran DBs Reggie Nelson and Terence Newman pushed him to get better at something every day.
"Today I felt like communication was something we could get better at. That's what we've been emphasizing," Williams said. "Just let (the rookies) know no question is stupid. He's not going to see anything that we haven't seen. Even the other guys, Trayvon and T.Y.  We just try to make it easy for them. We don't want them to get frustrated. Let them know this is what the next few months are going to be like."
Williams, a third-round pick five years ago, doesn't have to guess what the biggest transition has been for Bates.
"Just being ready with the system," Bates said. "You can't go in there with the veterans and play like a rookie. You have to go in there and play like a veteran."
Williams thinks he's been OK.
"There's a lot being thrown at them," Williams said. "See how much they're soaking in. Right now he's doing pretty well. New formations and different route concepts. Stuff they're not used to seeing. Right now he's picking it up real well. Learning and gaining every day."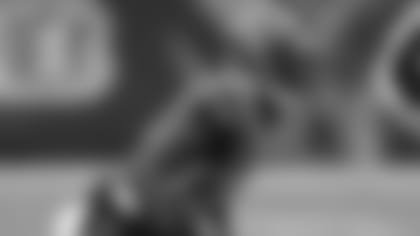 Williams: Meeting chairman.
The 6-1, 200-pound Bates has no doubt caught some eyes as the Bengals search for ball-hawking down the field.  For one thing, new defensive coordinator Teryl Austin has declared every starting spot and the Bengals had him rated high enough to take with the 46th pick.
Plus, he's built like a cornerback and he's also flashed the traits the Bengals saw at Wake Forest.  He has the ability to drop deep into the middle of the field and still get to the perimeter. They liked his willingness in run support, which they won't see in person until August, but they've already seen his versatility in coverage as a deep zone player, a man-to-man player, and possibly moving over into the slot.
"I think they like me in the middle of the field. I think that's my strength, but you have to be able to play (in the box) because the formations can flip you," Bates said.
Bates has already watched all kinds of NFL safeties. He loves how Tyrann Mathieu ball-hawks with magical footwork he'd love to emulate. But he also studies the Johnny-on-the-spot versatility of the Ravens' Eric Weddle whether he's in the box or deep.
But his favorite may be the Bills' 6-0, 197-pound Micah Hyde.
"I've looked up to him for the longest time," Bates said. "He doesn't seem to be the most athletic guy and he's never been one of the bigger guys. But his preparation and ability to know the game really helps him on Sundays."
"Isn't Bates supposed to have that athleticism and size and speed?
"Yeah," Bates said. "But you need that other stuff, too."
Which means, there's no stupid question. Just ask Shawn Williams.