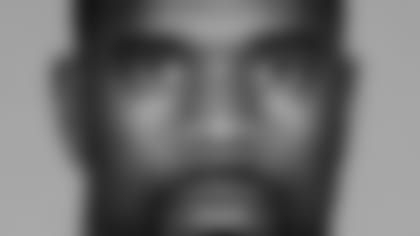 After 121 games, 896 tackles, 23 sacks, 11 interceptions and a batch of big plays, linebacker Brian Simmons rode into an orange-and-black sunset Wednesday with typical calm and grace.
"Shocked? Nah. I'm never surprised about anything," said Simmons a few hours after the Bengals cut him before his 10th season with the club. "No hard feelings. I'll be sad, but I feel good about my opportunity to keep playing. It is what it is."
What it is is a move that saves the Bengals between $2.5-3 million under this year's salary cap, could mean the Bengals are going to be active when free agency begins Friday, and says Ahmad Brooks better be ready to play middle linebacker.
But it leaves a gaping hole of experience in a linebacking corps that doesn't have a regular who has played more than three seasons in the NFL.
Next on the depth chart in the middle is Brooks, the player selected in the third round of last July's supplemental draft.
He's coming off a rookie season in which the coaches opted not to dress him in two of the last four games or start him in the last seven after he showed some flashes in a stretch he started five straight while Simmons struggled with a neck injury that basically cost him seven games.
Simmons, who turns 32 in June, is one of the locker room's most popular players and has been the defense's most versatile and productive player under three head coaches and four different coordinators.
But the Bengals must have felt that Simmons' pay in 2007 and 2008 ($3.7 million) wasn't commensurate with his play in '06. One option is that the Bengals could re-sign Simmons later at a lower rate. Agent Jerrold Colton said the Bengals didn't offer to renegotiate.
"Really, the only disappointing thing is I've been productive every year except for the year I missed (2000) and then I have a bad year and that's kind of tough," Simmons said. "I mean, if it was about money, we could have talked about that but it was never brought up."
Yet Simmons went out the way he played: with low-key class.
"I feel lucky to have been able to play in the same spot for nine years," Simmons said. "The town's been great, the fans are great. When you get into this business, you know this day is going to come. You know it's nothing personal."
Simmons could have griped about how he had to play all three spots last season, including his first stint ever on the strong side. Or about how he had to switch back to middle linebacker to replace the suspended Odell Thurman at the last minicamp after playing the weak side the previous three seasons.
But all he would say is that he still thinks he can play even though there is some belief inside the building he can no longer hold up consistently inside and that he's lost enough of his blazing speed to no longer be the team's best outside backer.
"I still think I can play and when I don't think I can I'll shut it down," Simmons said. "I pride myself in being athletic and playing fast."
Asked if it felt "weird" to be a former Bengal after nearly 10 years, he said, "It will only feel weird if I'm lucky enough to end up on another team, and I'm thankful to them that they let me go now so I'll have a good chance of catching on with a team in free agency."
Given how the day played out Simmons said, "I doubt it," when asked if he thought he'd be asked back at lower pay.
And it was a tough day. In a statement Bengals head coach Marvin Lewis said it was a tough call and "Brian has been a fine player on the field, and he has been a great example to all of our players as a team leader and a citizen."
In a span of two months, the Bengals have lost two of their most senior players with Simmons' release and center Rich Braham's retirement. With the loss of those combined 265 NFL games, 12-year man Willie Anderson is now the dean.
How a locker room reeling from character issues responds to the loss of that veteran ballast remains to be seen.
"I really don't feel I can speak to that since I'm no longer there," Simmons said. "I'm not the only guy that thought it was a problem."
Until last season Simmons had finished no worse than second on the Bengals in tackles in the seven seasons he had played more than one game. Even last year when he missed what amounted to seven games with a neck injury, he finished fourth with 78 tackles and led the front seven with eight passes defensed.
As late as last week, Simmons expressed frustration that there was talk about the lack of his production in '06.
"Yeah, I wasn't as productive but how many guys miss seven games and have the same production?" Simmons asked last week. "The frustrating thing to me is to hear that people are talking about my lack of production in the building. I'm not an old player. I keep myself in shape all year and do what I have to do. I know it's a big year. Every year is a big year."
During his annual combine news conference Friday in Indianapolis, Lewis said aging veterans such as Simmons and defensive tackle Sam Adams were facing big seasons in their careers.
But on Wednesday, Simmons preferred to reflect rather than react.
"Every day. Every day I went over there was a great memory," Simmons said. "All the games. They all stand out. That's what I'll miss are the other players. Think back to the old days of (Bruce) Coslet and (Dick) LeBeau and there were some real characters."
Good memories may very well help him on the market. Three of his former coordinators (Dick LeBeau in Pittsburgh, Mark Duffner in Jacksonville, Leslie Frazier in Minnesota) swear by him and could be interested.
"It's a disappointment but not a shock," Colton said. "He had a great run in Cincinnati. He loves the people there and he's raised his family there. We both knew this day would come but we didn't think it was now. We obviously feel he still has some football left.
"The disappointing thing is he was there in the lean years and really enjoyed the turnaround. He wanted to be a part of the team that saw it all the way through."
Colton said the move is surprising in the sense that in an offseason the Bengals have stressed character, one of their first major moves is to cut a highly-regarded locker-room figure like Simmons.
"It's unfortunate that you make a statement on character and then you let a guy like Brian go who is of the highest character," Colton said. "I think that will be a loss for the Bengals and the young guys they bring in."
But Colton also said he was "very appreciative" of the Bengals making the move before free agency rather than waiting a few months and releasing him into a dried-up market.
Lewis indicated Wednesday in the news release that the Bengals may be more active in free agency than previously thought.
"It will afford us options for signing other players who are a better overall fit, given the strengths and needs of our current roster," Lewis said. "This could include our own unsigned players, or players from other teams."
The Bengals had said before Wednesday that putting the $8.6 million franchise tag on defensive end Justin Smith takes them out of any major moves in free agency.
And they just committed $6 million more to the salary cap for '07 Wednesday when they unveiled their one-year offers to six restricted free agents that gives them the right of first refusal.
The Bengals made Kyle Larson their first $1 million punter when they tendered him and backup guard Stacy Andrews each $1.3 million. If the Bengals declined to match an offer sheet that Andrews or Larson would receive from another team, that team must compensate the Bengals with a second-round choice in the 2007 Draft.
The Bengals tendered linebackers Landon Johnson and Caleb Miller, defensive tackle Shaun Smith, and cornerback Greg Brooks at $850,000. If the Bengals chose not to match on them, they would get an '07 draft pick matching the selection of the lost player. Johnson and Miller are third-rounders, Brooks is a sixth-rounder and there would be no compensation for Smith, an undrafted free agent.
Larson, coming off the best Bengals punting season in eight years, is also undrafted and earned the second-round designation because he would also bring no compensation.
The deadline for a restricted free agent to sign an offer sheet is April 20, a week before the draft.
There were no indications Wednesday that the Bengals are about to sign any of their players scheduled to become free agents Friday, a list headed by tight end Reggie Kelly, safety Kevin Kaesviharn, and running back Kenny Watson.
The Simmons move leaves only seven pre-Lewis players on the roster not counting Kaesviharn and another free agent, Tony Stewart: Anderson, Chad Johnson, Rudi Johnson, T.J. Houshmandzadeh, Justin Smith, Levi Jones, and Brad St. Louis.