On Thursday, Jeremy Hill celebrated his 24th birthday. On Sunday, he celebrated his first 100-yard rushing performance in 665 days.
The third year running back finished with a career-high 168 yards on only 9 carries in Cincinnati's 31-17 win over Cleveland.
"It was great to see him get his mojo back," said linebacker Vinny Rey.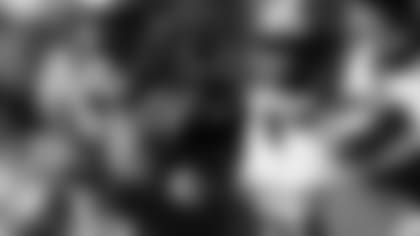 Hill's big day included a 40-yard run in the first quarter and a 74-yard touchdown sprint in the third quarter.
"Those are always great," said center Russell Bodine. "As an O-lineman, you don't always know where the ball is because you've got your head on your block and then all of the sudden you can hear the fans. On the first big one that he broke that's exactly what happened. I was blocking and all of the sudden you hear the fans roar and you think, 'Something good must be happening.'"
The "something good" went beyond Jeremy Hill's performance. Giovani Bernard added 80 yards on 17 attempts as the Bengals finished with 271 rushing yards. That's five yards shy of the fifth-best single game rushing performance in team history.
"I got to sit back and watch everything open up and then our guys break through those holes," said quarterback Andy Dalton. "I think the offensive line did a really good job and that we definitely controlled the line of scrimmage today."
"My hat goes off to the offensive line," said Bernard. "We've been working on this for a while now and it's something we've really wanted – to run the ball this well. It was really those guys up front. They dominated every aspect of the run game and the pass game."
"That's what we've been looking for all year," said Bodine. "We've been missing one little thing here and one little thing there and we've been saying that we need to put it together and have a day like we've had in the past. Obviously we were able to have a good one today. Now we need to build on that and keep going in the right direction."
It's actually the second week in a row that the Bengals have had a productive ground game. After averaging 84 rushing yards and 3.4 yards per carry in their first five games, the Bengals have rushed for 120 and 271 yards in their last two games while averaging 6.3 yards per carry.  
"We've added a little more intensity at practice and that makes this a little bit easier," said Bernard.
"We've been grinding and trying to put in a little extra work trying to make things click," said Bodine.   
They clicked to the tune of 559 total yards against Cleveland and an average of 9.2 yards per offensive play.
"It's not easy to put up nearly 600 yards on an NFL team, so the fact that we were able to do it is a good thing," said Bernard. "We just have to continue to keep rolling."
There's always room for improvement. After the game, Hill was still kicking himself for getting caught from behind and tackled at the 5-yard line on his 40 yard run in the first quarter.
"The one I had on that first drive I wish I could have back," said Hill. "Gio gave me crap for it."
The Cincinnati Bengals host the Cleveland Browns at Paul Brown Stadium in week 7 of the regular season 10/23/2016