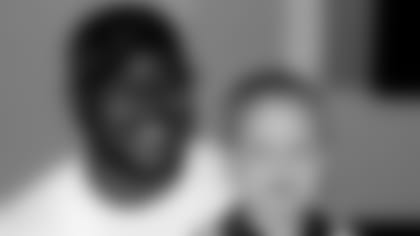 Rudi and Grant enjoy a moment together.
Rudi Johnson gave Grant Pflum more than 15 minutes.
Johnson allowed Grant to forget about his cancer — at least briefly — and an opportunity to meet his favorite player.
Regardless of how the recent headlines read, that's the power of a professional athlete.
Parents should be kids' role models, but when you're six years old, and cancer has been your companion for one-third of your life, it takes a sports hero to perform magic.
Rudi Johnson stole the show.
As his special wish, Grant, who lives in West Harrison, Ind., wanted to attend a Cincinnati Bengals game and meet Johnson. The Bengals have arranged for the Pflums — parents Troy and Kara and children Grant and Kent, 3 — to watch the Oct. 22 game against the Carolina Panthers.
Meeting Johnson, one of the team's most popular players, was a little more difficult. But through the hard work of Troy Blackburn, son-in-law of Bengals owner Mike Brown and director of business development for the Bengals, Grant visited with Johnson on Aug. 5 before training camp in Georgetown, Ky.
Johnson agreed to cut short his lunch break and meet with Grant and his family, benefactors of the McCrabb Open, a local charity golf tournament. When Johnson, wearing a Nike baseball cap, white T-shirt and black shorts, walked down the hallway of the Georgetown College's conference center, Grant's eyes filled with tears. Johnson put his massive arms around Grant and the two of them — total strangers — walked into a meeting room like teammates.
Johnson lifted Grant up on his lap and showed him game film from the previous night's scrimmage, how to properly hold a football, signed the No. 32 jersey Grant was wearing and posed for pictures.
Johnson outperformed Santa Claus.
When Grant told Johnson he was going to a Bengals game, Johnson promised to score one touchdown this season just for him.
Blackburn, standing in the back of the room, couldn't resist. "You better score more like 15 or 16 touchdowns," he said.
Johnson and Grant hugged and promised to stay in touch. That may not happen, but it's a sure bet Grant's main interest in the Bengals will be watching No. 32.
Grant and his family watched the practice from their VIP seats near the 50-yard line. As practice came to a close, Grant and his father were escorted on the field by Chick Ludwig, a Dayton Daily News sports reporter who covers the Bengals for Cox Ohio Newspapers.
Grant, who was diagnosed with lymphoma cancer two years ago, couldn't have had more fun in a candy store.
He returned from the sidelines 30 minutes later with his Bengal baseball hat and T-shirt filled with autographs. Later that night, Grant, exhausted from the day, asked his mother if he could sleep with his Johnson autographed football.
In her CarePage, Kara Pflum wrote all young cancer patients "deserve to have a wish come true and their smiles to cover their entire faces after all that they have been through."
This was accomplished all in 15 minutes. Because of Johnson's generosity — more meaningful than any monetary donation — the Bengals have a fan for life, and for Grant Pflum, hopefully, it's a long and healthy life.
---
Here is part of Kara Pflum's letter about meeting Rudi Johnson that appeared on the family's CarePages:
I'm still trying to find the words to describe this wonderful experience. And for those of you that know me, know that I usually don't have a hard time talking. I'll do my best so here goes.
MCCRABB OPEN
The McCrabb Open, founded in 1990, is a charity golf tournament for children and their families impacted by cancer.
Over the years, money from the tournament has provided college scholarships, purchased a swimming pool, bought back-to-school clothing, renovated a bed room, allowed families to vacation in Florida and Michigan and purchased a family country club membership. This year's open is Sept. 9, at Yankee Trace Golf Course in Centerville.
For information, call (937) 748-9046.
Grant's wish was to go to a Bengals game and to hopefully meet Bengals player Rudi Johnson 32. Thanks to the McCrabb Open, Grant's wish has come true! The McCrabb Open sent the four of us to Georgetown, Ky., this past Friday, Aug. 4, to stay in a hotel and to go to training camp on Saturday, Aug. 5.
The boys enjoyed swimming on Friday night and Grant thought that things couldn't get any better. That was until Saturday "rolled around." Saturday morning our breakfast was paid for and Grant was given a Rudi Johnson jersey to wear. He was actually speechless when he was handed the jersey.
We were then off to training camp. We were given VIP parking and had VIP seats to watch the Bengals play a "scrimmage game." After parking, we were told to go to the "Convention Building." And yelp, you guessed it! After a few minutes, here comes the Rockin' Rudi Johnson walking down the hallway right toward us. Grant's eyes actually filled up with tears. He couldn't believe it. Rudi put his arm around Grant right away. We were given our own little room to "hang out" with Rudi for about a half hour.
Rudi truly is one of the nicest people I have ever met. Rudi really does rock! When Rudi went to warm up we then went to our seats to watch the scrimmage. After about half way through the game, Grant and Troy were escorted down on the field. After watching the rest of the game from the sideline, Grant was able to meet any player he wanted, get their autograph and a picture with them.
Saturday evening after getting home and "settling in," Grant went walking through the house tossing his ball around chanting "Rudi, Rudi, Rudi, Rudi, etc."
At bedtime he asked me if he could sleep with his football. I think that it all really started to "sink in" when Grant got home and things were a little more calm. He's loving life and has to show everyone all of his autographed prized possessions.