Matt Lengel has a shot for a Super Bowl ring Sunday.
HOUSTON - Lightning is about to strike twice in the Super Bowl.
The Patriots, who were punished by NFL commissioner Roger Goodell for "DeflateGate," are going to be celebrated by Goodell Sunday night (6:30 p.m.-Cincinnati's Channel 19) after they deflate the ball in a victory over the high-tech Falcons for their fifth NFL title.
And the record-breaking Lombardi Trophy for head coach Bill Belichick and quarterback Tom Brady is going to come the same way the first one did 15 years ago in New Orleans when they outsmarted the Rams' "Greatest Show on Turf," and slowed the game into a defensive brawl.
But in order for New England to take the steam out of "Ryan's Express," the Pats are going to have to call on some former Bengals practice squadders  to help get it done in fullback James Develin and tight end Matt Lengel. They'll be just some of the guys taking aim at a Falcons' run defense that's not very big or very effective after a season it allowed 4.5 yards per carry.
The best way to contain Falcons quarterback Matt Ryan's NFL-leading offense against New England's NFL-leading defense?  Let Matty Ice chill on the sidelines with 195-pound running back Dion Lewis jetting into holes softened up by the smashes of 250-pound LeGarrette Blount in a game of grinding possession.
And they've got a fullback in Develin who was big enough to play on the defensive line at Brown. Plus, they have only two tight ends, Lengel and Martellus Bennett.
"He's a monster when it comes to blocking," said Pats running backs coach Ivan Fears this week of the 6-3, 255-pound Develin. "He does the one thing you want your fullback to do. Smart and knock the dog out of you."
Develin and Lengel hail from the fringe of the NFL, where the undrafted but far from unwanted wait for an unfettered shot. They are in that underclass of pro personnel that have reached the summit.
If you're Develin you're looking down on the day he dressed for a tryout in the Arena League in a public bathroom. If you're Lengel, you're looking down on the day they dropped football at Boston's Northeastern University, the only school that offered him a full ride out of Mechanicsburg, Pa.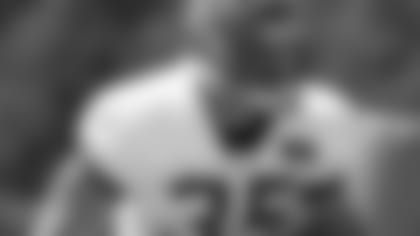 James Develin as a Bengal.
"Life is an incredible thing," is all Develin can say as he reaches for a second Super Bowl ring.
The Patriots have made news this week for having the most snaps in the NFL by undrafted players over the last decade with nearly 54,000 and while the Bengals may not have as many in that same stretch, they have enough  (30,117), that several players found after the draft have helped lift them.
The Bengals' undrafteds since 2007 range from a Pro Bowler (linebacker Vontaze Burfict) to a regular who earned a second contract (fullback Ryan Hewitt) to a versatile linebacker who has started 33 games in the last three seasons at two different spots (Vincent Rey).
The Patriots boast similar success in rookie free agency, most notably, of course, starting with cornerback Malcolm Butler, the MVP of the Patriots' last Super Bowl appearance two years ago who leads all undrafteds with nearly 2,000 snaps in the last two years. Also starting Sunday for the Pats is second-year center David Andrews, undrafted out of Georgia.  "We take it seriously. We work at it," said Bengals director of player personnel Duke Tobin. "We've shown that we're willing to keep the best player no matter if they were drafted or came from elsewhere. It doesn't matter and I think the agents realize that and aren't afraid about directing players here."
It's a big reason why Lengel signed out of Eastern Kentucky after the 2015 draft even though the Bengals took two tight ends (Tyler Kroft in the third and C.J.  Uzomah in the fifth) and it worked out because that's why he was still on the practice squad this year and available on Nov. 1  when Patriots All-World tight end Rob Gronkowski's back started to act up.
The Bengals went after Lengel pretty hard and it was easy to see why. He's 6-7, 266 pounds, and he can move despite undergoing two ACL surgeries at Eastern. They had him on their board and when he didn't get invited to the NFL scouting combine, they didn't back off him.
But when the Pats' offer came, there was just one answer. For a season-and-a-half Lengel had been behind Kroft and Uzomah, not to mention a Pro Bowler in Tyler Eifert. But when Eifert and Kroft were hurt at one time or another and he was still waiting for a call to the active roster, he was antsy.
"I would have gone anywhere, not just New England," Lengel said this week, looking as if he still needs somebody to pinch him. "I just wanted to be active. Just a shot. It wasn't that I was ungrateful in Cincy. I was just unsatisfied."
The Bengals must be doing something right. It's the second time in two years Belichick has poached the Bengals practice squad for a stretch run and when Develin ran out of room after 21 games on the squad in  2010 and 2011, Belichick came after him on Cutdown Day following 2012 training camp.
As pieces on Belichick''s chessboard, Develin averaged 22 snaps per game this season while Lengel has played just 82 snaps since he arrived. It depends. He played only special teams in the AFC championship game and played 14 snaps the week before in the divisional game.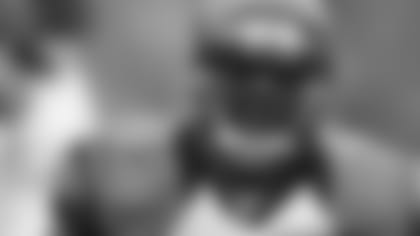 Vontaze Burfict, the most well known of the Bengals' undrafted rookies. The Bengals and Patriots are two of the four teams that have made the postseason at least six times in the last eight years and one of the common threads is both clubs don't flinch with the unknowns.
"What is important to me is what the player does when he is with our team," Belichick said this week, echoing Tobin. "Not how he got there or whatever else there is. How can he help our team? That is really the bottom line."
And the bottom line is 53 players.
"The tough thing is you can't keep them all," Tobin said. "We're happy for these guys. We're proud of them. They've got their chance and made the most of it and you love to see it. But you've only got 53 spots."
Both Develin and Lengel keep in touch with their Cincinnati roots. On Tuesday Lengel left the Pats headquarters and visited the Houston home of Bengals defensive lineman Margus Hunt. Develin still talks to the man that coached him, former running backs coach Jim Anderson, and the man that kept him on the practice squad, former fullback Chris Pressley.
"(Pressley) was my mentor when I was out there when I was just trying to get experience in the fullback position after playing D-end in college," Develin said. "I still talk to him all the time. He was their guy. He was solid and a really good fullback.
"(Jim Anderson) was so integral in my growth as a professional player and a fullback."
Lengel feels the same way about Bengals tight ends coach Jon Hayes, as well as the overall experience in the locker room.
"I watched a lot of guys," Lengel said. "Guys I got to know who taught me a lot about being a professional like Eric Winston.  Andrew Whitworth is a great professional. The camaraderie.  We'd go over to Andy's (Dalton) for Bible study. It was great for not just football, but spiritually. I watched guys balance football and family. They have great team chemistry. There would be some nights with wives and husbands and there were 12 to 15 couples at his house and we would just talk."
Lengel also learned at the altar of Eifert during his 13-touchdown season in 2015. It just so happens the man that Eifert beat out for the NFL TD crown for tight ends, Gronkowski, would also be an inspiration, as did another veteran tight end in Martellus Bennett who can catch and came down here with New England's team-high seven TD catches.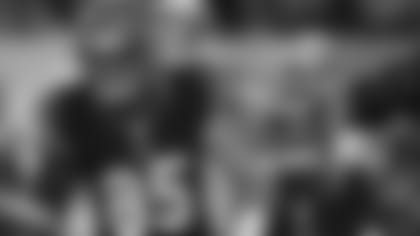 Watching Tyler Eifert (85) had a big impact on Matt Lengel.
"I'm very grateful that I've been able to go from Cincinnati where there's an elite player like Tyler and obviously  Kroft and C.J. are very good tight ends," Lengel said, "and to come here where there's  elite guys like Rob and Marty … There all at the same level. They play the game a little differently. They're big body guys. I don't want to be labeled. I want to try and improve all of my game because I've seen a guy like Eifert, Rob, and Marty that can do it all. I want to do that as well."
Develin was a big-bodied guy at Brown, but that wasn't going to be big enough for the pros. An Ivy Leaguer with a mechanical engineering degree, Develin began lining up job interviews when the Arena League's Oklahoma Yard Dawgz called for a tryout. That's when he dressed in the public bathroom. He played just one game (vs. the Tulsa Talons), but ended up with the UFL's Florida Tuskers.
Midway through the 2010 season, he got a call from the relentless Tobin. Two years later he would get one from the Patriots.
"It goes to show how thorough our whole organization is from top to bottom," Develin said. "They don't leave any stone unturned. I'm just honored to be here with these guys and just try to do my job."
A win away from a Super Bowl ring and Lengel let his mind ever so briefly flutter back to the day they dropped football at Northeastern.
"I was thinking, 'what am I going to do?''' Lengel said. "By the grace of God I got other offers because guys just happened to be coming through watching practice film."
But he tried to go back to what got him here and past the two torn ACLs and no combine invite in order to get back to now.
"I know it sounds cliché," he said. "But I try to keep my mind clear and worry only about what I can control. If you keep your mind cluttered with too many things, you can't just wake up and think about attitude and effort."
And so there will be no savoring the moment until after Sunday.
"When I have time," Lengel said, "I'm sure I'll look back on it."