Rookie running back Terrell Watson had a big night.
It's always tough to make any declaration after the NFL's preseason opener, but one thing you can conclude fairly safely after Friday night's 23-10 victory at Paul Brown Stadium is that the Bengals personnel department had a much better offseason than what transpired in New Jersey.
But, as has been the case for the last five years or so, the league expects there to be depth on a Bengals roster in the pre-season opener. The number of teams scouting in the PBS press box reflect that they expect some good players on the street or some may be had in trade and it was tough to look at the Giants for either.
On Friday every level of the depth chart won their skirmish as the Bengals rolled up 432 yards. Yes, the already decimated New York secondary took even more hits during the game. But the Bengals top two draft picks, offensive linemen Cedric Ogbuehi and Jake Fisher, didn't play and their top two reserve backs, Rex Burkhead and Cedric Peerman, left early and they still rushed for 225 yards at 5.4 yards per pop.
It sounds like they think Burkhead (neck) and Peerman (knee) are going to be back for the next game, a week from Monday night in Tampa. Same with cornerback Darqueze Dennard (groin). Here's a thumbnail look at each position after the opener:
(Parenthesis denote years in the league:)
Josh Johnson (7), Andy Dalton (5), AJ McCarron (2), Keith Wenning (1)
It also sounds like they think McCarron can go against the Buccaneers after he sat Friday with a pulled muscle rather than anything wrong with his shoulder. Johnson got the bulk of the work Friday and showed his veteran poise, but it still looks like the backup job is McCarron's to lose. They want to see McCarron transform his practice accuracy into games.
In his bid to make the practice squad, Wenning suffered the game's only interception after he led the Bengals into the red zone and got hurried by a free blitzer up the middle. But he looked like belonged in the fourth quarter with some nice throws.
Oh, and Dalton. As usual, he's playing better than people think. The first series in which the Bengals scored on six plays averaging nearly nine yards per pop is a reflection of what offensive coordinator Hue Jackson has asked Dalton to do this season. Quick, decisive, no turnovers, and spread it around.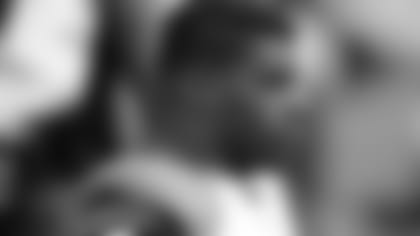 Greg Little kept his solid camp going with a 42-yard catch.
Brandon Tate (7), A.J. Green (5), Greg Little (5), Denarius Moore (5), Marvin Jones (4), Mohamed Sanu (4), Onterio McCalebb (1), Tevin Reese (1), Mario Alford (R), Jake Kumerow (R), Desmond Lawrence (R).
The surprises keep showing up. Little had a 42-yard catch with mega separation and a big perimeter block on running back James Wilder Jr.'s 20-yard sweep. Kumerow had a nice third-and-four catch for a first down on a slant with cornerback Trevin Wade riding on his back. Alford, bidding to be active on Sundays, caught cornerback Bennett Jackson on a bad angle in the flat and made him pay for 13 yards.
And Tate showed why he is valued, although he did drop a pass over the middle. He's a seasoned decision-maker in all areas. He made a fair catch on a punt that was inside the 10 and let another one go so it could bounce into the end zone.
Cedric Peerman (6), Giovani Bernard (3), Rex Burkhead (3), Ryan Hewitt (2), Jeremy Hill (2), James Wilder Jr. (1), Terrell Watson (R), Mark Weisman (R).
A lot of depth here with their fifth and sixth backs, Wilder and Watson, rushing for 53 and 52 yards, respectively. The 6-1, 242-pound Watson did it on just seven carries with an uncommon burst for a big man. They're trying to make the practice squad. So is Weisman, the running back from Iowa playing fullback for the first time who got in  some good blocks for the two.
The fact that Bernard took the first two punts looks to an effort to maximize their playmakers. No one quite knows what is going to happen behind No. 1 punt returner Adam Jones, but they do know Bernard was one of the top punt returners in the nation during his final year at North Carolina when he returned two punts for TDs. If there aren't enough touches on offense, why not here?
Hewitt's up-back blocking looks to be in mid-season form. Bernard's four-yard run came courtesy of Hewitt blasting linebacker Jon Beason out of the middle.  
Tyler Eifert (3), Jake Murphy (1), Tyler Kroft (R), Matt Lengel (R), John Peters (R), C.J. Uzomah (R).
Kroft and Uzomah got the bulk of the snaps all night and the kids came out of it all right when it came to blocking, which is what they have to be able to do. Kroft got good push on Wilder's two-yard TD run and Uzomah pulled to take care of linebacker Tony Johnson on Watson's 26-yard run. They threw it to Kroft once, but it got knocked down. Uzomah had only two catches on five targets, but his seven-yarder showed a flash of what he can do with the ball when he turned a crossing pattern up field.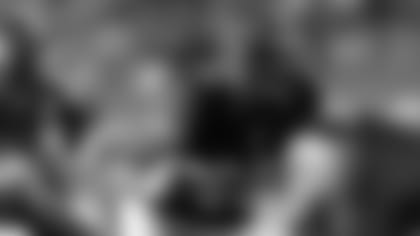 T.J. Johnson kept things together on the second unit.
T Andrew Whitworth (10), T Eric Winston (9), T Andre Smith (7), G Clint Boling (5), G Kevin Zeitler (4), T Tanner Hawkinson (3), C Russell Bodine (2), C-G Trey Hopkins (2), C-G T.J. Johnson, T Dan France (1), T Matthew O'Donnell (1), T Jake Fisher (R), C Jake Smith (R), C-G Chris Jasperse (R), T Cedric Ogbuehi.
A good effort for a crew that didn't have Fisher and Ogbuehi and they're hoping Fisher (shoulder) can make his debut in Tampa. Winston, who probably played the most he ever has in a pre-season opener since he was a rookie, played both right tackle and right guard and continues to show he can cover guard for them even though he's never played it in the pros. It's unclear why Smith didn't play, but they're easing him back as he returns from a torn triceps.
Meanwhile, Johnson came closer to nailing down the backup center job and except for the first series, France basically played left tackle and, for the most part, held up after he led the offense with 69 snaps. It's interesting to see where France may fit after he served all last season on the practice squad. He's not a great athlete, but he's big, smart and can play both guard and tackle. Hopkins, who is coming back from a broken leg, got scratched and is trying to regain his form from last year's training camp.
The one downer for the backups is they got inside the Giants 10 three times in the second half and couldn't finish off TD drives.
NT Domata Peko (10), E-T Wallace Gilberry (8), T Pat Sims (8), E Michael Johnson (7), T Geno Atkins (6), E Carlos Dunlap (6), T Devon Still (4), T Brandon Thompson (4), T Kwame Geathers (3),  E Margus Hunt (3), E Will Clarke (2), E Sam Montgomery (2), E-T Marcus Hardison (R), T Kalafitioni Pole (R), T DeShawn Williams (R).
What's not to like all the way through? Atkins and Dunlap were hellacious. Sims and Thompson were stingy on the run. Clarke showed up against a first-round rookie left tackle. Hardison and Williams each got a sack.
What a numbers game at tackle. The Giants' first line couldn't handle Sims (one of his four tackles was for a loss) or Thompson (a 3rd-and-1 stop) and Hardison and Williams keep showing they can play both tackle and end. Both their sacks came from inside with Hardison getting his off a stunt with Williams and Williams getting his when he defeated both guard Eric Herman and running back Akeem Hunt.
Margus Hunt didn't play but is practicing. Tough decisions are looming when about 11 guys are penciled in to either make it or are playing well enough to make it.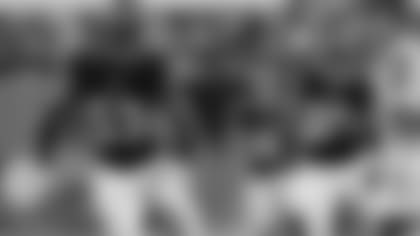 Marquis Flowers staked his claim in the linebacker battle.
A.J. Hawk (10), Rey Maualuga (7), Chris Carter (5), Vincent Rey (5), Vontaze Burfict (4),  Emmanuel Lamur (4), Jayson DiManche (3), Nico Johnson (3), Sean Porter (3), Marquis Flowers (2). P.J. Dawson (R), Trevor Roach (R)
Defensive coordinator Paul Guenther stuck with his starting lineup of Rey, Maualuga and Hawk. Flowers showed his athleticism on a busy, productive night he had six tackles, added one on special teams, and dropped into coverage to knock away a pass over the middle.
No doubt they'd like to get more consistency out of Dawson after he didn't do much following a nice slant into the backfield on his first series. Carter got time at three different spots in an effort to see if he can stick as a pass rusher who can also play linebacker. They'll have to see more coverage drops from him, but he did get a hit on the quarterback beating a tackle off the edge.
CB Leon Hall (9), CB Adam Jones (9), S Reggie Nelson (9), CB Brandon Ghee (6),  S George Iloka (4), CB Dre Kirkpatrick (4), S Shiloh Keo (4), CB Chris Lewis-Harris (3), S Shawn Williams (3), CB Darqueze Dennard (2), S Erick Dargan (R), CB Troy Hill (R), S Floyd Raven Sr. (R), CB Josh Shaw (R), S Derron Smith (R).
With two passes defensed, one in the end zone, Hill surfaced in the battle for the last cornerback spot. He also had a tackle on a kick return. Shaw took the most snaps on defense with 53 and also had a big hit on a punt return. He showed what a big corner he is with four tackles. Keo (49 snaps) and Smith (34) continued their battle for what looks to be the last safety spot with solid play. Williams injured his hand early but came back to play 27 snaps.
K Mike Nugent (11), LS Clark Harris (7), P Kevin Huber (7), K Tom Obarski (R)
Obarski made a calm debut. He made all but one of his six kicks when he hit the right upright on a 27-yarder. Two of his three field goals were shorter than his two extra points. After his line drive kickoff became a 70-yard return, he delivered three touchbacks. Nugent should be able to kick in Tampa as he rests what has been described as a muscle tweak.
In his first game since the Pro Bowl, Huber showed he wants to go back. He had a net average of 45.3 yards and cranked a monstrous 62-yarder.