John Ross is looking to change his label this season.
John Ross became a household name at last year's NFL scouting combine. Now a year later he's looking for a change of address as his name begins to get spit out of the heaving hype machine cranked for next week's Underwear Olympics in Indianapolis.
Bonds chasing McGwire. LeBron haunting Michael. Tiger stalking the Golden Bear.
Who can beat Ross' combine record of 4.22 seconds in the 40-yard dash, the headline event of what is closer to a job fair than a sporting exhibition?
Ross is going to be ghosting Indy this week. His image is going to be superimposed on every TV screen. The guy they have to catch. But he'd rather be the guy that can catch.
 "At the end of the day, it really doesn't mean that much to me," says Ross this week as the Bengals wide receiver competes with the gurgles of nine-month-old son Kyrie. "I'd rather be playing than recognized for running.   
"I try not to dwell on it. I feel like football is more important to me. I try not to think about it. My name is surfacing again because of the combine. I haven't really thought about it too much until now."
As everyone from Anderson to Xenia and all Bengaldom points in between know, Ross' rookie season turned out to be nearly as brief as that record run for the draft's ninth pick. Zero catches. One fumble. Two targets. Three games. 17 snaps.
"I'm looking forward to August. I don't really care what the combine is talking about," Ross says. "I've been drafted. I've been in the organization for a year. I know what to expect, what it takes to get on the field. I've watched the film of myself. I know what I've done wrong. So now its correction and growth."
Now with Bill Lazor the offensive coordinator in his own right, changes are on the way with new coaches at receiver and quarterback and on the line. There is a belief in some pockets of Paul Brown Stadium that Ross can be this season's version of 2016 first-round pick William Jackson. After missing all of his rookie season with shoulder surgery, Jackson is emerging as one of the top young players in the league.
"I've been through a lot last year. But it's a new year. A lot of new things coming," Ross says. "The emphasis from last year looks to be change."
The update: Ross is rehabbing from December shoulder surgery and the belief is he'll be back running routes in the spring. Being ready for training camp is a given. Those are two things that didn't happen after he ran the 4.22. He had the other shoulder repaired a week after the combine, he could only be around two weeks in the spring because of NFL rules, and he didn't get on the field for the first time until the second week of training camp.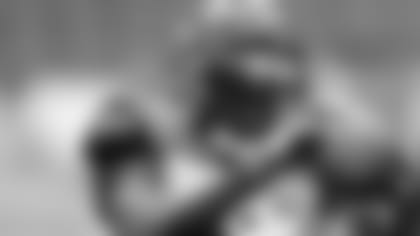 Ross wants to be known for catching the ball.
"That was the problem," Ross says. "My body didn't respond the way I wanted it to. Coming in late, I didn't get to train. I was out of shape. That was pretty tough on my body. Rushing into it. Being out of shape. My body couldn't take the physical aspects of the game we do every day. I thought I could. I think it kind of wore me out faster than I thought. I really didn't catch up until the end of the year when I started to have better practices. It all started to click together. It was already kind of too late. It was best to rest, get my body right."
Here's what's a little bit funny about this whole record thing. Ross, a productive, crafty wide receiver at the University of Washington, was just trying to get a little faster in a seven-week course with estimable West Coast speed coach Gary Cablayan, one of the Philippines' top hurdlers at the turn of the century. Already rated one of the top receivers in the draft, a few more split seconds for Ross could mean a lot more.
The first 40 Ross ran for Cablayan was 4.53 seconds. Cablayan straightened him up, got his arms swaying in unison instead of each one having a mind of its own, got the knees straight up and down, and told him the fastest 40 he'd run would be in Indy because of the adrenaline. His second time was 4.45. Then a 4.3 flat. Then Indy and the 4.22.
"I had horrible running form," Ross says. "It was almost ridiculous.
"It's kind of funny because before the combine no one was talking about me being the fastest guy in college football or one of the fastest guys in college football. My speed was always prominent to a lot of people, but it never was on a platform like it was after the combine. All of a sudden I kind of became, 'Oh, its track speed,' and I only ran track for a year. That's kind of funny."
It shows you how good Cablayan is. What's even funnier is that Cablayan is looking at the two guys they're talking about breaking the record. Track guys. There is LSU cornerback Donte Jackson, who has run 100 meters in 10.22 seconds while running for the Tigers, and Alabama cornerback Tony Brown, an All-American trackster for the Crimson Tide as a sophomore and the Texas 4A state champion in the 110-meter hurdles in high school.
"They can do it .They've got talent," Cablayan says. "People label you. John only ran a year of track. John was a football guy trying to get faster. These guys have still run track while they've been playing football. It's tough. You'd like to see the record stay, but if someone breaks it, you'd like to come back with someone else and get it again,"
That's about where Ross is with the record.
"At this point, it doesn't matter to me," Ross says. "It's not like I'm getting any royalties from it. Records are meant to be broken. If it happens it happens. There's nothing I can do about it."
Don't get Ross wrong. He's proud he's got the record. That's the competitor in him. He was just trying to run a fast time and he happened to break running back Chris Johnson's 4.24 blistered in the 2008 combine. He wasn't thinking about Johnson. He was thinking about beating the second fastest guy in the building.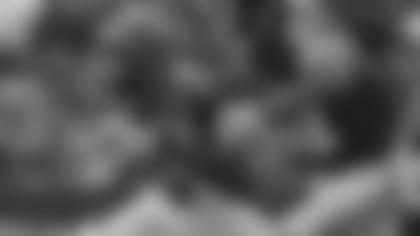 Ross in his NFL debut during a pre-season game in Washington.
"My team all had bets the night before," says Ross of his coaches and advisers. "It was exciting. We said if I broke the record, we'd go on a trip. A lot of them didn't think it would happen. Even I didn't think I would do it. I knew I could get close.
"That's hard to believe when you've got guys like Chris Johnson, who blew the record out of the water and had the record for so long. It was tough to believe and then it happens."
Both Ross and Cablayan didn't think he did it as it unfolded. Ross thought the start was horrible and he didn't finish through the line. Cablayan didn't have a great feeling, either. There was that confusing yellow line on the screen representing Johnson's run, the best they could do since Johnson broke the record before any of the current technology when they were timing, it seems, with sun dials.
Plus, Cablayan knew Ross was cramping when he went to the start line. It began the night before, he thinks, from all the poking and prodding the combine doctors did checking out his knee. He had no idea he did it until Tennessee's Josh Malone, who ran before him, came up to him and told him he was crazy for not going with Adidas, the shoe company giving out an island to the fastest guy at the combine.
4.22. Ross, wearing "WO 42," on his jersey while wearing Nike Vapor 4.2 cleats, thought it was meant to be. Just like the draft. His number with the Bengals is 15, he was the ninth pick and Kyrie was born on 5/15 at nine pounds. And Malone became a Bengal in the fourth round.
"It's good to be in a position where people want to break a record you set. You kind of raise the bar.  It's good to be in a situation like this," Ross says. "But it's not something I want to be a part of, if that makes sense."
What makes sense is now. Bengals head coach Marvin Lewis clearly ran out of patience with Ross. The fumble in his first game back on a Jet sweep. The route he took short when quarterback Andy Dalton went long. But he's not blaming Lewis for limiting him to 17 snaps and three games.
"I'm the one who did it," Ross says. "I'm the one who fumbled. I'm the one who ran a poor route. There are always things to correct, always things to do better. Things are going to happen, but it's not the end of the road. I've still got a lot of things to prove, still have a lot of work to do. If it was easy, I wouldn't want to do it."
He's glad he broke the record, but he's left the house. That's not how he wants to be remembered. First thing when you think about John Ross?
"I want them to think, 'This kid overcame adversity,'" Ross says.
Fastest Man at the Combine?
"I'm tired of hearing that," he says.