John Ross in his NFL debut last preseason.
That's what the vets have been telling John Ross this spring. In anticipation of next Tuesday's first voluntary on-field session against the defense both fellow wide receivers A.J. Green and Brandon LaFell are telling Ross to just stop thinking and start allowing his enormous talent to surface.
The way Ross tells it, Green, the seven-time Pro Bowler, has pulled him to the side and told him, "You have to slow down. Get under yourself. Calm down. Just stop thinking. I'm watching you think about it. Just stop thinking."
And while Ross may have heard that stuff last year as the ninth player taken in the draft, this sophomore is listening to it.
"Then I won't think about it," Ross says, "and I'll run a good route."
Nobody is kidding anybody here. Give John Ross III at least that. Smart man. Bright guy. He knows it's the same deal as last year, probably bigger. He likes offensive coordinator Bill Lazor's new offense and appreciates how he has kept it simple. But he doesn't see huge differences. Ross knows he's got a new set of eyes in first-year receivers coach Bob Bicknell, but he knows that's not going to change what all eyes expect. No one cares that most Bengals rookie receivers have struggled (see chart at bottom of story) in this century.
"Pressure is still the same. Even more so," Ross says. "'Is he going to perform? How well is he going to perform?' I kind of had to stop thinking about it.
"That's one of my biggest things. I'm thinking about everything I'm doing and it's taking away from how talented I actually am. They're in my ear a lot saying, 'Just relax. Be yourself. We can tell when you're yourself. You perform better. You just have to stop thinking so much."
And you don't have to think very much to know why Ross is sounding and looking so good this spring. A year ago from this very day he wasn't even here going through phase II of the voluntary workouts, thanks to an antiquated NCAA rule that finally got punted this year. And even if he was here, it probably wouldn't have helped because pre-draft shoulder surgery prevented him from getting on the field until early August.
"I couldn't ask to feel any better than I do now," Ross says. "It's the best I've felt since I went into my last year of college."
Look, when Ross showed up for camp, all he had was the No. 9 pick in the draft hanging around his neck like an anchor. If that wasn't heavy enough, there was that ball-and-chain known as the Fastest 40-Yard Dash Ever from the scouting combine he also dragged in.
That's all he brought. He had hardy been able to do any running and the rehab limited him to doing even less in the weight room. Like nothing.
Tyler Boyd, who by the way, along with Green and Cris Collinsworth is one of the three most prolific Bengals rookie wide receivers in the last 37 seasons, says if Ross had been healthy, "He would have been straight." Instead, Boyd thought he was "overwhelmed." Ross himself admits, "I didn't know what I was getting in to."
Two surgically-repaired shoulders have allowed him to resume his regular lifting regimen. He's back to doing squats and he's been in all the drills for all the routes and all the throws that he missed last year. His teammates, especially the guy throwing it to him, have noticed.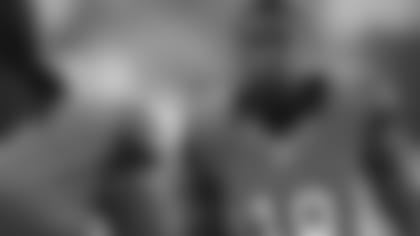 A.J. Green's Pro Bowl advice to Ross: Don't worry, just play.
"He looks good. Completely different than he did last year," says quarterback Andy Dalton. "You can tell he worked hard. It looks like he's getting back to where he was. He looks smooth. Everyone knew he was fast, but he's not just a straight-line guy. He can stop and go. He's got some shiftiness to him.
"Last year he was trying to learn and rehab his shoulder at the same time. But seeing it on paper and actually going out and doing it are two completely different things. Now that he's had an offseason to get healthy, you can tell. He's catching the ball really well. He's going up and getting it the little we've done so far."
Everyone knows his rookie line. Three games. 17 snaps. Two targets. One fumble. No catches.
"Last year I let everything get to me." Ross says. "I let my injury get to me. I was trying to do more than I could. I was out of shape. I'm not trying to make excuses, but its real life things. You can't just come in the NFL and be that guy. You have to come in and prepare. I've learned that. It's growth and progression from here on."
Head coach Marvin Lewis didn't exactly give him a mulligan. Ross heard about every mistake in the media and he was benched more than Gatorade. But Ross doesn't feel like he was in the dog house.
"Some of the stuff he was saying was true," Ross says.
There were plays that horrified him in practice. That's not who I am as a player, he thought. You're messing up. You're not performing like yourself. "I had to correct all that and I will."
You have to hand it to Ross. He's reached out to anyone who'll listen in an attempt to wipe away that rookie year. Last month he texted fellow Southern Cali native T.J. Houshmandzadeh and this went a bit differently than that how-you-doing-here's-some-college-advice phone call they had when Ross was a Long Beach high school senior. Ross asked Houshmandzadeh if he'd be up to working with him and he didn't have to ask the third-leading receiver in Bengals history twice.
Ross loves working with him and is looking forward to June and the resumption of their workouts. No doubt part of the attraction is that Houshmandzadeh still has that steel-armor ego of a dozen years ago as Ross seems to be slowly regaining some of his confidence that was so shaken last year.
"T.J. is the most confident guy I've ever met in my life. I can say that with a straight face," Ross says. "That first day we met I felt like I knew him my whole life. He doesn't think he could still be a third receiver in the NFL. He believes it."
Houshmandzadeh has told him if anybody thinks Ross got drafted purely for his 40 time, they are full of it.
"He said, 'You got drafted ninth because you're talented and you work hard,'" is how Ross recounts the conversation. " 'Just continue to do so. You'll get better.'"
He has heard it. He just won't think about it.
   Rookie seasons of Bengals wide receivers drafted since 2000:
2000: Peter Warrick (first round, No. 4) __ 51 catches-592 yards, 11.6 average-4 TDs
2000: Ron Dugans (third round, No, 66) _14-125-8.9-1
2001: Chad Johnson (second round, No. 36) _ 28-329-11.8-1
2001: T.J. Houshmandzadeh (seventh round, No. 204) _21-228-10.9 0
2003: Kelley Washington (third round, No. 65) _ 22-299-13.6-4
2004: Maurice Mann (fifth round, No. 149) _ 0-0-0-0
2005: Chris Henry (third round, No. 83) _ 31-422-13.6-6
2005: Tab Perry (sixth round, No. 190 _ 4-21-5.3-1
2006: Reggie McNeal (sixth round, No. 193) _ 0-0-0-0
2006: Bennie Brazell (seventh round, No. 231) _ 0-0-0-0
2008: Jerome Simpson (second round, No. 46) _ 1-2.2.0-0
2008: Andre Caldwell (third round, No. 97) _11-78-7.1-0
2008: Mario Urrutia (seventh round, No. 246) _0-0-0-0
2009: Freddie Brown (seventh round, No. 252) _ 0-0-0-0
2010: Jordan Shipley (third round, No. 84) _52-600-11.5-3
2010: Dezmon Briscoe (sixth round, No. 191) _ 0-0-0-0
2011: A.J. Green (first round, No. 4) _ 65-1,057-16.3-7
2011: Ryan Whalen (sixth round, No. 167) _ 4-27-6.8-0
2012: Mohamed Sanu (third round, No. 83) _ 16-154-9.6-4
2012: Marvin Jones (fifth round, No. 166) _ 18-201-11.2-1)
2013: Cobi Hamilton (sixth round, No. 197) _ 0-0-0-0
2014: James Wright (seventh round, No. 239) _ 5-91-18.2-0
2015: Mario Alford (seventh round, No. 238) _1-15-15.0-0
2016: Tyler Boyd (second round, No. 55) _ 54-603-11.2-1
2016: Cody Core (sixth round, No. 199) _ 17-200-11.8-0
2017: John Ross (first round, No. 9) 0-0-0-0
2017: Josh Malone (fourth round, No. 128) _ 6-63-10.5-1