A.J. Green is studying the route tree.

Andy Dalton looked up from his surface that blinked and clicked with new downloads and he smiled when someone mentioned that after talking to some of his offensive linemen it sounded like the Bengals are going to have a different approach up front.
"You could say that about everything we're doing on offense," Dalton said Monday as the first day of voluntary off-season workouts came to an end. "It's going to be different."
Across the locker room at Paul Brown Stadium and on the other side of the ball, Vincent Rey, their most experienced linebacker, was going through the same realization. Rey looked at sophomore backer Jordan Evans on his right and the locker of new middle linebacker Preston Brown on his left. And, with the words of new defensive coordinator Teryl Austin in Monday's introductory meeting still fresh, Rey sensed he'll be adjusting to his biggest changes since he arrived from Duke as an undrafted free agent in 2010, the third season of the ten seasons of the Mike Zimmer-Paul Guenther defense.
"A lot terminology is different. I'm going to have to learn to adapt," Rey said. "I've been in the same system for eight years. A lot of things are staying the same and some other things are changing and to me that's a lot of changes because we've had the same defense … We're going to be more multiple. We're going to be doing more things … Change is always good. I'm ready for it."
It's kind of weird. Marvin Lewis is coming back for his 16th season as head coach, Dalton and seven-time Pro Bowl wide receiver A.J. Green are back for their eighth season leading the offense and Brown is the only new starter on defense.
Yet here they were Monday walking around like rookies ten day before the draft. New playbooks on offense and defense will do that. The dead-last offense is staring at an overhaul now that interim offensive coordinator Bill Lazor had the whole offseason to re-write the playbook with three new NFL veteran position coaches in offensive line coach Frank Pollack, receivers coach Bob Bicknell and a new quarterbacks coach Alex Van Pelt.
Suddenly, Dalton is not only thinking about new ways to call new formations, but also new techniques, like footwork.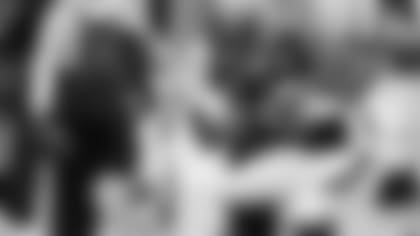 New defensive coordinator Teryl Austin came in emphasizing turnovers, like this pick linebacker Vincent Rey had against Austin's Lions last season.
"I would think that's going to be a part of it," said Dalton of his footwork. "Because of (Van Pelt) and just the nature of the offense. I have to so much to learn right now. I feel good right now where I'm at physically and mentally … (But) I don't know this offense."
For instance the wide receivers are learning a new way to call routes. Instead of using the West Coast word system of Gruden, Lazor is using Coryell's number tree for pass patterns. For instance, the "Go," route is now the "9," route.
"There's only so many routes you can run, so that's not different," Green said. "But it is going to be different. It depends how you tweak it."
Wide receiver Brandon LaFell had the route tree for four years in Carolina and "I loved it."

"I don't think it's too hard to pick up on. As long as you know where to line up the numbers will come to you," LaFell said. "We're still looking to get into it. We'll do that in the next few days. You get to the point where you learn the numbers and you don't think protection because that was for the linemen. You have to think it's for me. We still have code words for no huddle and the two-minute drill. I think it will be different, but they should be able to pick it up on the fly and make guys play faster."
But the biggest difference looks to be on the offensive line, where Pollack replaces 24-year veteran Paul Alexander.  In their first meeting there had to be a different taste since Pollack is a former NFL lineman from the '90s who was playing for the 49ers when Alexander coached the Bengals offensive line. The two young guards who played so well at the end of last season, Alex Redmond and Christian Westerman, took note.
"Frank has a different mentality. He's intense. He keeps you awake," Redmond said.
Westerman: "He's a tough guy. He emphasized toughness. He talked about things like that, that all offensive linemen enjoy and he was a player. That was a good vibe."
It's early so while everyone anticipates those changes up front, it's just speculation. Given Pollack's aggressive approach, the thinking is the sets won't be as deep and there is going to be more use of hands and not as much catching.
After they showed running back Joe Mixon some Cowboys tape, perhaps dialed up by Pollack since that's where he coached the three previous seasons, he had a smile on his face.
"It looks good when you see Ezekiel Elliott run for 20 and 30 every play. That's what we like to see," said Mixon of the Dallas running back.  "It's similar stuff. It's the linemen getting after it every play being aggressive."
Left guard Clint Boling, a member of the Green-Dalton class of '11 and their most experienced lineman, has already seen change with Cordy Glenn installed at left tackle after a trade with Buffalo. He's not sure what's next, but he knows it's on the way.
"We haven't been good enough and you look around and there are people from different places and hopefully that's bringing in a different result," Boling said. "Absolutely you welcome it.  Whether its scheme or personnel it's evident things are different by the changes that have been made."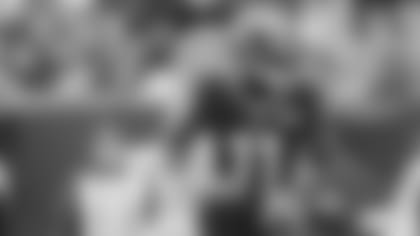 Brandon LaFell ran the route tree by the numbers in Carolina.
Green is not only looking at a new playbook, but his first new position coach in the NFL now that James Urban has departed to be the quarterbacks coach in Baltimore. He admits he lacked focus at times last season in what was his least productive full season since he was a rookie and on Monday he embraced getting re-charged.
"Anytime you get a fresh start with new coaches, everybody is interested in impressing their new coach," Green said. "I'm blessed to have had Urbs for the first seven years and they haven't really changed offenses. It will be a challenge. I'm ready for that."
In Austin's opening address he challenged the defense to play with effort and turn the ball over. Last year the Bengals had 14 turnovers, the fewest under Lewis and the second fewest to only Cleveland last year.
"The thing I learned today is that playing with effort is a premium and the No. 1 thing is getting turnovers," Rey said. "Eighty percent of the teams that had the most turnovers made the playoffs. If you have lot of turnovers you have a better chance to win."
The teams that had the most turnovers (Baltimore) and third most (Austin's Lions) didn't go to the playoffs because the Bengals knocked them out in the last two games of the season. But Jacksonville (second most), Philadelphia (fourth) and the Rams (fifth) did go.
"
Change is good," Rey said. "I'm ready for the challenge to learn whatever we have to to make this a great defense."
But there are some things they don't want to change.
"Every year for me is a fight," Rey said. "Not only to make the roster, but to also be a good player."
Dalton admits it's like his rookie year when he comes to learning.
"But," he said, "I'm in a better place than my rookie year."
The Bengals are banking on just enough change to get everyone in a better spot.