(Another installment of running back Jeremy Hill's rookie diary.)
You have to ask offensive coordinator Hue Jackson if he was saving the running game for late in the year so it was fresh for the stretch. I believe everything happens for a reason. Everything is happening the way we planned them. We wanted to get hot down the stretch.
From an identity standpoint, I think we're really starting to form one. That's something you really need to do, especially at this time of the year. I think during some parts of this season we were really inconsistent. Kind of back and forth. But I think we're really starting to come together as an offense and as a team.
I think the identity came together for that Cleveland game a few weeks ago, the week after the Pittsburgh game. That's when I think we really started to form that identity of running the ball and controlling time of possession, not turning it over, and all those things we really need to do.
It came at the perfect time. If you just look at the last few years, the teams that won the Super Bowl always get hot at the end of the season. That's something we're trying to do. I watched Seattle and Baltimore. You have to have a running game, especially in the playoffs, especially in the cold weather. All those things. Cold weather, difficult teams to play, play them at home. You have to run the football.   
The week of the Cleveland game is when Hue said he wanted to give one running back more of the load, but that didn't really change anything for me. I had been treating every week like I was going to start. It didn't matter to me whether I was getting four carries or 20 carries and nothing has changed. I'm just trying to help us win.
I watch Steelers running back Le'Veon Bell all the time. He's probably my favorite running back in the league. Honestly, him and Marshawn Lynch. I thought he was the best back in the draft when he came out and now you're really starting to see that nowadays. I love watching him run, obviously not against us.
He doesn't try to rush anything. The great backs don't try to do too much. They just let things come to them and I think he does a great job with that patience. That separates him from anyone else. We're different, but at the same time we're very similar. Size and stature, we're kind of the same, but I think our running styles are a little different. He does his do thing, I do my thing. Their running schemes are different so the running styles have to be a little different. I hope he doesn't do well Sunday.
This week has been a blessing. After we won Monday night, I met Ray Lewis with ESPN and he appreciated everything I was doing. I had watched him throughout my childhood so that was big for me.
My parents, my older brother, and my younger sister have been here all week for Christmas. This is something you work your whole life for and for it to all come true, Christmas is the perfect time to reflect and be thankful and be with family. Now that's done, I can focus on the game and try to do everything we set out to do.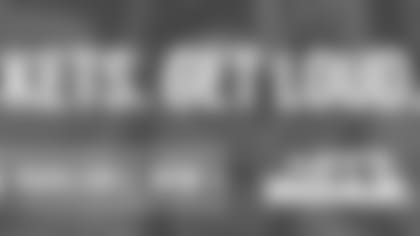 ](http://www.ticketmaster.com/cincinnati-bengals-cincinnati-ohio-01-03-2015/event/16004D88AE88238F?brand=bengals&camefrom=CFCBENGALSBCOMWEBARTICLEPLAYOFFS1_141223)