A.J. Green logged his 500th career catch Sunday.
GREEN BAY, Wis. - Michael Johnson, the Bengals right end who had one of six sacks of Aaron Rodgers in Sunday's sauna, knew they had let the Lambeau Lurker off the hook. They let him lurk around and lurk around and when no one had taken the game by the fourth quarter, he grabbed it by the neck and beat the Bengals in overtime, 27-24.
The Bengals couldn't get Rodgers on the ground in the last 25 minutes as Rodgers hit 10 of his final 14 passes for 141 yards in only the third game in the Green-Dalton era they scored 24 points and lost. Rodgers had to go 12.5 quarters to finally beat the Bengals and claim victory over every NFL team.
"Didn't finish. Have to finish," Johnson said.
But it just wasn't the defense.
Leading, 21-7 with 4:18 left in the half, they had a second-and-two from the Bengals 35 after rookie running back Joe Mixon picked up eight on first down. But two more carries, one to Mixon and one to Giovani Bernard, got nothing.
And leading, 21-17, with 4:31 left in the game on the Packers 27 and looking at third-and-one, they were ready to give it to the hot Mixon after he had picked up 30 yards on five carries and nine behind left guard Clint Boling on the previous snap. But Mixon slipped coming out of the I formation before he could get the handoff and Dalton felt like he had to take it himself and lost a yard.
"I've got to go at that point. I don't know if he's going to get up. I tried to get as much as I could," Dalton said. "It's unfortunate. They way we were moving the ball. The way we were driving it down. To get that first down, the game could be completely different. That's the frustrating thing. You're close. Little things like that can't happen. Regardless of the situation, regardless of what caused it, you have to find a way not to let that happen."
And it happened on special teams, too. In conjuring up images of last season, they lost by three in a game Randy Bullock missed a 48-yard field goal wide right and the Bengals leading, 21-14 with 2:41 left in the third quarter.
"I think the disappointment is just not finishing the football game out. We have an opportunity, we go up by seven, the chance to stop the drive a couple of times and we don't get it done," said head coach Marvin Lewis. "We give up the touchdown there before right in the third quarter. We've got to keep playing.
Running back Giovani Bernard scored a TD Sunday on a wide-open pass.
"We've got to put points on the board and we just have to keep playing and remain disciplined through our jobs and stay after it. We have to rush the quarterback, keep him pinned in and we did a lot, but when we broke down, he made plays. We've got to stay in coverage and not allow the ball to go down the field. Far too many chunk plays against a good quarterback like that. That ended up being the difference in the football game."
That's how it ended. With Rodgers dancing in the pocket on third-and-10 in overtime . He didn't need his most dangerous wide receiver, Randall Cobb, injured on the sidelines.  He got good time and then gave more time for wide receiver Geronimo Allison to beat Cover Two down the left sideline for 72 yards. Cornerback Adam Jones was in his position, but it was Rodgers that made the play. The Bengals were without starting safety Shawn Williams (cramps) and safety George Iloka was trying to get over to help Jones and Allison got there first.
"It wasn't a double move. It was just an outside release," Allison said. "The corner stayed up underneath me and I was just stretching it vertical down the field."
The Packers adjusted on both sides of the ball to come off the ropes in a second half they won decisively, 17-3. Rookie pass rusher Carl Lawson had been beating a  back-up left tackle incessantly all day to the tune of 2.5 sacks. But like his mates, none in the final 25 minutes, where exhaustion and the heat from the hottest Lambeau Field game ever that began at 89 degrees also seemed to be factors.
After the last sack with 5:36 left in the third quarter the Packers shoehorned in 30 snaps to the Bengals' 23. In the last eight minutes, the Packers ran 17 plays to the Bengals' three-and-out that started the overtime.
"They were chipping some," said Lawson of the Packers  giving help to block him. "The great rushers keep working. I was tired. I need to work on my conditioning so I get better. I still played hard when I needed to. He was getting the ball out pretty quickly. He's done it multiple times."
They certainly did on that 72-yard snap, when the Bengals moved Lawson to the left side and they used the back to chip him and Johnson on the other side got nabbed for an offside.
"The Packers are good at jumping off. If you encourage them it counts as an offside," Lawson said. "They're good at that. That's one of the things that helps them win."
But it was Rodgers that adjusted most. He was at his magician best on that last drive in regulation that tied it as he kept the rushers at bay moving out of the pocket and firing completions from all angles to all points on the field, going 9-for-11 for 69 yards.
"He went to the ground. He started to move around with his feet," said cornerback Dre Kirkpatrick. "I felt like earlier in the game he really wasn't showcasing that. When he is moving around like that it kind of breaks down the defense. At the end of the day we let them off the hook."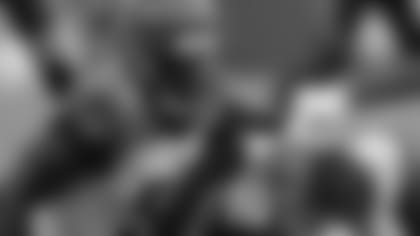 Aaron Rodgers got to know Bengals rookie rusher Carl Lawson during 2.5 sacks.
The Packers also adjusted on defense, where they held the Bengals without a touchdown in the last 45 minutes after Cincinnati scored its first two touchdowns of the year on the first three possessions.  A.J. Green had 110 yards on 10 catches. But his 20-yard catch over the middle was the only ball of more than 11 yards to a wide out. Tyler Boyd had just one catch for 11 yards and Brandon LaFell just one catch for five.
"They switched up some things and made adjustments. We couldn't capitalize," Green said. "They played a lot of two-man and a lot of zone."
 The few deep balls Dalton did try weren't close. The last one, on first-and-10 from the Packers 36 came two snaps before Mixon slipped. He took a shot for LaFell in the end zone but said he overthrew it on purpose because the timing was screwed up.
"It's one of those things there was some contact on the press (coverage)," Dalton said of the top of LaFell's route. "At that point I didn't want to hold it. It's on the fringe of field goal range.  You don't want to take the chance of taking a sack back there, so it was kind of more of a throwaway.".
For the most part the Bengals were pleased with Bill Lazor's first day of work as their offensive coordinator, such as the commitment to one back (Mixon) and the number of carries (30).
"We stuck with the (run) a little bit more. We had a good game plan coming in," Boling said. "We were able to execute a lot of the things that we tried to do differently. There are just some things here and there. Small things that we were trying to adjust. We came out with a lot of energy in the first half but couldn't sustain it for 60 minutes."
Dalton also seemed to like it.
"I thought we did some good things. Going down on that first drive and scoring was big," Dalton said. "We needed that. I thought the tempo was good. I thought the way things were getting called and getting personnel groups in, I thought it was good.
 "I thought the way we were moving - I thought the tempo was good. I thought we got the ball to our guys, got it to them in space and let them make plays. I thought it was a good start for us. But, we've got to find a way to win."
Differences? They kept with the run. They threw to their backs more (Mixon had three catches for 39 yards, Bernard had a wide-open six-yard touchdown.)
And they also rotated their three tackles with the most eye opening move Andre Smith lining up at left tackle in overtime. The Bengals were saying they did it because of the heat, but it will be interesting if they keep doing at 70 degrees because Smith played well.
"We went into the game just knowing it was going to be a warm day today," Lewis said "And we played everybody just about and did that on both offense and defense and special teams and receivers and everybody. So, we knew it was going to be a warm day."
So 50 years after the Ice Bowl the Packers win the Sauna Bowl in a game the Bengals believe they let melt away.
""We did some good things today, but everything is a process," Green said. "I feel like we took a step forward. We didn't come out with the win, but that is the way it is."
Cincinnati Bengals take on the Green Bay Packers in week 3 of the regular season.