It took Ken Anderson 27 years to get back to the Super Bowl and as he prepared to step on the field in Tampa for Media Day Tuesday, he had to laugh over his cell phone.
"Yeah, the weather is a little different," he said. "I'm wearing a polo shirt."
Anderson, the Steelers quarterbacks coach, is still wearing the scars of that first northern Super Bowl in Detroit during the first month of 1982, no doubt the coldest in history. He was that season's Kurt Warner, a recycled Pro Bowler who led the Bengals to the title game with an MVP season, and he responded with a vintage outing. Against mentor Bill Walsh's 49ers, he offered 25 completions for a 73.5 completion percentage, both Super Bowl records at the time.
But it ended in a 26-21 loss and Anderson is back on the field looking for that elusive Super Bowl ring for the first time since he took the hand of his grade-school son Matt and walked over to congratulate Walsh. Walsh has died, but the memory hasn't.
"Long time ago," Anderson said.
Long ago. But not so long ago that his old roommate and offensive lineman Dave Lapham still knows what that loss means to Anderson and everyone else.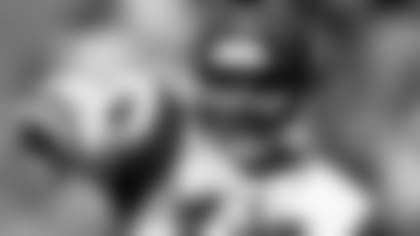 "I think whenever we remember that game a lot of us feel badly," Lapham said. "We feel like if we'd won, Kenny would be in the Hall of Fame. Yeah, I think getting a ring means a lot to him. It would kind of bring him full circle, you know?'"
How long ago? Diana Ross sang the national anthem before that Super Bowl. This year it is Jennifer Hudson, born in September of that Super Bowl season in 1981. Just when Anderson, surrounded by an heir apparent in Jack Thompson and a future NFL offensive coordinator in Turk Schonert, was struggling to keep his starting job. He did by bouncing back from an Opening Day benching with a 31-30 win against the Jets in Shea Stadium.
Just like Warner has been fending off Matt Leinart the past couple of years.
Now Warner is being hailed for the Pro Football Hall of Fame and Anderson politely talks about his credentials.
"He's been a league MVP and he's taken two different teams to the Super Bowl; that's quite a feat," Anderson said. "He would certainly have to be talked about. But I don't know what the criteria is."
You'll have to excuse Anderson. What he doesn't say is he's the one quarterback not in the Hall who should be in.
Of the 25 quarterbacks in the Hall, only 13 have career passer ratings greater than 80. Only eight of them have a better one than Anderson's 81.9 rating. Of the 25, he has thrown more touchdowns than 14 of them and his completion percentage of 59.3 is better than 17 of them.
And then there are Anderson's four NFL passing titles. He's the only one eligible who has at least three and isn't in.
The subject is revisited every few years or so, usually this week because the Hall of Fame selection committee picks the inductees the day before the Super Bowl.
And each time Anderson spends less and less time on the topic.
"A long time ago," said Anderson when asked if he's beyond it all. "Like I said, I'm not sure what the criteria is."
What he does know is that he has met the criteria to return to the Super Bowl. Anderson is a detail guy. A numbers cruncher. A guy known in the coaching profession as "a grinder."
It should be noted in the two seasons Anderson has coached Pittsburgh's Ben Roethlisberger, his pupil has thrown 49 touchdown passes and 26 interceptions. In the two previous seasons, it was 35-32. The playoff game that Roethlisberger lost in 2007 came at the hands of Jacksonville's David Garrard, a former Anderson pupil.
"All the credit goes to him," Anderson said of Roethlisberger. "All the work he's put in, the time he's put into preparation. It's all been him and he's had a great year. The fact he's got a chance to win a second Super Bowl is a great accomplishment."
Anderson's shot at a Super Bowl title died on the San Francisco 1 when a goal-line stand late in the third quarter blunted the Bengals bid to cut the lead to 20-14. Despite the two interceptions, Anderson was brilliant in the comeback with one of the first 300-yard passing games in Super Bowl history and tight end Dan Ross' 11 catches is still in the Super record book with several others.
"Overshadowed," he said, "by two picks and four turnovers."
If there is any throw he'd like to have back in a run that spanned Bengals career records of 16 seasons, 4,475 passes, 2,654 completions, 197 touchdowns, and 32,838 yards, it is the one in the first five minutes of the game.
"That's the one," he said. "The first one."
Shortly after the Bengals recovered a fumble on the opening kickoff, Anderson had them at the doorstep on the San Francisco 5 after he hooked up with Ross for an 11-yard gain. Following a sack, Anderson looked for wide receiver Isaac Curtis at about the 5 on third-and-11. They are among the few all-time duos that have more than 50 touchdown connections.
But not one in the Super Bowl. Free safety Dwight Hicks cut in front of Curtis for the interception that prevented the Bengals from getting at least three points and vaulted the Niners to a 20-0 lead.
"Bad throw," Anderson said. "We tried a reverse pick play and they changed the way they bracketed it with (the DBs and linebackers). They were inside-out when we thought they were going to be outside-in, or whatever it was, and it was just a bad throw."
The way Lapham saw it, it was just a case of where two great players weren't on the same page.
"I think one of them read man and one of them read zone," he said. "Yeah, maybe not a great throw. But the kind of guy Kenny is, he's going to take the full blame."
So Anderson knows exactly what Sunday's key is going to be.
"Can't turn it over," he said. "Arizona has been all over the ball during the playoffs. Look what they did to Carolina. They've got a defense that has been on a roll making plays. So you've got to be careful with the ball."
After all, that 27-year-old ring is on the loose. But he doesn't see it as karma, or justice, or anything else.
"All that stuff," Anderson said, "is really irrelevant.
"Honestly? I don't know what emotions I would feel if we win. You'll have to call the day after."