Vincent Rey went from undrafted free agent to inspiring team leader.
Vincent Rey, who has played more Bengals games than Carson Palmer and T.J. Houshmandzadeh and Rudi Johnson and Andy Dalton and A.J. Green, is the perfect guy to ask.
Vinny Rey, whose 112 Bengals games at linebacker are more than Bill Bergey and Takeo Spikes and one fewer than Vontaze Burfict and Keith Rivers combined and two fewer than Rey Maualuga, is exhibit A of why undrafted rookies matter.
Here is Rey's advice to this year's class of the Undrafteds that begin to gather at Thursday night's introductory meetings for this weekend's rookie minicamp:
"Whatever is important to the coaches is important to you," Rey says. "No matter what it is. If it's important to him, make it important to you. That's the way to be a pro, in my opinion."
Rey, 30, oozes professionalism. Since coming out of Duke in 2010 he's started 48 games at two different spots while also serving as the club's de facto special teams captain ranging from the yesteryear days of Brandon Tate to today's Alex Erickson. The more you can do.
"Be alert. Be on time. Take notes. Listen to the veterans," he says. "Wisdom. Follow that.
"Just buy in. Believe in the coaches. They know what they're talking about. Some of the coaches have been coaching longer than you've been alive so just trust they know what they're talking about. If you trust that, do what they say, it will eventually work in your favor."
Don't take attendance. Worry about yourself.
You don't get drafted for a reason and at 6-0 Rey doesn't fit the cookie-cutter dimensions of an NFL linebacker. Yet the Bengals' East Coast scout at the time, current Browns tight ends coach Greg Seamon, became drawn to the respect Rey had on campus as a two-time captain and his experience and durability in Durham compiled in 48 games and 330 tackles. When Rey had an off-the-charts pro day, he was on the coach's radar, too.
But when Rey arrived for rookie minicamp, he could have been psyched out from the get-go. The first two picks, Oklahoma tight end Jermaine Gresham and Florida defensive end Carlos Dunlap, came sculpted out of a How to Build an NFL Player catalogue. They've been to multiple Pro Bowls and are still playing. One of their fourth-round picks, Georgia defensive tackle Geno Atkins, is going to the Hall of Fame. The other fourth-rounder played Rey's position at one of the nation's blueblood football schools, Texas' Roddrick Muckelroy.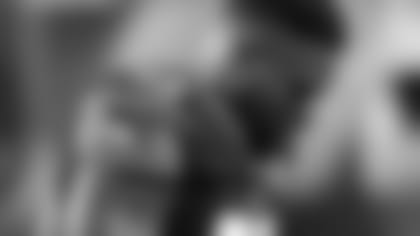 Vontaze Burfict went from undrafted to the Pro Bowl.
"Coming from Duke at that time, we didn't have guys who looked like a Gresham. I didn't see a guy like Dunlap or Geno Atkins. You see those guys and say, 'Oh, this is big-time football.' It was a little intimidating. They turned out to be great players, but I'm still here.
"At the end of the day you're competing against each other, but it really comes down to taking care of yourself and being mentally focused on what you have to do."
He's still here probably because he kept his head down and didn't look around.
"In this league, not everyone has the same opportunity. Life isn't fair," Rey said. "You have to be thankful for what you have. No one deserves an opportunity. It's a privilege, not a right, to be in this league."
Postscript: Injuries helped limit Muckelroy to 19 games with the Bengals and two in Washington during three years in the league. Before Rey got nicked last season and missed two games he played in 108 straight games.
How many times will you hear Bengals head coach Marvin Lewis say it this weekend?
"It's not how you get here."
Come in with a steel-belted camp mindset of pound and grind.
It's not like the old days of Rey's rookie minicamp when they practiced twice each on Friday and Saturday before ending it with a single session on Sunday. Now it's just one a day, but Rey says it's going to have the same feel.
"I'll never forget my rookie minicamp camp. It's the second most tired I've ever been next to my rookie training camp with the two-a-days (practices)," Rey says. "It's still going to be a lot of reps. You do 20 right and one wrong, it's not good enough. It's going to be a long rookie camp. It's going to be a long OTA camp. It's going to be a long training camp."
No one symbolized the NFL grind more than Rey in last year's finale. The Bengals may have been out of it, but they couldn't get him off the field. He kept limping off but knowing they were down to their last linebackers he kept coming back. And he knew he had to make that last tackle because he couldn't have played in an overtime and there was nobody left.
"You run until you can't run anymore. It will be similar," Rey says of what awaits the rookies this weekend even though it is just one practice. "The big thing is the mental toughness. The physical part, everyone is going to have. If you didn't, they wouldn't bring you into this locker room. You have to have the mental toughness day in and day out."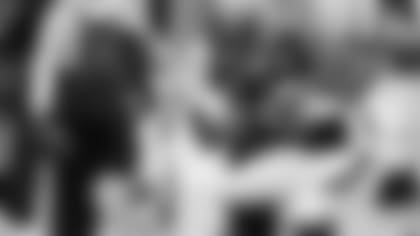 Rey came up with his fifth career interception last season with this one against the Lions.
Don't count the reps. Make the reps count. And believe.
Knowing Rey, he's taking his own advice when everyone takes the field for voluntary practice in two weeks. There's another drafted Texas linebacker, this time Malik Jefferson in the third round. The Bengals won't announce the list of their undrafted signings until Friday morning and one of them is reportedly Ohio State's Chris Worley, another linebacker from a blueblood football school coveting one of those six Opening Day backer spots.
So Rey has been there, done that.
"It's what Coach Lewis always says," says Rey, who'll do to Jefferson and Worley what Dhani Jones did for him and take them under his wing. "It sounds so simple, but it's true. If you don't do your job, who will? No one else is going to do your job.
"Don't count the reps. Make every rep count. Coaches really want someone they can trust. They're not going to play someone they can't trust generally."
Just like today, though, Rey believed when he left rookie minicamp.
"I thought I had a shot," Rey says. "It was a long shot. But compared to the other rookies, I felt like I was one of the players that was doing my job most consistently."
It's such good advice, Rey is going to take it himself.
"Just come in," he says, "and try to get to nine seasons."