Rex Burkhead became the Bengals' first 100-yard rusher against Baltimore in seven years.
Bengals left tackle Andrew Whitworth knows exactly how hard it is for a running back to get 100 yards rushing against Baltimore any day any year.
Heck, Whitworth is the only offensive player left from the last time they did it before Sunday, when Rex Burkhead capped off the greatest free agent push since the strike and put up 119 yards on 27 carries in the 27-10 victory over the Ravens at Paul Brown Stadium in the regular season finale.
"Whew," exhaled  Whitworth, who helped Cedric Benson smash to 120 yards on 27 carries in Baltimore in 2009. "When a guy is on fire like that and running that hard, breaking tackles … that's a tremendous run defense. It's not like those are slouches. That's a (run defense) that was No. 1 most of the year."
The Bengals now officially have a decision to make before free agency hits in March.
 Since third-down back Giovani Bernard tore his ACL back on Nov. 20, Burkhead put together the six best yards-per-carry games by a Bengals running back since Jeremy Hill's rookie year in 2014.
While Burkhead averaged a no-frills-no-nonsense 4.7 yards per carry , Hill averaged 2.5 as he battled nagging injuries and decision-making. That was before Hill missed  the first game of his career Sunday with a knee issue after a two-year struggle at 3.7 yards per carry juxtaposed with Burkhead racking up the Bengals' first 100-yard game not against the Browns since the second game of the 2015 season.
Now it seems like they have to decide on Hill or Burkhead.
Burkhead, who had 13 NFL carries before this season and 47 this year before Sunday, kept it close to the vest after he matched Hill's career-high of 27 carries against New Orleans in 2014.
Wouldn't his next stop naturally be where he had a chance to be a regular?
"I'm not thinking about anything like that," Burkhead said. "I haven't given any thought to that. That's the kind of question for our coaches."
The Bengals want him back. Just ask head coach Marvin Lewis.
"There is no question. We always like our guys (in free agency)," Lewis said after the game.
His teammates certainly think there's a spot for him. Take fullback Ryan Hewitt after Burkhead followed him for a five-yard touchdown run, his second of the day with 2:23 left in the game that made it 27-10.
"I know Rex. I know the way he thinks.  He thinks like I think," Hewitt said. "I have pretty good vision, so if that's the only way I can get to the hole I'm pretty sure that's the only way he's going to be able to get to the hole, too. The front side was way too clogged for me to get my backer, so I went back side. I felt him, and it was good.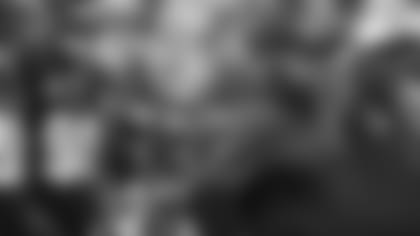 Marvin Lewis is all for Burkhead coming back.
"He's a damn good player. He showed that today. He's reliable and tough and hits it up in there and does what he's supposed to do. I like Rex as a teammate and person. He's a good dude."
That's why they like him. He goes ahead 4.5 yards per shot. He did it growing up in Plano, Tex. He did it as one of the most popular Cornhuskers ever at Nebraska.  He came into the game, according to profootballfocus.com, ninth in the NFL in percentage of yards gained after contact.
"He proved today, man, he can run the football. I'd take him as a No. 1 any day of the week," Whitworth said. "I don't think there's too many teams where he wouldn't fit. He runs the ball well. He's got great agility. He's got eyes, he's got it all. The whole team has wanted him to get his opportunity and see what he does. Especially the  defensive players because they know what Rex used to do to them.  He's a talented kid."
He opened the scoring with his athleticism and closed it with his instincts. He did it against a Baltimore front seven that may have been still gassed from last week's loss in Pittsburgh, but the only one missing from a unit ranked second in the league against the rush was linebacker Zach Orr, the Ravens' leading tackler.
Burkhead's first touchdown, which opened the scoring less than five minutes in, is an example of his nimble feet. He squirted through a hole sealed off by Whitworth and left guard T.J. Johnson and even though he got tripped up doing it he kept his feet long enough to fall over the goal line.
Then for the last one he knew where to go.
"I was about to bounce that one outside. I was thinking  the same  thing (Hewitt) was thinking in his mind," Burkhead said. " 'No, just follow me Rex.' That's what I ended up doing. When you've got one of the best fullbacks in the league in front of you, good things happen."
After four years of waiting, the ball kept coming Sunday and good things kept happening. His lone touchdown came two years ago in Cleveland. His most carries were an even dozen last week in Houston. He more than doubled it Sunday.
"You get into a rhythm. It starts to slow down for you," Burkhead said. "It takes you back to when you were younger getting a bunch of carries. It was fun to be out there with the guys and the guys on the offensive line."
He smiled when asked the last time he carried it 20 times in a game.
"You have to go all the way back to college," Burkhead said.
Now the question is if there are enough carries in Cincinnati.
"I'm excited about the future," Burkhead said. "I like Cincinnati. I love it here. We'll see what happens."
Burkhead smiled a contented smile. After waiting four years, what's another two months?
Cincinnati Bengals host Baltimore Ravens at Paul Brown Stadium in week 17 of the regular season.