Rudi Johnson: blue-collar guy gets red-carpet greeting.
When Rudi Johnson and the rest of about 15 Bengals legends are introduced to the Paul Brown Stadium crowd before Sunday's game (1 p.m.-Cincinnati's Channel 19), the chant will no doubt start somewhere.
That will take you back about a decade and more, back when the Bengals not only socked away wins with the running game but relished the very act of getting four yards per carry. There is no coincidence that while the 5-10, 220-pound Johnson pin-balled his way to the franchise's two greatest rushing seasons in 2004 and 2005 the Bengals finally contended in the new AFC North and won it in 2005.
"It's always nice to hear. Music to my ears," Johnson says of the chant that defined his Cincinnati career. "That always got me through and it got my teammates through. That's how we closed out games. Those guys would be blocking for me. Big Will (Anderson), and Levi (Jones) and Richie (Braham) and (Andrew) Whitworth and (Eric) Steinbach and those types of guys. Whenever we heard that, we knew it was close-out time. It's always good to hear."
Two other players from those 2005 AFC North champions are expected to be a part of this Legends Weekend, anchored by Hall-of-Famer Anthony Munoz and all-time leading scorer Jim Breech. The Bengals all-time leading receiver Chad Johnson and Shayne Graham, the man behind Breech on
the list, join Rudi Johnson to represent the team that went 11-5 for the first of head coach Marvin Lewis' four division titles.
It is Rudi Johnson's first visit to PBS since 2008 Cut Down Day when he was released in a move that stung Bengaldom even though it took no one by surprise since his name had surfaced in trade rumors the week before. Just a year removed from a 1,309-yard season, a bout of nagging injuries at age 28 reduced his carries by half in 2007 but a blue collar crowd favorite is a blue collar crowd favorite.
"It was always more business for me than personal. I'm a businessman," Rudi Johnson says. "The Bengals gave me an opportunity and I took it. I hope the way I played shows my appreciation."
Now 36, Johnson is still the businessman living in Miami, where he dabbles in several ventures, ranging from real estate investor to boxing promoter. His Cincinnati connections led him to investing in the Walnut Hills-based Oasis Elite Boxing Club and he's become a ring-side staple of Cincinnati former world champion Adrien Broner.
"You know me. I'm a straight forward blue-collar guy," Johnson says. "I don't need a lot of hoorah, hoorah. I played my game and that was it."
But he admits it will be nice to see people he hasn't seen since that day in 2008. He was one of the few that survived Lewis' purge that transformed the 2-14 team in 2002 to champions. There was no love loss with Lewis and Johnson that last season and Johnson says they haven't spoken since but he says they will this weekend.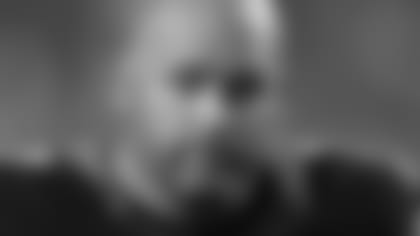 Andrew Whitworth, nicknamed "Big Boy Whitworth," by Rudi Johnson, has blocked 1,000-yard seasons for three different No. 32s: Johnson, Cedric Benson, Jeremy Hill.
"The culture was changing. There were new times. Me and Chad and Carson (Palmer), T.J. (Houshmandzadeh) were in the middle of it as far as turning the tide," Rudi Johnson says. "Marv being a first-year head coach. It was different than it is now. It's not "Marv," any more.  It's "Coach Lewis." You understand me? We did well when we were there and it got better when we left and that's all you can ask. And it looks like that's what happened. When you look at their success you have to take your hat off to them. Being able to draft and keep it going. It's good to see where the defense is. To have a defense that can really get after them like that it is always a good thing."
Johnson is active with the Dolphins and is in the second season of serving as the team's uniform inspector at home games. So you can find him catching up with old colleagues. The Titans were just in with old head coach Dick LeBeau and offensive coordinator Bob Bratkowski. The Cardinals are coming in next week with Carson Palmer and Frostee Rucker.
"Sure," says Rudi Johnson when asked if he would have fined Chad, the walking uniform violation. "Have to. The big ticket."
So he's not following these Bengals on "Red Zone," but he knows, "There have been a few No. 32s that have come through," since he left. If they go straight-ahead for four yards per pop like a certain blue-collar guy (he went for 4.3 per in '05), he's a fan.
"There are a lot of people carrying that number on and that's good," Johnson says. "I know (Jeremy Hill) is a hard runner. I've seen him play a couple of times. He's got a bright future. Keep doing what he's doing. Ever year is different, so you have to continue working at it to stay at it."
Johnson stopped after 76 carries for the hapless Lions in 2008 and it was quite a run. He set the single-season rushing record everywhere he got the ball starting in high school. But he emerged with a sense of humor.
"We put our names in the record book and that was fun. You look in the record book and you can see I was there," Johnson says. "Someone else is going to come along and put their name in there. That's how it goes. I even got a record (in Detroit). 0-16."
The chant will crowd it out.
Bengals Players make an appearance at Dick's Sporting Goods store for Marvin Lewis Community Fund - Shop With A Pro Event 11/28/2016