Suddenly, Cordy Glenn gives them an NFL-reliable left tackle.
Eric Wood, the Elder High School grad who centered the Buffalo offensive line for the past decade, has the lowdown on the newest Bengal. A couple of  hours after news broke Monday that the Bengals had traded for left tackle Cordy Glenn, Wood gave his hometown a scouting report on his old left tackle with the Bills.
"They just got them a good player. Cordy is a rare, great big strong guy that's athletic. He can anchor the left side of the line," said Wood, who retired after this season. "He's very athletic for his size.  It got to the point with our game plans we knew we wouldn't have to worry about the defensive end because we knew Cordy had them."
The Bengals can't make the deal official until Wednesday, yet according to published reports they not only met their biggest need on the team with one of the more reliable left tackles in the league but they also opened up a vista for the draft when they swapped first-round picks for Glenn and took the Bills' 21st pick. With what's left of Glenn's three-year, $30 million deal now in the fold, the world is their oyster at No. 21.
Center? According to Scout's Inc., via ESPN.com, there are two of them rated between Nos. 24-30 on the big board with Iowa's James Daniels and Ohio State's Billy Price. Guard? There are three between 22 and 32 with UTEPP's Will Hernandez, Texas' Connor Williams, and Georgia's Isaiah Wynn. Pass rusher?  Texas-San Antonio's Marcus Davenport is ranked 16th and Boston College's Harold Landry is 33rd. Defensive tackles? Alabama's Da'Ron Payne is 15th and Florida's Taven Bryan is 21.
Bengals director of player personnel Duke Tobin not only got his team out of the dreaded 12th hole (too low for an impact player and too high to meet the left tackle need), he also converted a sixth-rounder into a mid-fifth in the No. 158 range that has yieded them Andy Dalton (164), C.J. Uzomah (157), Christian Westerman (161) and Jake Elliott(153) in the last four drafts. The trade also gives them three fifth-rounders.
But the big name Monday is the big man himself who is just big period. At 6-5, 345 pounds, Glenn commands the big salary cap count with $11.75 million this year. A second-round pick of the Bills in 2012 out of Georgia, Glenn hasn't finished below No. 25 in the profootballfocus.com tackle rankings from 2013-2016 with a high of No. 8 in 2015. He played just six games last season when bone spurs hobbled his ankle and he underwent surgery. He also missed five games in '16.
With the trade apparently consummated, that would indicate he's passed inspection somewhere. With 77 solid games under his belt, Glenn gives quarterback Andy Dalton comfort on his blindside he didn't have last season when Andrew Whitworth went to the Rams. Now Glenn, who doesn't turn 29 until the second week of the season, is a building block for a unit that is being rehabbed by new offensive line coach Frank Pollack.  
Glenn is the second starting tackle they've acquired in the last month before free agency even opens Wednesday. They signed Giants right tackle Bobby Hart to a one-year deal on Valentine's Day, so it looks like right tackle Andre Smith is no longer in their free agency plans.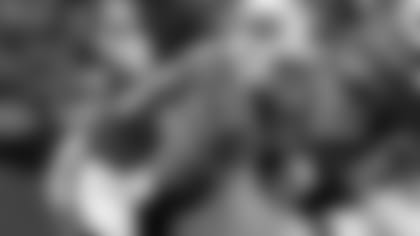 Cincinnati's own, former Bills center Eric Wood: Glenn 'a stand-up guy.'
"He's been a solid player for a long time. An excellent start," said head coach Marvin Lewis of Glenn. "That was the top priority coming in and it's a very good day for us."
Lewis has been here before. It harkens back to April 9, 2004, when the Bengals also traded down in the first round. Then it was from 17 to 24 with Denver for former first-round cornerback Deltha O'Neal. The next year O'Neal went to the Pro Bowl when he set the Bengals' interception record with 10. The Bengals also picked up a fourth-rounder that day and that turned out to be Georgia defensive end Robert Geathers, a Bengals' staple for more than a decade.
"I talked to the other Georgia guys and they're excited about him," Lewis said of guys that played with Glenn like wide receiver A.J. Green, left guard Clint Boling and defensive tackle Geno Atkins.
In fact, Boling played left tackle while Glenn played next to him at guard during their time in Athens.
"He definitely makes our team better," Boling said. "He's a good player. They don't pay you that kind of money if you're not a good player. He's got long arms and he's a big guy. Big guy. And he moves well for a guy that size. Good guy. Real quiet. Just comes in and goes about his business."
Glenn's monstrous cap hit may eliminate the Bengals from re-upping many of their own free agents. It's believed they had devoted about $15 million to that task, although center Russell Bodine and tight end Tyler Eifert look to still be on the radar. But can they fit now? Before the Glenn deal they were also going to effort cornerback Adam Jones, long-time punter Kevin Huber, and defensive lineman Chris Smith. But all deals look to be a work in progress as they crunch Glenn's numbers
Wood knows the Bills liked how well rookie Dion Dawkins filled in for Glenn. But he also thinks Glenn has plenty left.
"You know how this league is," Wood said. "It would have been nice having two left tackles on your team, but we're all assets. He's a real good dude. He goes about his business and doesn't say much. He's a stand-up guy, a real quality guy. He'll never embarrass you. Cordy is a guy I'll always root for."
A look at the top 10 Bench Press Performers of the 2018 NFL Scouting Combine.