Reggie Williams leaps over a blocking back in his attempt to get to Jets quarterback Richard Todd in the 1981 game at Shea Stadium.
The Bengals open their season at MetLife Stadium Sunday (1 p.m.-Cincinnati's Channel 12) against the Jets, when they try to close and shut one of the more notorious streaks in franchise history.
Two days shy of the 35th anniversary of their last victory in New York, the 2016 Bengals try to replicate what those 1981 Bengals did and use an early road win over the Jets as a springboard to the AFC title and a berth in the Super Bowl.
The Green-Dalton Bengals may just be the team to do it. In last year's opener they won for the first time ever in Oakland and later in the season won their first game in San Francisco since 1974. In the last five years they've also posted the Bengals' only win in St. Louis, their first win in Tampa Bay since 1983, in Buffalo since 1985, and Seattle since 1994.
But if they do solve the Jets and old friend Ryan Fitzpatrick, it won't be as improbable as what happened to that '81 club in the now defunct ball yard known as Shea Stadium. Take an all-time great's crossroads game, a wayward van driver, and broken press box phones and you have one of the more memorable road games in Bengaldom.
 Quarterback Ken Anderson, Dalton's No. 14 historical bookend, came into the second game of the season fighting for his career after a horrific outing in the opener. A two-time NFL passing champion, Anderson looked like he was at the end of a nice 11-year career.
After head coach Forrest Gregg pulled him in the first half and the Bengals down 21-0 to Seattle before a show-me crowd of 41,177 at Riverfront Stadium, Anderson watched No. 3 QB Turk Schonert lead a stunning 27-21 come-back victory.
 And Jack Thompson, the man chosen as Anderson's successor with the second pick in the draft two years before, was also in the wings nursing a sprained ankle.
 What unfolded during the next week bordered on Shakespeare. Gregg caught Anderson by surprise and named Schonert the starter against the Jets after a Labor Day session at Spinney Field. Anderson then met with Gregg two or three times before practice on Wednesday and got his job back.
 He then saved his career and pointed his team to the Super Bowl by engineering a 31-30 win over the Jets and their New York Sack Exchange pass rush after being down 17-3.  He went on to win another NFL passing title as well as NFL MVP. When he won his fourth passing title the next season, it put him in the conversation for the Pro Football Hall of Fame that continues to this day.
 "I've never been more proud of a teammate than I was of Kenny that year,' says Dave Lapham, the long-time Bengals radio analyst who was Anderson's road roommate and left guard that day coming off the bench when Glenn Bujnoch got hurt early.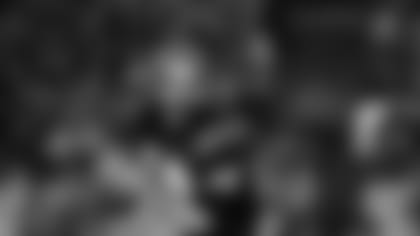 Ken Anderson in full flight out of the pocket.
"Talk about not letting a bad game become another bad game. He opened my eyes and showed me he had something special inside him. I remember getting off the plane at the Super Bowl and thinking, 'My roommate is the MVP. How great is that?"
"I had a 2.5 passer rating after Seattle. There was a lot going on before the (Jets) game, Should I start? Should I come in off the bench? What's the best way to handle it?
Monday was Labor Day and after practice I'm at a family function and someone says to me, 'How do you feel about not starting this week?' and I said, 'What do you mean?' And he says Forrest was just on TV saying I'm not starting.
So I go down there wondering what the hell is going on. Forrest says to get here early Wednesday morning before practice. He asks me if I want to start. I say I do and he says OK. Then I'm thinking, 'Hey, it's the Sack Exchange. Am I sure I want to come back against these guys?' Then out in practice in the first team session we're throwing a pass and the offensive line says, 'What side are you going to throw it to so we can cover for an interception?' Thanks guys, really appreciate that."
While there was a ground swell for Schonert in the public, there didn't seem to be one internally. Take Cris Collinsworth, then a rookie about to become first Bengals receiver ever to have 1,000 yards in a season.
"Turk was my best friend," Collinsworth says. "I always say the most important game of the year is the opener. If you don't win it, you feel like you're climbing up hill. I think that season was made by Turk Schonert beating Seattle in the opener."
But he also says, "Players only care whether they're playing or not. People say, 'Oh, the locker room falls apart.' No one give a rat's as long as it's not me."'
"As an old offensive lineman, I think Forrest had a soft spot for quarterbacks and Kenny. But Paul Brown made that decision. He wasn't coaching and he was older, but he was our very capable general manager.  He still made the big personnel decisions and why not? The guy was one of the greats. There were a lot of veterans in that locker room who had been through the ups and downs with Kenny ... But knowing that Turk could come off the bench and play like that gave us a lot of confidence. That was unique for us because we had never had anything close to a quarterback controversy."
Williams was in the middle of one of the great Bengals careers that would consume 206 games, only one away from all-time leader Ken Riley, his good friend on the corner that he called his quarterback because he protected his blindside on the outside at linebacker.
That defense finished 12th in 1981 in the NFL rankings, but it would lead the league two years later with basically the same players and Williams can argue it is the best Bengals defense of all-time and he may be right.
On board were the club's all-time interceptions leader (Riley with 65), probably the most versatile defender they ever had in Williams (62.5 sacks and 16 interceptions) and the two ends that sandwich Williams on the all-time sack list, leader Eddie Edwards and No. 3 Ross Browner.
It was Browner that saved the day in New York. Anderson had just put the Bengals ahead for the first time all day on a three-yard swing pass to running back Archie Griffin to make it 24-23 with 4:34 left. Then three snaps later Browner stripped Jets quarterback Richard Todd and defensive tackle Mike St. Clair ran 12 yards with the fumble for the clinching touchdown.
"That year was the advent of the zone blitz with Hank Bullough as the coordinator," Williams says, "and Dick LeBeau was our secondary coach who was already toying with some of it.
"That was my career best with 11 sacks and a lot of times I would fake like I was rushing to set up Ross and then drop back, or sometimes we'd stunt and I'd set almost like a pick for him because I was able to rush inside, too."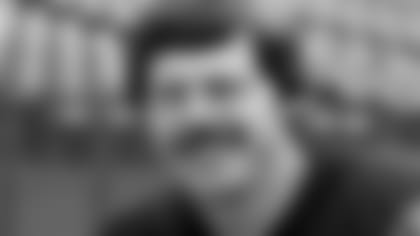 Anderson was 32 when they said his career was over. But then they went to Shea.
But much like Sunday's opener, it was the Jets that had the more ballyhooed defense. They, in fact, had the more ballyhooed team. "They were seen as contenders and we were coming off a 6-10 season," Williams says.
The Jets had the most famous front in all of football with two Pro Bowl ends in Joe Klecko and Mark Gastineau and two talented tackles in Abdul Salaam and Marty Lyons. The New York papers bannered them as "The New York Sack Exchange," and while they got to Anderson four times that day, they didn't control the game and it was the Bengals' fourth sack of the game that won it.
Like Sunday's A.J. Green-Darrelle Revis Pro Bowl matchup that could end up in the Hall of Fame, this one was blessed with Bengals' Hall of Fame left tackle Anthony Munoz opposing Klecko. It was this season that Munoz, in his second year, that people began calling him "The Greatest Lineman of All Time," but that didn't help him the night before when offensive line coach Jim McNally brought along one of his former college players.
"This guy said they had played Temple and Klecko wasn't much and that he shouldn't be a problem. I had seen a couple of games of Klecko on film and I'm thinking that I don't know who that guy could have been looking at because it wasn't the same Joe Klecko I was watching.
He was probably the strongest guy I ever played against. All I remember is that we went at it all day long. At the end of it I felt like I'd been in a heavyweight fight. No doubt in my mind (Klecko) should be in the Hall. He was a great player at three different positions."
Klecko had a sack and the play-by-play sheet is littered with pressures from all over (Salaam tipped one ball), but they gave Anderson enough time to complete 22 of 34 passes for 252 yards. Two TDs offset his one interception.
"Kenny was the master of getting the ball out and not taking a sack," Lapham says. "Instead of second-and-16, he had the great ability to make it second-and-six."
But the biggest obstacle for the offensive line that day turned out to be the van driver at the team hotel.
"This is back when guys would leave early before the buses. We'd take taxis, get to the stadium early and get ready. This time it was me, Blair Bush, Mike Wilson, a lot of the linemen and the driver took a wrong turn. The traffic was packed.
We were playing. The U.S. Open tennis was there near where we were playing at Shea. The Yankees were playing. The guy took a left and we ended up at Yankee Stadium. Guys were getting mad. It was hot in that van and here we were across town and had to get to the game. We left about an hour before the buses and they beat us there. I remember getting to the stadium and Jimmy McNally saying, 'I thought I was going to have to dress out.'''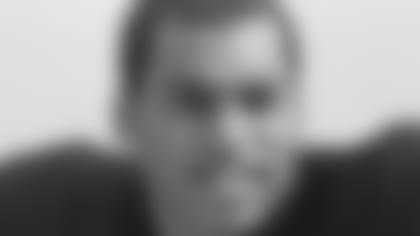 Reggie Williams. Call him the most versatile defender in Bengals history.
"I took the bus. So did Kenny. And a lot of the guys on the line didn't show. You can imagine what that was like for him with all the other stuff going on. I mean, they didn't get there with 30 seconds to go or anything like that. But they were late enough that it was a concern. There were no cell phones, so you didn't know if there had been an accident or what. You just didn't know."
Anderson, of course, was his stoic self. "He always hid his emotions," Lapham says.  Even before the first play, a short, safe pass to Griffin for three yards, Anderson fired back the shot his line gave him in practice.
"OK," Anderson said. "I'm throwing it to the left so you better get over there and cover it when he intercepts it."
"That broke the ice," Lapham says.
It was the year Collinsworth set the team receiving yards record, tight end Danny Ross set the team receptions record, and de facto offensive coordinator Lindy Infante emerged as one of the best minds in the league.
But that Shea Sunday belonged to the great wide receiver Isaac Curtis in one of his last dominant games. While Ross and Collinsworth combined for just three catches, Curtis, in his ninth season, turned the clock back to the '70s with five catches for 108 yards.
His 42-yard catch when he came back for an underthrown pass that Anderson fired under pressure was the Bengals' longest completion of the day. And with the Bengals trailing, 23-17, on the go-ahead drive, Curtis made the play of the day with a diving 22-yard catch on third-and-nine.
"Jerry Rice before Jerry Rice," as Anderson always likes to say of Curtis. "I remember we played at Shea in '76 and he came back to the huddle and said, 'Just throw the go ball,' and we hit it."
"If there was going to be a change at quarterback, I certainly didn't think it was going to be permanent. We all had a lot of confidence in Kenny. He was our starter. Sometimes you get ripped into like that and it makes you a better player.
I think I was able to get singled up a few times. When Cris came in that year, he took a lot of pressure off me. He had underrated speed. He could run. And I think he was underrated as a receiver, too."
If things couldn't get more whacky, Anderson looked up early in the game and saw Infante on the ledge of the press box.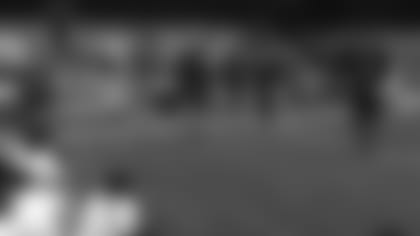 Anthony Munoz today working camps.
"It was a baseball press box. If I remember correctly, it was in the corner of the end zone. The phones go down and Lindy is on the ledge of the press box signaling down the plays to the sideline.
Things got so bad, they couldn't have been any worse. It almost kind of freed you up a little bit. I had good players around me. I think in the preseason I had put a lot of pressure on myself to be perfect. Everything had to be perfect.  You can't play like that. Then after getting pulled, that's as bad as it gets. It just freed you up to go play."
They certainly think that Shea Sunday freed them up to make a run in the AFC.
"We lost a lot of close games late the year before when we went 6-10," Lapham says. "Now we won the first two late. We're thinking, hey, these things are starting to go our way.'"
Munoz: "We were in a lot of games the year before. Beating a good defense like that, putting 31 points up on the road, it was definitely a confidence boost."
Williams thinks about the legacy that sprung from that game.
"Ken Anderson was as an accurate passer that came along," Williams says. "There are guys in the Hall of Fame that didn't scare me. Kenny had the ability to do that. I think he's the only Bengal that deserves to be in the Hall of Fame before Ken Riley."
It was a day of irony and ecstacy. Collinsworth is convinced that if it was 1979 first-rounder Jack Thompson coming off the bench to do what Schonert did in the opener, Thompson would have gotten the start in New York as the heir apparent.
"Think of the irony of it. My career kind of resurrects itself and I had another Pro Bowl year in '82," Anderson says. "Jack gets traded for a No. 1 draft choice and it opens up a spot for Boomer (Esiason) to come in, which was the next generation. Who knows what would have happened if Jack had taken over? Then Boomer obviously wouldn't have come in and …"
The rest, as they say, is history.