Tyler Boyd's 54 rookie catches helped the Bengals re-build their receiving corps with an infusion of youth and potential.
At the end of his first season as the Bengals offensive coordinator Ken Zampese is in the process of reviewing all 1,087 plays of the 2016 season. But it's already clear what he's going to end up emphasizing in the offseason.
After a year the raw numbers weren't much different from the 12-win season in 2015 despite not having their best weapons for much of the year, Zampese is seeing red. As in the red zone, where the Bengals finished 18th in the league in touchdown percentage and was the big reason they averaged just 20.3 points per game.
 That's how you end up 24th in the league in scoring despite having the 13th most yards in the league and win just six games even though you outscore your opponents by ten points.
It would seem to be a simple fix. Get the 2015 TD machine of wide receiver A.J. Green and tight end Tyler Eifert healthy after they missed a total of 15 games. But when he sat down with Geoff Hobson of Bengals.com this week, Zampese made it clear he's looking for more than that in 2017.
 GH: At the end of every season you go back and look at every play. Where are you on the review?
KZ: We started on the run plays and we're almost done with that before we go to the passing plays. Then we'll break it down by situation. Sacks, turnovers, red zone, and those kinds of things.
GH: Anything in the run game that you take away?
KZ: The numbers were the same running the football. Yards were almost the same (1,769 yards in 2016, 1,805 in 2015). Yards per attempt were the same (4.0 in 2016, 3.9 in 2015). Total pass yards were damn near identical. (3,942 in 2016, 3,923 in 2015). We just don't have as many touchdowns and that's where we have to start. When we get down in the red zone we failed to score touchdowns at the rate we're accustomed. That's our big fix right there.
GH: Is it scheme or personnel?
KZ: That's what we'll find out.
GH: Is it encouraging that at least the yards are almost the same?
KZ: The only thing that is encouraging is when you score and you win. The other stuff is just fluff to the end goal. 
We didn't perform as well as we could have or should have. We didn't make enough plays to win the end of those games. Our red zone production was just not good enough to score enough touchdowns when we got in there. That showed up a lot.
When Andy Dalton (right) didn't have Tyler Eifert's 13 TDs from 2015 for half of 2016, the numbers showed up.
GH: Is it hard not to use as a crutch, 'I don't have A.J. Green in the red zone. I don't have Tyler Eifert in the red zone?'
KZ: No.  We have plenty of players.  It would be a disservice to the players we do have to talk that way or even think that way.  And it's not true to begin with.
GH: What did you think you did well this season?
KZ: Turnovers were down. That's a good deal. Our plus 20, plus 40 completions were still up high in the league. Those are all good deals. But all that is driving me now is scoring points. That's what we're here for.
GH: Right tackle is obviously a critical position as you head into the offseason. Jake Fisher started there the last three games. How do you think he played?
KZ: He did a good job. He made strides each week. He brings a lot of enthusiasm and energy to the game, which is fun. He finishes plays. He's got a lot of raw talent.
GH: I'm assuming he'll have a chance to win that job in the spring and summer.
KZ: There'll be a lot of guys competing for those spots, that's for sure.
GH: What did you think of the play of rookie Tyler Boyd after he got about 700 snaps as your slot receiver?
KZ: He played a lot of snaps. Produced when he had his opportunities. Has a long way to go, but did a nice job for his first year.
GH: What would you like to see him improve?
KZ: Play fast all the time.  Finish. But I'm happy for him and the contributions he made as a rookie. It was good stuff.
GH: What did you see from another rookie receiver, Cody Core?
KZ: Big. Fast. Tough. Doesn't say boo. Like him. Just goes and goes and goes. Strong player.
GH: And you had another one in the undrafted Alex Erickson and he produced more than any rookie receiver you've picked up late in the draft in the last several years.
KZ: Coach (James) Urban does a great job identifying guys to bring in here. He's really skilled at it. That was one guy he watched. We all looked at him and thought, wow, get this guy here. He's so experienced for such a young guy. He plays like he's been in the league eight years already with route running, technique. You only have to tell him one time and he gets it. There's no learning curve that way. These rookies will all help in their way as they keep growing up.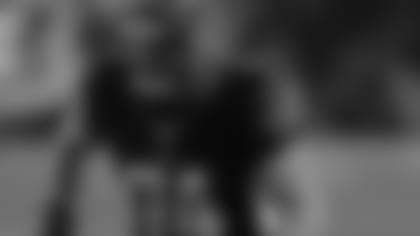 The early returns on Jake Fisher's work at right tackle are good.
GH: How good was A.J. Green this year?
KZ: He really picked up his game. He really did a nice job taking another step. I'm really proud of him and the way he approached this year mentally.
GH: Are you still looking for a speed receiver to match with him?
KZ: Always looking for speed. At every position. Can't have enough of it as long as it fits all the other things we're looking for. Speed for speed sake does not mean the guy can make plays. There needs to be mental toughness, urgency, those kinds of things that go along with a feel for the game. There are a lot of things that play successfully in this league and if you can get it to be with speed as a component, that's even better.
GH: Overall, how do you see the draft?
KZ: We need guys that are able to come in here and compete and produce early. Hopefully as fast as they can right when they get here. We need guys all over the place that can contribute early.
GH: What did you think about the running backs at the end of the year? Hard not to love what Rex Burkhead did.
KZ: He made the most of his opportunity. Very hard to tackle him. Very determined runner. Showed his toughness, his speed. It was really fun to watch him play.
GH: Conversely,  Jeremy Hill has dipped the past two years off his great rookie season. Was it because he was banged up this year? Or not getting the same opportunities? Is there anything you can put your finger on? With Giovani Bernard coming off an ACL tear and Burkhead a free agent, Hill is still a big guy for you.
KZ: I know he played with some injury this year. I know that he did not put the ball on the ground this year and there are positives to be taken away in those regards. We certainly want more yards from that position and we're going to be working with all these guys to get the best out of them.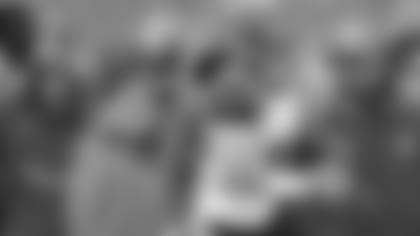 Rex Burkhead came off the bench to average 4.6 yards per carry. The team goal for 2017 is 4.4.
GH:  The rushing numbers are the same, but I know you guys weren't happy with them last year, either.
KZ: We have to get those numbers up.
GH: What's a good number? Yard per?
KZ: 4.4. That usually puts you in the top ten.
GH: How do you get there from 4.0?
KZ: More consistency with the backs' tracks and courses. Less mental errors in the blocking unit. And when the ball gets in the secondary, staying on blocks on the outside. Running through arm tackles to get those extra yards play after play that you need to get the average up. We're identical to where we were last year, which is not what we were expecting, then or now. That's our challenge. To find out what the new cheese is. To do what we already do better.
GH: Do you think you guys do too much in the running game?
KZ: The other side is really fast. If you allow formation recognition and keys, they get to use all their speed.
GH: Especially in the AFC North.
KZ: There are a lot of fast guys in our division. The defenses are very, very good. It seems like it was like that every week. Philadelphia had a lot of team speed. Houston. Goodness gracious. Buffalo. The Giants play fantastic defense. The Patriots are always good and the Dolphins were a play-off team with that defense and their front players were exceptional.
GH: So you have to mix it up?
KZ: Every week there is speed. How do you nullify it? Make them play slower. How do you make them play slower? Some of it is formations, or speed and tempo in pace of play. Trying to take an edge off of people.
GH: Any encouragement from how you ran the ball for 153 yards against Baltimore's No. 2  rush defense in the last game?
KZ: Absolutely. It's one of the best defenses in the league.  Rex had a hell of a day.  The guys did a good job. Rex ran through a lot of arm tackles that day. Those are good players over there. Terrell Suggs played. We didn't have anything to play for as far as playoffs  either, but our guys went out there and played and played well.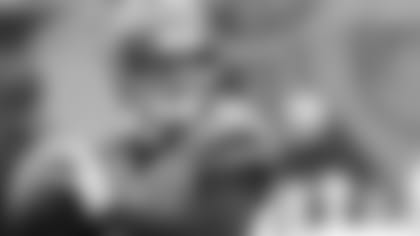 Andy Dalton threw just eight interceptions in 2016, a franchise low.
GH: I would imagine you're leading the cheers to re-sign Rex.
KZ: We have a lot of needs. Running back is one of them. I know Coach (Marvin) Lewis will make the best decision possible for us.
GH: A lot of people think quarterback Andy Dalton had a better year this year even though his numbers were off from 2015. It was the most he was ever sacked, he was without A.J. half the year, and he had a lot of new receivers.
KZ: We put a lot on him to handle. I think it's a little harder when you're breaking in a lot of new people. I thought he did a good job. I'm always wanting more. After him I'm probably his toughest critic. That's the relationship and the demands of that position and how much it affects wins and losses. So much than any other position. You just want to so much from it.
GH: I know he had only 18 touchdown passes, but he also only had eight interceptions. Taking that all in, how would you evaluate that?
KZ: We were very low on turnovers, which is great. But if you don't score enough it doesn't make that much difference.  It's about scoring and we didn't. The low turnovers are fantastic, but you have to do both and we didn't. There were some positives to be taken away in the way he produced, certainly.  But we didn't win. Quarterbacks are here to win and we didn't win enough. There are some different things that went well for him and for us in the passing game and you appreciate those things, but we need more.