Bob Bicknell says A.J. Green is "The best I've been around."
As the great A.J. Green says, the voluntary practices don't give a receiver much to hang a hat on. There's a helmet, but that's about all. There's no contact. There's no press coverage.
"It's more like seven-on-seven out there," Green said this week. "The OTAs are mainly for the skill players getting their timing down."
And that's one thing this band of wide receivers has shown in the first two weeks of spring ball. Plenty of timing. As in fast times.  It's the only thing they can show and the Bengals' strength and conditioning staff has been impressed with how fast the receivers are playing, a byproduct of the fast pace stressed in coordinator Bill Lazor's new offense.
One Bengals assistant compared the scheme's style to the Chip Kelly get-it-and-go Eagles of five years ago, when Lazor was the quarterbacks coach for an obscure sophomore named Nick Foles and his league-busting 119.3 passer rating. Lazor's scheme may not be as relentless as Kelly's but he wants his guys up-tempo and so far the receivers have responded.
How fast? John Ross ran a deep post late in Tuesday's practice that GPSed him at 23.2 miles per hour. According to NFL.com, that by far would have been the fastest play in the league last season, which went to Jacksonville running back Leonard Fournette at 22.05 miles per hour on a 90-yard touchdown run.
Green has been in that range this spring, too, looking as fast as he's ever looked in seven Pro Bowl seasons despite on the verge of turning the big one (30) in two months. He's racked up a 23 mph snap this spring and multiple receivers have hit 21 and 22 miles per hour. According to NFL.com, there were 20 plays last season where a ball carrier went as fast as 21.05 seconds.
And that's even with sophomore Josh Malone nicked up and riding the bike instead of practicing. He's expected back any day now and that gives them another sub 4.4 40 guy.
Green says he likes it. He likes what Lazor has concocted and finds the number system used to call plays getting easier and easier even though it's the first time he's ever been under the route tree in 20 years of football. Speed is part of the reason for numbers instead of words.
"I love it. I feel like Bill is putting his stamp on the offense. Last year we had to wing a lot of stuff. But now he's put it in with his own staff," Green said. "The numbers system, at first, was pretty hard but once you learn the route tree the numbers comes pretty fast. As long as you know the number, you know what you have to do. It's definitely easier. All you have to do is know the numbers and you figure out everything else."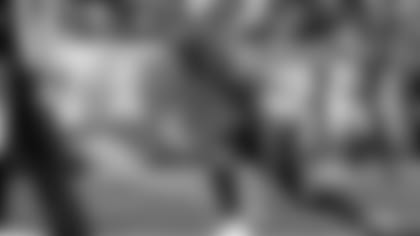 Tyler Boyd is having an impressive spring.
"We have as good a receiving group as anyplace I've been," said wide receivers coach Bob Bicknell, whose resume isn't to be trifled with as a guy that has coached three different offensive positions from Cologne to Kansas City and Frankfurt to Frisco during 19 seasons in the pros.
"Obviously in Philly we had some really good players," said Bicknell, who has chalked up three 1,000-yard receivers with three different teams. "In Buffalo Stevie Johnson could really separate. In San Francisco Jeremy Kerley was an accomplished guy. But this group as a whole has a little bit of everything. You've got really good speed. You've got guys that can separate. You've got big players that can make contested catches. As a group, it's impressive."
While Lazor coached Foles in Kelly's system, Bicknell coached the Eagles receivers and DeSean Jackson had a career-high 1,332 yards in that 2013 season. That was a year after Johnson had 1,046 for the Bills under Bicknell and a year before Jeremy Maclin had a career-high 1,318 in '14 with Kelly and Bicknell after Lazor went to Miami as offensive coordinator.
But it is Green that Bicknell says is, "the best I've ever been around." No one is saying Ross is DeSean Jackson. After all, Jackson is heading into the 11th season of a highly-acclaimed career and leads all active receivers with 17.3 yards per catch while Ross is looking for his first NFL catch. But why not? The 5-10, 175-pound Jackson is another sub 4.4 40 guy. The 5-11, 190-pound Ross is the fastest man ever recorded at the NFL scouting combine with a 4.22.
These first five practices of the spring are part of one of Ross' longest practice stretches as a pro and Bicknell says that's starting to show.
"He's really coming along. He's learning the offense well and he catches the ball really well," Bicknell said. "We've got two or three deep plays where he's been in position that we haven't connected on, which is what we have to do to really be effective. Using your speed and using certain things in different routes and timing and all that, he can work on that a little bit. But I'm really impressed with how into it he is … He's taken every rep he can."
Lazor and Bicknell want these guys on the move, whether they're in the slot or outside and many of them are doing both with the mere switch of a formation.
"Bill does an outstanding job moving guys around. With the group we have, No. 1, you have to do that with a couple of players that we have so they just can't say, 'Take  'em away,''' Bicknell said. "In the NFL you need to have a bunch of guys that can do a lot of things so you can move them around. So it's not always, 'Running this.' We have a group that's extremely intelligent that can do those things. Plus they have little bit of a feel for the game and they have some skill sets that allow them to separate in different ways."
The receiver group won't be defined by what is expected to be Green's eighth Pro Bowl season. It will come down to the emergence of the four guys drafted in 2016 and 2017. Boyd, the '16 second-rounder, looks poised to break out (Bicknell on his recent play: "He's got a really good feel for the position. Very smooth. Catches the ball well. I'm really impressed with him … He ran an in-cut as well as anybody."), but all eyes are on Ross, Malone, and Cody Core. Only Boyd has more than 17 catches.
"It's like any other job. You show up that first year and you're trying to figure it all out," Bicknell said. "You do the best you can. Sometimes you get opportunities and sometimes you don't. Then the second year comes along and you're a little bit more prepared .Then, really, it's the  third year in the NFL  guys start to progress to their career. Some guys are asked to do it earlier and can. But the reality is I think these guys are right on schedule of progress."