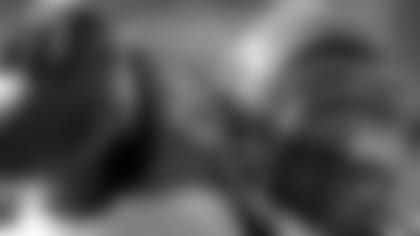 Tight end Reggie Kelly stretches for the first down. (AP Photo/Chris Gardner)
BALTIMORE, Md. - The Bengals tried to repeat history here Sunday in their AFC North showdown with the Ravens on a wild fourth-quarter comeback, but instead the largest crowd ever in Baltimore made history by witnessing Cincinnati's devastating 26-20 loss.
The 6-2 Ravens took a two-game lead over Cincinnati in the division in breaking the Bengals' six-game North winning streak and sentencing them to .500 (4-4) for the first time since the last game of the 2004 season.
The showdown turned into a meltdown after rookie Ravens cornerback Ronnie Prude killed the Bengals' last hope with 1:55 left by knocking away a fourth-and-four pass from Cincinnati's 30 intended for Bengals wide receiver T.J. Houshmandzadeh. Houshmandzadeh ripped off his helmet claiming interference and got an unsportsmanlike penalty after slamming it to the ground.
Houshmandzadeh's frustration mirrored that of the Bengals locker room.
"I know I shouldn't have done it, but it was heat of the moment," said Houshmandzadeh, who continues to say he would commit interference if he was the defensive back. "They never call it and they always do it."
Bengals head coach Marvin Lewis wasn't pleased with Houshmandzadeh's lack of composure.
"It shows a lack of class, and right at that point, we didn't need that even though we only had one timeout left," Lewis said. "You have to stay poised and keep playing."
Then quarterback Carson Palmer became enraged with wide receiver Chris Henry when he didn't contest a jump ball on the last play and it turned into Ravens cornerback Chris McAlister's interception.
In a tense postgame setting, Palmer was asked what he said to Henry. "None of your business," Palmer replied.
Palmer did agree with one question on whether his team needs to grow up. "There is no question we do have some young guys that don't take every advantage of their situation," he said. "We do need to mature and become professionals and that's something that can happen from where we are."
Palmer again took blame for the loss, particulalry pointing to an interception that went for a touchdown on his first pass of the game.
"If I had played better we would have won," he said.
Right tackle Willie Anderson said the Bengals still have a shot to save the season.
"You have to decide what you want to play for," Anderson said. "Do you want to play to stay in it in January, or stay home?"
Wide receiver Chad Johnson also vented some emotion, asking for a stat sheet and when told he had just four catches (for 32 yards), he said, "that sucks. I must suck. Supposed to be your best player and you can't even get the (bleep) ball."
Johnson said he's hesitant to say anything because he'll be labeled selfish, "but I know I can help," he said.
For the umpteenth time this season, Lewis put the blame on third down. The Bengals converted only one of 10 and have converted just 10 of 45 in their four losses.
Meanwhile, the Ravens hit six of 15 of their third down tries for 40 percent on the way to a season-high 374 yards of total offense. For the second straight week the opponent had the ball nearly a quarter more than the Bengals when the Ravens hogged it for 37:24.
The Bengals made it a ballgame early in the fourth quarter when Palmer threw a 71-yard sideline bomb to Henry racing past McAlister for the Bengals longest play of the season. That set up running back Rudi Johnson's blood-and-guts four-yard touchdown that drove Pro Bowl middle linebacker Ray Lewis back into the end zone for a touchdown with 13:31 left in the game that cut the lead to 23-17.
But the Bengals promptly allowed four first downs in the next eight snaps, including Ravens quarterback Steve McNair's 10-yard run aided by three missed tackles that helped set up Matt Stover's fourth field goal of the game on a 35-yarder that made it 26-17 with 8:25 left.
Rookie cornerback Johnathan Joseph nearly made a game-breaking interception on the sideline that would have at least prevented the field goal, but wide receiver Derrick Mason played defender and tore the ball out.
Joseph was pressed into service in the second half when Tory James had to leave with what appeared to be a leg injury.
The Bengals then drove into the red zone with four minutes left, but had to settle for Shayne Graham's 31-yard field goal that cut it to 26-20 and that was as close as the Bengals would come.
Baltimore jumps out to big lead
Stover's 36-yard field goal gave the Ravens a two-score lead at 23-7 in the third quarter and with virtually double the time of possession (26 minutes to 14), it was hard to see where the points were coming from. Graham did cut it to 23-10 with a 51-yard field goal with 2:20 left in the quarter, capping a drive fueled by safety Ed Reed's 34-yard pass interference call on Chad Johnson. Johnson had a false start and that helped bring on Graham.
The Bengals defense didn't allow a touchdown in the game's final 55 minutes, but it let the Ravens control the clock with several big throws to tight end Todd Heap.
Heap finished with four catches for a game-high 84 yards, the second straight game the Bengals have been hurt by a Pro Bowl tight end after the Falcons' Alge Crumpler also caught four crucial balls in last week's 29-27 loss to Atlanta.
In the first drive of the second half Heap set the tone when he got loose for a 20-yarder and a 28-yarder, the last one taking advantage of a matchup with strong-side linebacker Rashad Jeanty.
Yet it was the earth-shaking first 4:32 of the day when the Ravens transformed two turnovers into a 14-0 lead before a delirious crowd of 70,792 at M&T Bank Stadum. Baltimore came into the game generating an NFL-best 22 turnovers.
Running back Chris Perry, who ran back his first kicks since high school last week, fumbled the opening kickoff when linebacker Mike Smith stripped him at the Bengals 34.
After McNair converted a pass to wide receiver Mark Clayton on third-and-six, running back Jamal Lewis punched in a two-yard touchdown for the 7-0 lead just 2:59 into the game.
Then on Cincinnati's ensuing possession Palmer, on his first pass of the game, overthrew Chad Johnson on third-and-nine for his first interception in 154 throws. Reed popped Johnson as he leaped for the pass. Cornerback Samari Rolle caught the ball and ran it 24 yards before lateralling it to Reed, who ran the final 25 yards for the touchdown to make it a quick 14-0 just four and a half minutes into the game.
With Palmer's passer rating an unbelievable 0.5 with 5:37 left in the first half, he rallied the gang long enough to drive them 79 yards for a 26-yard touchdown pass to Houshmandzadeh with 1:06 left in the first half to finally get his team on the board.
Palmer, wild high in missing six of his first eight passes, finished 12-of-26 for 195 yards.
The score came when Palmer pumped to the left and then looked down the middle to see Houshmandzadeh beating Reed.
But Ravens head coach Brian Billick beat the Bengals to the clock because the Cincinnati defense couldn't get Palmer and Johnson back on the field in allowing Baltimore to convert five of seven third downs in the half.
When the Bengals did stop the Ravens on third down, Joseph ripped the ball from Heap. It looked liked Joseph had caused a fumble that he recovered instead of what had been ruled an incomplete pass. But as Stover lined up the 43-yarder, Lewis didn't throw his replay flag and the kick made it 17-0 with 5:39 left in the half. He said it was clear Heap didn't make the catch.
It was a costly drive cosuming 8:20 on which the Ravens converted third downs of six and 11 yards. The 11-yarder was a gut-buster because it got Baltimore in field-goal range, and it came off a blitz from James. McNair launched it over James and in front of free safety Madieu Williams working on Mason. When Williams couldn't come back to wrap up, Mason reached for the first down.
McNair, in another masterful effort against the Bengals, hit 21 of his 31 pass attempts for an efficient 245 yards, raising his record to 10-4 against Cincinnati.
Joseph started at cornerback in place of Deltha O'Neal, but O'Neal checked in on the second play. The beleaguered secondary took some early shots when McNair converted his first three third downs, the last one when he beat a blitz with a 20-yarder over the middle to rookie Demetrius Williams covered one-on-one by James.
Palmer came out throwing high and missed six of his first eight passes. On the last play of the first quarter, Chad Johnson had to climb the ladder for 15-yard catch on the sidelines at the Cincinnati 38. But that drive end three plays later when Palmer overthrew Henry on third-and-eight.
Palmer did get some pressure on the blitz early, particularly from outside linebacker Bart Scott. On his first attempted pass, Scott teamed with outside backer Adalius Thomas for a sack. Scott then knocked Palmer down a few times. But for being down 14-0 so quickly, the Bengals did a decent job keeping the Ravens from getting free shots on Palmer.
PREGAME NOTES: The Bengals linebacking corps underwent another re-shuffling Sunday when Jeanty returned to the starting lineup for the first time in four games and middle linebacker Brian Simmons was deactivated with his lingering neck injury.
Also sidelined was backup strong safety Kevin Kaesviharn after he bruised his knee early in the second half of last week's loss to the Falcons. That got Keiwan Ratliff onto the field on passing downs and rookie safety John Busing onto special teams.
Lewis also deactivated linebacker A.J. Nicholson and wide receiver Reggie McNeal, as well as the injured Rich Braham, Levi Jones and Kelley Washington. Anthony Wright returned to backup quarterback after three weeks shelved with an appendectomy and Doug Johnson was the No. 3 quarterback.
With Jeanty out last week, the Bengals had planned to shift Simmons to the strong side and keep rookie Ahmad Brooks in the middle and move Landon Johnson back to his natural spot on the weak side. That went by the boards when Simmons aggravated his injury on the first snap.
Lewis deemed the 245-pound Jeanty well enough to start, and the Bengals hoped his added weight would counter the Ravens' plan to pound Jamal Lewis.
Also Sunday, ESPN reported that Falcons defensive end Patrick Kerney was fined for going after Bengals quarterback Carson Palmer's legs on the first play of the second half, a long incompletion to Chad Johnson.
It was a followup to ESPN's Sunday morning matchup show in which analyst Ron Jaworski theorized that Palmer is so worried about defenders diving for his reconstructed left knee that he's trying to protect by lifting that front leg as he's throwing and it's hurting his mechanics.
Jaworski said he charted the Bengals' last three games and against 35 blitzes, Palmer was 10 of 27 for 56 yards and three sacks.
Exhibit A was the overthrow to Johnson.
During the offseason, after several low hits on quarterbacks, the NFL clarified the rule but said the knee shot on Palmer by Steelers defensive end Kimo von Oelhoffen didn't qualify.
The one bright spot has been the play of Brooks. In his first two starts he led the team in tackles and in his third last week against the Falcons he was second with nine, and he already has 36 tackles during the season.
On Friday, Brooks said he's playing faster and faster each week as he gets more comfortable with the system. With Simmons out and Caleb Miller back on the bench, Landon Johnson was the prime candidate to take over calling the signals.
"I don't call them, but I echo the call," Brooks said. "You still have to know what you're doing because if you don't you can really mess up the defense."
With the 260-pound Brooks now teamed with Jeanty, the Bengals hope the combination of speed and muscle gives them some beef in the middle. Brooks, a third-round pick in last July's supplemental draft, never really styled himself on his opposite number in Sunday's game, Ravens future Hall of Famer Ray Lewis.
Given that he's 6-3, Brooks made sure he kept an eye on the Giants' LaVar Arrington.
"I think Odell Thurman reminds me of (Lewis)," said Brooks of the suspended Bengals middle backer. "I've heard people say the way I'm built it reminds them of (the Bears' Brian) Urlacher. I watched LaVar Arrington in high school when he was at Penn State."
Before Sunday's game, Lewis chose to introduce the defense as unit and his captains, dressed in the all white, were defensive tackle Sam Adams, fullback Jeremi Johnson, tight end Reggie Kelly, linebacker Marcus Wilkins and strong safety Dexter Jackson.