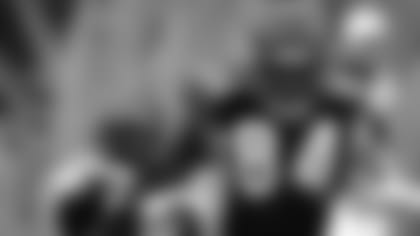 Houshmandzadeh riddled his boyhood idol and the rest of the Ravens secondary for 147 receiving yards. (Bengals photo)
Chad Johnson, joking all the way, said after it was over, "Next time I get 1,000 yards, I want fireworks to go off."
But Johnson, along with fellow wide receiver T.J. Houshmandzadeh and running back Rudi Johnson, supplied plenty of sparklers in Sunday's 42-29 win for the Bengals over the Ravens that had more celebrations than River Fest. Chad Johnson made like Tiger Woods with an end-zone pylon putt following his streaking touchdown, Rudi Johnson let his linemen spike his two touchdowns, and Houshmandzadeh saluted his season-best 147 yards with a gift from his boyhood idol.
It just so happens that his idol is Deion Sanders, the Ravens cornerback who looked all of his 38 years as Bengals quarterback Carson Palmer riddled the aging and injured Baltimore secondary for 302 yards. Per Houshmandzadeh's request, after the game Sanders sent a box over to the Paul Brown Stadium home locker room containing the shoes he wore in Sunday's game that marked the Bengals' first season sweep of the Ravens since their first year in Baltimore in 1996.
HOUSHMANDZADEH'S TOP GAMES:
12/5/04 at Baltimore: 10 catches, 171 yards, long of 35, 1 TD 11/27/05 BALTIMORE: 9-147, 30, 1 12/12/04 at New England: 12-145, 33, 0 9/26/04 BALTIMORE: 7-116, 22, 0 10/2/05 HOUSTON: 8-105, 22 0 12/30/01 PITTSBURGH: 9-98, 20, 0
"I wanted to play well," Houshmandzadeh said of his matchup with Sanders. "To have a guy you looked up to and looked forward to watching play, and then he comes out of retirement and you get a chance to play against him ... man. I wanted him to play well, too."
Sanders did add Palmer to his Hall of Fame list of quarterback picks when he made the 52nd interception of his career on the first play of the fourth quarter, a nifty leap and tip to himself on an overthrown ball. But the day belonged to Houshmandzadeh and how he made the Ravens pay for double-teaming Chad Johnson.
Johnson didn't hurt his standing as the AFC's leading receiver with five catches for 88 yards and a 54-yard touchdown catch that stands as the longest pass against the stingy Ravens all year. But Houshmandzadeh caught four balls of at least 20 yards (including his 30-yard touchdown) against a defense that had given up a mere 20 such plays all year before Sunday. He also converted a big third down on the first and last Bengals scoring drives.
"They were worried about Chad. They put the safety over there and Carson realized it," Houshmandzadeh said. "If they're worried about Chad, I should kill them. I wish every team did that."
Houshmandzadeh, who admitted he plays angry, wishes the Colts did last week. He caught just five balls for 47 yards in the 45-37 loss to the Colts and was steamed all week. He wanted the ball more.
"If the game had gone the same way and we had won, it would have been no big deal," Houshmandzadeh said. "Being a receiver, you need the ball to make plays."
Pro Bowl right tackle Willie Anderson went to Houshmandzadeh last week and told him not to worry about it. It's the AFC North games where he's a factor.
"He wasn't upset, but as a competitor he wanted to go out and make more of a difference than he did last week," Anderson said. "I told him, 'Man, you made your name in the division games.' The Colts don't know how to play Chad, but in the games Chad breaks out, he breaks out because of T.J.
"I told him, 'I guarantee over the next three weeks you're going to be huge.' These games are physical and T.J. is a physical receiver. You've got to have receivers going across the middle, taking licks, bouncing off guys. That's T.J.'s game."
Houshmandzadeh's two biggest games have come against the Ravens (Sunday's outing and last year's 171), and three of his five 100-yard games have been against Baltimore. It was another tag-team effort by the Oregon State duo. In last year's 27-26 win in Baltimore, Johnson backed up Houshmandzadeh's 171 with 161. On Sunday, Johnson waited until Houshmandzadeh, a locker neighbor, was finished before he met the media horde.
"I was a little upset and he tried to calm me down," said Houshmandzadeh of last week. "I wouldn't listen to him. When he's upset, I try to calm him down and he listens to me, so we have to work on that part of the relationship."
Johnson tried to help Houshmandzadeh after he fumbled away a 27-yard gain and then watched the Ravens score on the first play after the miscue to close the score to 34-14 late in the third quarter.
Houshmandzadeh hit safety Chad Williams hard enough on the play to make himself woozy and he had to leave the game briefly while Johnson and medical people surrounded him.
"Chad made it worse," said Houshmandzadeh of Johnson's help. "The doctor was just doing his job, taking a precautionary measure. I was fine."
Houshmandzadeh said he probably shouldn't have gone for the extra yards, but he's still not sure how he lost a ball that Williams poked out, although he admitted he was carrying it in the wrong arm.
But he also said it had nothing to do with his badly bruised hand that cost him two games in October. Still, the fumble helped fuel Houshmandzadeh's anger and he bristled at his best Sunday.
Cornerback Chris McAlister, a Pro Bowl player and trash-talker limited with a hamstring problem, started giving Houshmandzadeh the business with the Bengals leading, 3-0. Houshmandzadeh began screaming back, and then when he made a double move on McAlister lined up in single coverage and Palmer double pumped, Houshmandzadeh was past the Ravens corner for a 28-yard play that pushed the ball to the Ravens 6 after safety Will Demps came over and got a 15-yard penalty on a facemask.
"(Earlier McAlister) deflected the ball and he's talking trash," Houshmandzadeh said. "I was just saying, 'I can talk with you.' I don't play happy during the game. I'm always upset. I need to control that, but that's fine. If you want to talk I'm going to talk right with you. I was ready. He sits on a lot of routes. I don't know if he's 100 percent."
The secondary, already missing Pro Bowl safety Ed Reed, then lost Demps on that play for the rest of the year with a torn anterior cruciate knee ligament. So Palmer kept chucking, and Sanders was never far away.
Before he threw the pick, Palmer threw a laser to rookie receiver Chris Henry working on the inside of Sanders for a 27-yard touchdown pass early in the third quarter.
"I wasn't thinking about that," said Henry, when asked what he felt as he ran a route besting the man they say is the greatest cornerback of all time. "I was just thinking about getting him up on his toes and beating him to the post."
But after watching Chad Johnson in what Houshmandzadeh called a "Tiger Hood" celebration, Houshmandzadeh recalled who started it all. After catching his 54-yard touchdown, Johnson pulled the pylon out of the corner of the end zone, used it like a putter on the football, and then pumped his fist like Tiger Woods a week after "proposing" to a Ben-Gal cheerleader.
"I'm better than Tiger. I just wanted to show my putting skills," Johnson said. "My handicap right now is a plus-8. I'm thinking about retiring early and joining the Tour."
Later, Johnson admitted he doesn't golf, but is a Tiger fan. He also said the celebration wasn't one of his best but "I've got a very good one next week to top everything I've done so far."
It all goes back to Deion, Houshmandzadeh said.
"He's the reason guys act the way they act now in my opinion," Houshmandzadeh said. "He put the wristband around the neck, the dance, he started all that. He brought charisma to the game. The facemask with the bar? Everybody wears that. Chin strap unbuckled? Deion did that. He set trends."
But Houshmandzadeh has never bought into the end-zone celebrations after a wild junior college career at Cerritos College. He didn't have enough money to buy a Sanders No. 21 Cowboys jersey until he went away to school, where he said he got carried away with the celebrations. It got to the point where he was going to the concession stand and buying a hot dog and drink. Eventually, his coaches told him he had to calm down, so he contains himself to this day.
"I want to, but then I have to realize one of my coaches in JUCO might be watching on TV and not like it. So I just chill," said Houshmandzadeh of his celebrations.
You might say Terrell Owens is a wayward descendant of Sanders, but Chad Johnson stands by him. His first catch Sunday gave Johnson 1,000 yards for the fourth straight season (he finished the day with 1,085) and Johnson joked about the fireworks, a reference to Owens getting upset about the Eagles not recognizing one of his career milestones.
But Johnson had a smile on his face. So did Rudi Johnson, who gave his touchdown balls to left tackle Levi Jones and why not? They were both sweeps, and Jones led him into the end zone both times. Jones spiked the first one, a six-yard run that made it 10-0, and Jones gave the last one to Anderson, a three-yarder for the last touchdown that Anderson windmilled to the turf.
"I told them at pregame meal," Rudi Johnson said of his linemen. "I told them once I got into the end zone, they can spike it. They have a lot of fun with it. I told them to get ready for it."
Jones and Anderson said it was their first spikes, but Jones said he didn't model it after anyone because "I'm a leader" and not a follower.
"He definitely takes care of us. He doesn't want to jump in the limelight," Jones said. "He wants to make sure his line gets acknowledged."
On Sunday, while Houshmandzadeh acknowledged Sanders, everyone else celebrated.